Download this free Noun Scoot game to work on nouns with your fourth and fifth grade students during language.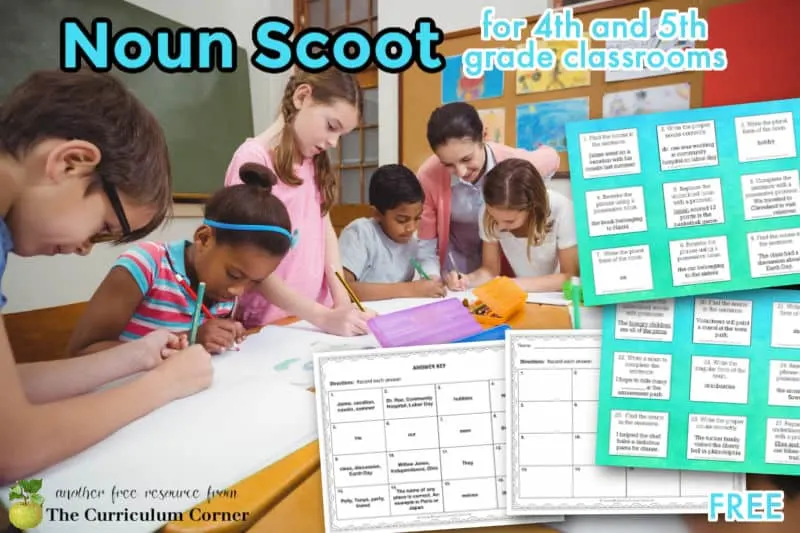 This is another free resource for teachers and families from The Curriculum Corner.
This noun scoot game can an engaging way to practice language skills in the intermediate classroom.
If you aren't familiar with scoot games, they can be a great way to get your students up and moving.
Children enjoy them because they are more engaging than sitting at a desk and completing a worksheet. Teachers love them because students don't complain about working on language skills.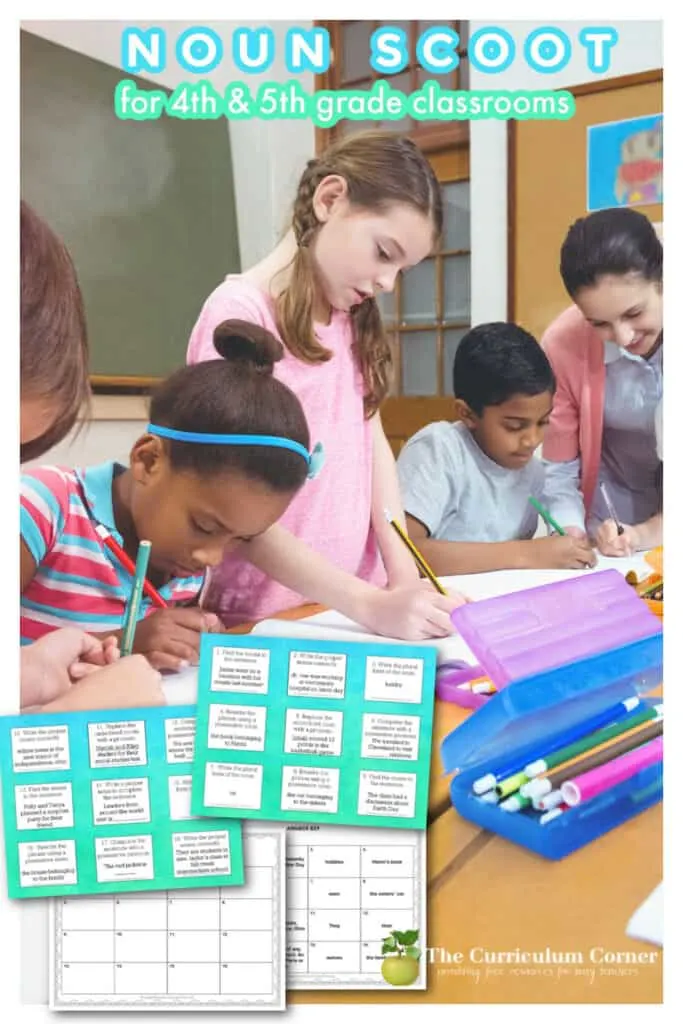 How to set up this noun scoot game
Begin by printing the task cards on card stock. We are providing the cards with a colorful background for printing on white. Or, you can print the ones without a background on colored card stock to help you save ink.
After printing, we suggest laminating for durability.
Next you will cut apart the cards.
Provide students with the recording page. You will print this front to back. It might be helpful to have students use a clipboard to hold their recording pages.
Next, place a card at different spots around the room. It works best if you put the cards in a logical order from least to greatest. This makes it easiest for students to rotate through.
Each student will start at a card. Give students a minute or two to respond to the card on their recording page.
When time is up, you will announce scoot. They will move to the next spot and work on the next question.
Skills found in this noun scoot game:
find the nouns in a sentence
proper nouns
plural nouns
possessive nouns
pronouns
possessive pronouns
You can download this language practice here:
Looking for other free resources for language practice? Try these freebies:
As with all of our resources, The Curriculum Corner creates these for free classroom use. Our products may not be sold. You may print and copy for your personal classroom use. These are also great for home school families!
You may not modify and resell in any form. Please let us know if you have any questions.
You may not modify and resell in any form. Please let us know if you have any questions.