Download these free read aloud listening response pages to share with your students as you read in class.
This is another free resource for teachers and families from The Curriculum Corner.
This collection of read aloud listening response pages will be a great addition to your graphic organizers in your classroom.
Teachers of young children often have a daily read aloud which children look forward to. It is just as important for us to read aloud to our older students as well!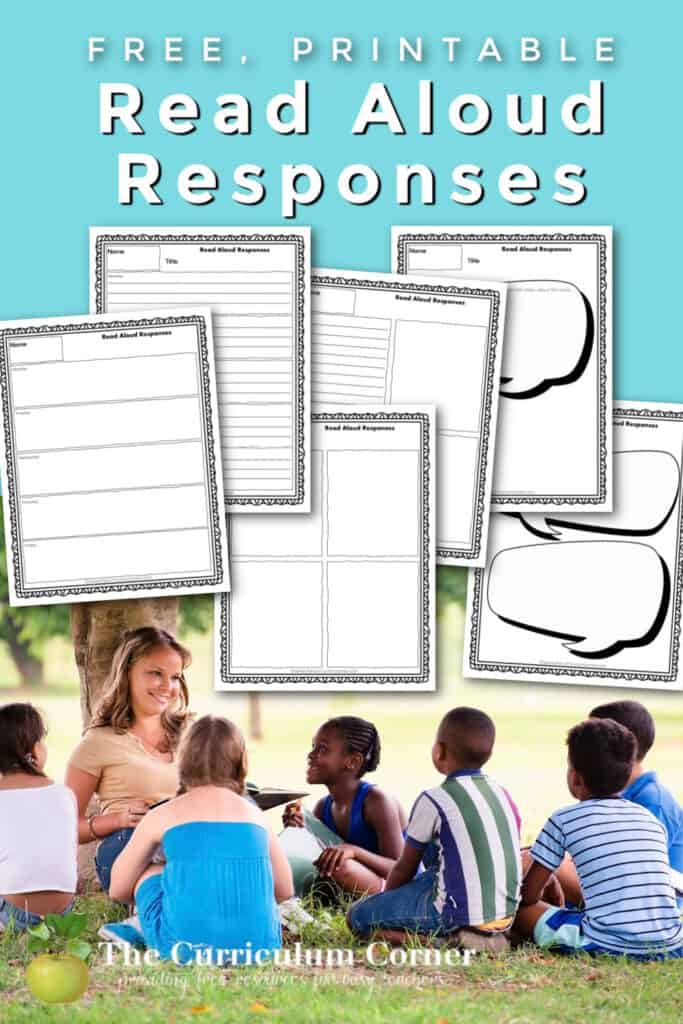 Benefits of Read Alouds
First of all, children listening to a read aloud helps them develop their listening skills. During this listening time, they will also be working on comprehension skills as they work to make sense of what they are hearing.
Being read to allows students to focus on visualizing as opposed to decoding words. Visualizing is an important skill for students to have as they grow older and are reading books that do not offer pictures.
Also, reading aloud books encourages children to read for enjoyment. So often older children begin to believe that reading is always a task or chore. Begin able to simply listen and relax offers a time for students to read for pleasure.
About these read aloud listening response pages
This collection contains 15 graphic ogranizers. This will allow students to choose the page that is just right for them.
Some students enjoy having a spot to doodle or share thoughts as they listen to a book. These pages are perfect for those children.
They are not designed to be a required assignment. Allow children who simply want to close their eyes and listen to do so.
When I taught fifth grade, I would have children that would doodle thoughts and words as they listened to a story.
My first thought was that they were not engaged in what I was reading. And then I realized that I was not taking time to think about the situtation.
Children can draw and write as they listen – maybe they are recording phrases they liked or drawing a picture of what they are visualizing.
Offering children a graphic organizer for recording their thoughts can be a great way to encourage students to continue this practice.
Plus, maybe some students who haven't tried this strategy before will try it out and find it beneficial to their comprehension.
Another thought is that children might have thoughts they want to share about what they hear. Allowing them to record these thoughts can give you the opportunity to go back to those ideas later on.
We have created a collection of 15 graphic organizers. These worksheets can be used for students to use during and after a read aloud.
You can download this collection of graphic organizers here:
---
Looking for other resources to add to your reading collection? Try these freebies we have created:
As with all of our resources, The Curriculum Corner creates these for free classroom use. Our products may not be sold. You may print and copy for your personal classroom use. These are also great for home school families!
You may not modify and resell in any form. Please let us know if you have any questions.