Download these 40 free literature graphic organizers for intermediate students to be used in your 4th, 5th or 6th grade reading workshop.
Our free collection of literature graphic organizers is a great way to help students work on key ideas in literature.
You will find a range of worksheets to be used to help children with different skills.
This is another free resource for teachers and homeschool families from The Curriculum Corner.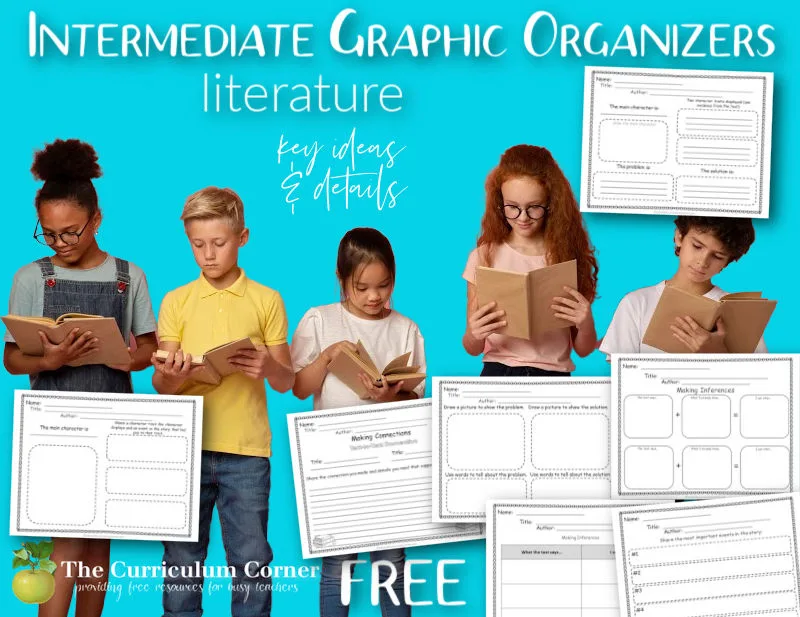 These free literature graphic organizers are designed to help you address 4th and 5th grade literature standards.
It seems like we have spent a great deal of time searching for the perfect graphic organizer. There is never one that is just right for what you need!
Our hope is that in creating this collection of graphic organizers, we are providing teachers with a large selection of choices. This will make it easier to find a just-right fit for your students.
Using These Organizers
We always find it helpful to model a graphic organizer before expecting students to complete one independently.
You can use the graphic organizer during your mini-lesson. After sharing a read aloud, model for students how to complete the page.
Some of the organizers can be a good addition to your small group instruction.
We have created a wide variety to make differentiating in your classroom easier.
Once children have been guided through the process, the organizer can be an option during independent reading.
You might hold on to the organizers you complete during your mini-lessons. These can then serve as a reference for students who might need a little help.
Skills covered include:
Identifying who, what, where, when and why
Answering questions about the text
Identifying important events in a story
Making a storyboard to retell a story
Find the message in a story
Creating a timeline
Identifying the story elements
Outlining and then writing a summary
Making inferences
Determining character traits
Compare and contrast characters in a book
Share a scene from a story
Identify character's emotions
Identify the theme of a book
Sharing the problem and solution
Writing about your reaction to a book
Completing a story map
Making connections
Compare and contrast two books
_____________________________________________
You can download this free collection of graphic organizers here:
________________________________________________________________
As with all of our resources, The Curriculum Corner creates these for free classroom use. Our products may not be sold. You may print and copy for your personal classroom use. These are also great for home school families!
You may not modify and resell in any form. Please let us know if you have any questions.
You may not modify and resell in any form. Please let us know if you have any questions.