This set of free Roman numeral worksheets along with Roman numeral charts will help your students practice reading and writing Roman numerals.
We have created these free Roman numeral worksheets and Roman numeral charts to help you introduce the concept of reading and writing Roman Numerals to your students.
The 41 pages we are providing will help you build understanding. Next, your students will be able to practice the skill.
With so many pages to choose from, you will be able to find just right pages for your students. This download includes charts that can be used as anchor charts or tools to add to a math notebook.
This is another free resource for teachers and homeschool families from The Curriculum Corner.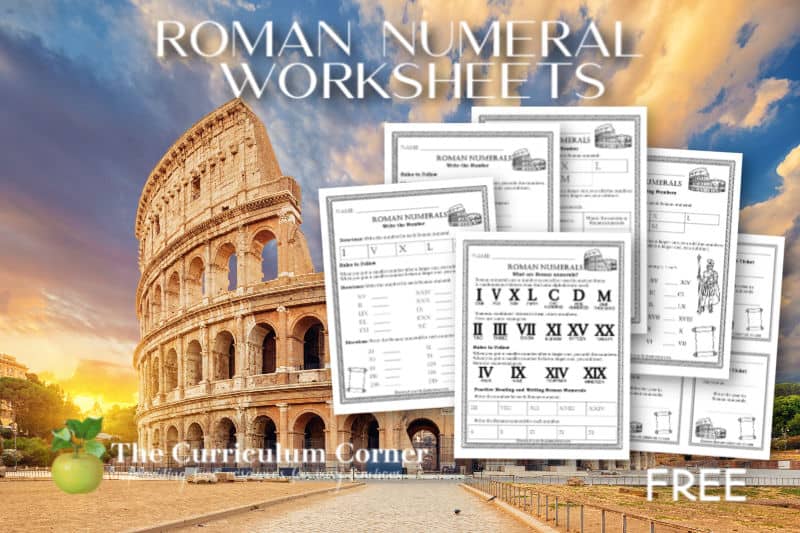 In need of Roman numeral worksheets? We've got you covered!
This set of Roman numeral practice pages includes 41 pages for you to choose from. Many of the pages have an answer key at the back of the pack.
These pages will help your fourth, fifth and sixth grade math students practice Roman Numerals in the classroom.
You will find a range of pages that will introduce the concept of Roman numerals along with practice pages that offer help in writing larger Roman numerals.
Using these tools, your students will be able to convert Roman Numerals to standard number form.
Your students will become masters at reading, writing, comparing and even adding Roman numerals! They will be able to quickly convert standard numbers to Roman numerals.
Our Free Collection of Worksheets
Wondering how you should teach Roman numerals to your students?
This collection of pages has not been created for teaching but for practice after the skill has been taught. As always, we like our teaching to include hands-on practice with manipulatives!
For Roman numerals, this might offer more of a challenge than practicing a skill such as counting money. Maybe have students practice on white boards with partners. Provide them with the guides found at the beginning of our collections.
Pages you will find include:
Roman numeral anchor chart or math notebook guide
Reminder half page sheets for students learning Roman numerals
Practice pages containing Roman numeral guides
Counting to 20 practice
Roman numeral color by code pages
Matching numbers
Writing smaller and larger numbers using Roman numerals
Reading smaller and larger Roman numerals
Adding Roman numerals
Comparing Roman numbers
Exit tickets to help you check understanding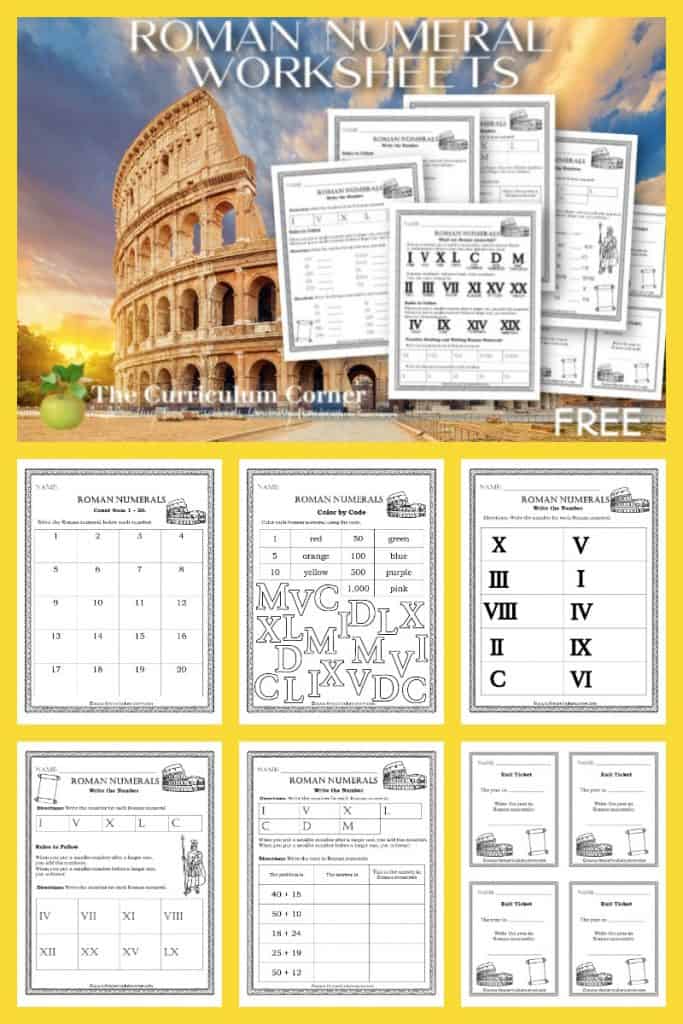 The range of pages will help you find just right pages for each of your students. Be sure to give your students worksheets that meet them where they are. Students who have mastered reading and writing Roman numerals will not need to spend time on a color by code practice page or matching numbers.
Some of the pages created will not be appropriate for students just beginning their study of reading and writing Roman numerals.
You can download this collection of free Roman numeral worksheets here:
Looking for additional resources for your math workshop? Try our Academic Math Vocabulary Booklet.
---
As with all of our resources, The Curriculum Corner creates these for free classroom use. Our products may not be sold. You may print and copy for your personal classroom use. These are also great for home school families!
You may not modify and resell in any form. Please let us know if you have any questions.