This decimal math center comes in a St. Patrick's Day theme.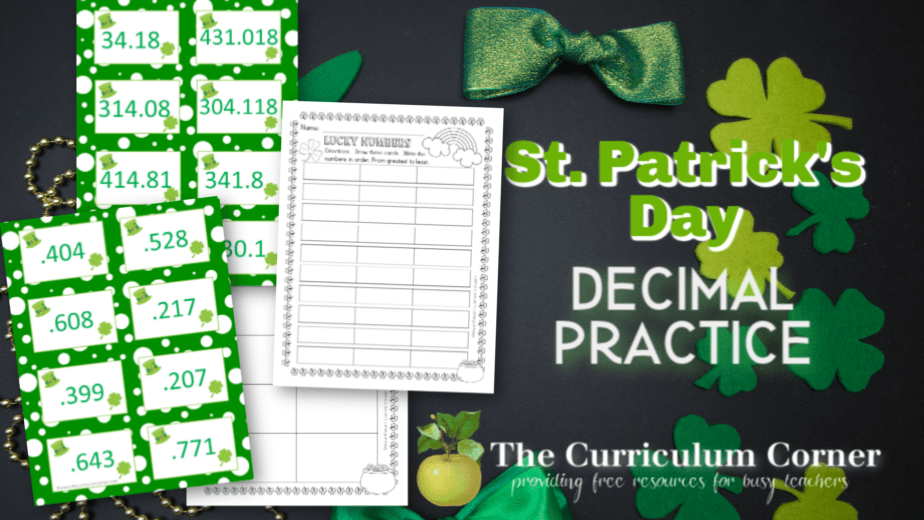 This is another free resource for teachers from The Curriculum Corner.
This seasonal deciaml math center will give your students practice with a variety of decimal skills.
Skills addressed include ordering decimals and adding decimals along with other computation skills.
This clover and rainbow center set will be a fun addition to your March math practice!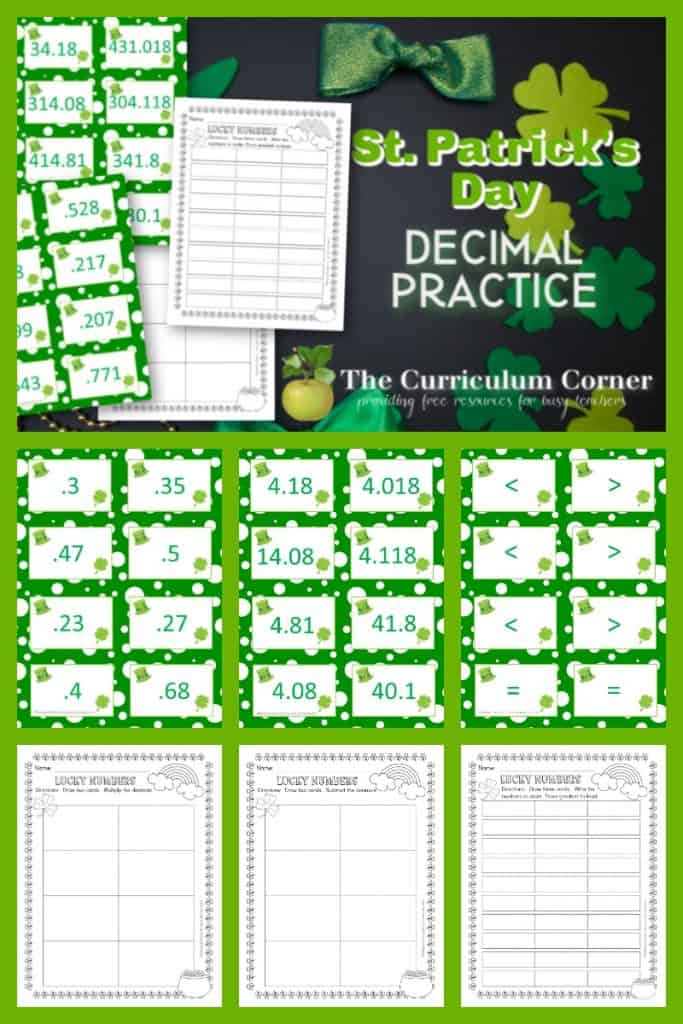 Practicing Decimal Skills with Math Centers
While we know that worksheets have their place in math practice and review, we like to offer a variety of other ways for students to practice.
This decimal math center will give your students the opportunity to practice a variety of skills.
Set up your center by printing on heavy, white cards stock. Laminate the pages and cut apart to get your math practice ready.
Students can use the cards to practice ordering numbers or complete operations such as adding, subtracting, multiplying and dividing.
You can have your children practice using white boards.
We have also created a range of recording pages. Choose a specific page for students working on a skill or allow students to choose what they need to practice.
Looking for other ways to use these math cards?
You can have students play a math war game. Have students shuffle and divide the cards into two stacks. They can then play a traditional war game using their stack of cards.
Or, create two sets of the cards. Students can play a memory match game where they must read the numbers out loud. This is a great way to modify this center so that it meets the needs of more students!
You can download this free decimal math center here:
Looking for additional decimal practice? Start here:
Take a look at our complete March Collection for more seasonal resources.
---
As with all of our resources, The Curriculum Corner creates these for free classroom use. Our products may not be sold. You may print and copy for your personal classroom use. These are also great for home school families!
You may not modify and resell in any form. Please let us know if you have any questions.
You may not modify and resell in any form. Please let us know if you have any questions.