These spooky writing ideas are a fun way to help your students try out a new style of writing.
Use these spooky writing ideas to motivate your students to write during the month of October.
This is another free resource for teachers and homeschool families from www.thecurriculumcorner.com.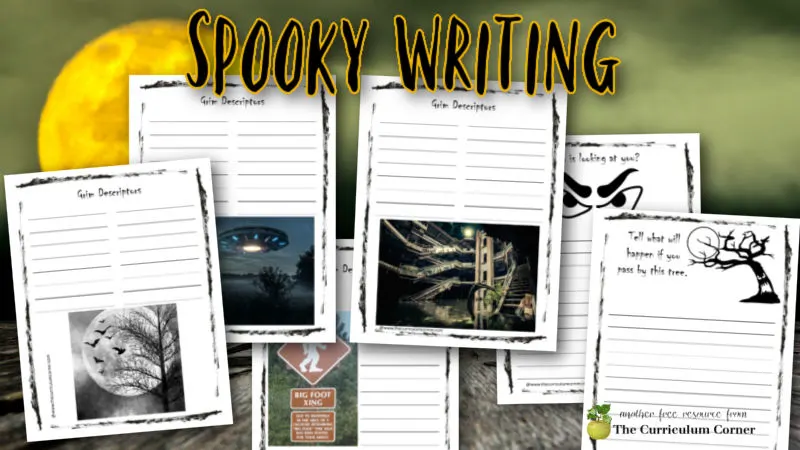 Spooky writing ideas download
This download is designed to provide your students with a push to get started with their writing.
These photos include a spooky assortment plus a couple that can be used for your students who prefer not to have a scary prompt such as muddy boots or an owl in a tree. You can use one of these options for students who would like to avoid any type of spooky writing.
The pages are set up so that students can begin by creating a word list that they would use in a story about their photo. Encourage them to include nouns, verbs, and adjectives that would help create a descriptive piece of writing.
There are also lined pages so students can use their word lists to create a story with their words.
As a group activity, you can print a page using your poster maker. Students can add a word to the word list as they enter. The next morning, you can request that students write one line for a story about the photo. In the end, you will have a class story to fit the photo.
As a follow up, allow students to each write their own story with different photos.
Along with the pictures that can be printed, you will find a set of slides that can be displayed on your screen. These are perfect if you want to do a practice together as a class.
Photos included:
Raven on tree limb
bats flying in front of a full moon
girl walking through spooky forest
empty, flooded mall
old, abandoned house in forest
big foot crossing sign
big foot hiding behind leafy plants
UFO in eery sky
muddy rain boots
owl
You can download these printable pages by clicking on the green apples below:

The slides can be downloaded by clicking below:
As with all of our resources, The Curriculum Corner creates these for free classroom use. Our products may not be sold. You may print and copy for your personal classroom use. These are also great for home school families!
You may not modify and resell in any form. Please let us know if you have any questions.