This silly animal dialogue practice is designed to give your students practice with writing dialogue.
Download these silly animal dialogue practice pages to help your students with using quotation marks.
These fun pages were a favorite in my classroom!
This is another free resource for teachers and homeschool families from www.thecurriculumcorner.com.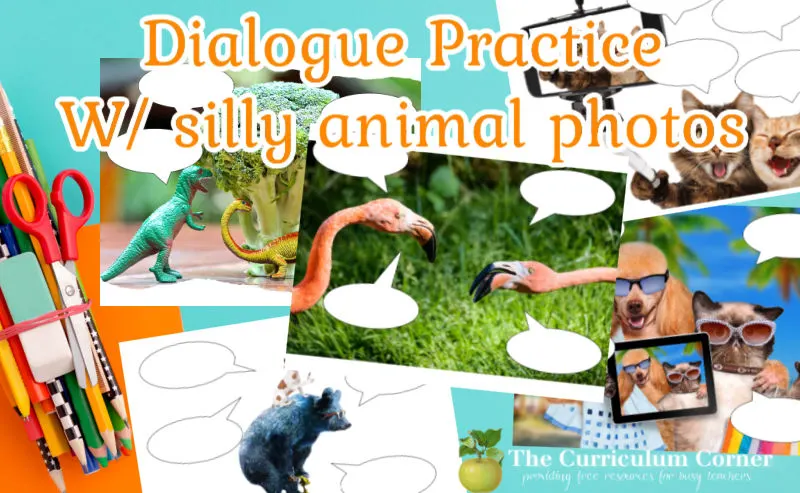 Silly animal dialogue photos
These funny photos were a hit with my students!
I printed the pictures with four on a page and then cut them apart. I wanted to print in color ink but thought my students were old enough that they could write in the speech bubbles. Printing with four on a page made it so that I used less color ink.
Students could also find their own pictures to use and cut out their own speech bubbles.
There is also a page students used to write their dialogue on. Some students continued their story and added additional lines.
These practice pages
You will find a set of 17 animal photos. Each photo has speech bubbles.
When I created these pages, I was wanting students to first think about what their animals would say.
They filled in the speech bubbles. We then met and talked about what their animals were saying. I wanted to make sure that their wording made sense so that they were ready to do their actual dialogue writing.
Our next step was to practice turning what was in the speech bubbles into dialogue.
We worked on correctly using quotation marks along with other punctuation. Students did need reminders to add the comma before the quotation mark. We also checked for where capital letters were needed.
This was used as our introduction to dialogue. For classrooms that have already worked on dialogue, this could be done as an independent activity.
You can download this free resource by clicking on the green apples below:

As with all of our resources, The Curriculum Corner creates these for free classroom use. Our products may not be sold. You may print and copy for your personal classroom use. These are also great for home school families!
You may not modify and resell in any form. Please let us know if you have any questions.