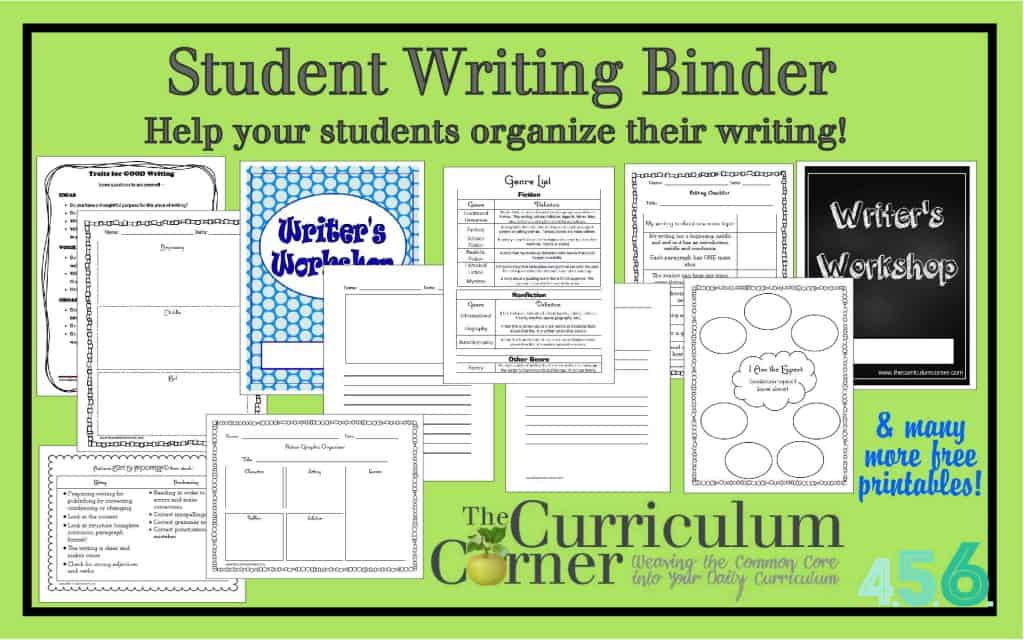 In writer's workshop any way that we can keep students' organized (for the teacher and the student) is always helpful…especially as writing pieces become more lengthy and involved or if students have more than one piece they are working on at a given time.
We suggest having separate writing binders for each student in your classroom.  These binders can be divided into sections so that pieces of writing stay organized and so that all writing resources are in one spot.  Many teachers use folders, but we truly like the idea of having more than two sections to keep things organized.  This binder is also a great resource to show parents at conferences, to use as documentation for an academic referral or RTI, and is also something students can take with them at the end of the year.
**Suggestion: You can have your students bring in binders that have a clear view pocket on the front along with a set of dividers, and then they can take them home at the end of the year.  Or if you prefer, binders  and dividers are cheaper to purchase at the beginning of each school year, so you can purchase an entire class set and then reuse them each year. (Sending home student work in a folder at the end of the year.) 
Binder Covers – Your students can personalize their writing binders with these cool binder covers!  Choose one you like for your whole class or let them pick their favorite.
_________________________________________________________
Following are the sections we suggest for each student's binder and some items you can choose to use for mini-lessons or resources for the binders.
Writing Ideas Section 
Top Ten List – Every so often, we like to give our students a topic for a "top ten" list that might spark a future writing idea.  For example you might have students write down their top ten favorite places to go or their top ten favorite people.  Later they can refer back to these lists to perhaps get a new writing idea.
Genre List – Sometimes students need a reminder of the different types of writing that they can attempt.  Having a list in this section of the binder might spark an idea for a new kind of story.  This is especially useful if you have a student who doesn't venture far from one type of writing such as narrative or fantasy.
P.A.T. (Purpose, Audience, Topic) – Sometimes before the writing process starts students might just have the beginnings of an idea for a story.  If they can get this general idea written down then they can come back to it if they are at a later time. Have students use this P.A.T page to sketch out a purpose for the writing, an intended audience and the topic to be written about.
I Am the Expert (Nonfiction Writing ) – Students write down topics for which they feel they have lots of knowledge and could teach others about.
I Know How To… (How-To Writing) – Students write down tasks that they know how to do well and could teach others to do.
Fiction Graphic Organizer – Help students think through an entire fiction story before getting started.  This really helps with those "ramblers" you may have that go on and on and on. 🙂
Student Resources – The following pages are for students to keep in their binders as resources to use throughout their writing process.  We suggest that you conduct mini-lessons on all parts of these so that students know how to use them effectively in their writing.
Pre Writing Graphic Organizers
Hamburger Paragraph – The link to this organizer, along with ideas for teaching this lesson are here:  http://www.thecurriculumcorner.com/thecurriculumcorner123/2013/12/03/hamburger-paragraphs/
My Opinion (My opinion is…, three good reasons why…concluding sentence)
Rough Drafts
Paper with Space for Illustration
Brochure Template (trifold)   PDF    Word Document
Proofreading & Editing
Proofreading Versus Editing Chart
Published Pieces – This section should house all of a student's final drafts/published pieces from Writer's Workshop.  It creates a portfolio-type look at a student's progress in writing and is a great place for a teacher to find evidence of students' progress in the writing process.