Add these compare and contrast graphic organizers and anchor chart to your writing workshop collection.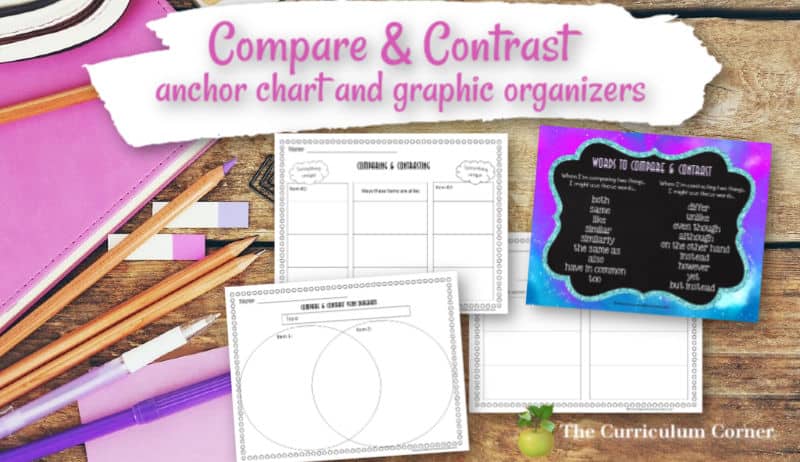 This is another free resource for busy teachers from The Curriculum Corner.
These compare and contrast graphic organizers and compare and contrast writing stems will help you prep your students for writing.
It is always helpful to work with your students during planning so that writing is less stressful.
Our graphic organizers are designed to help your students identify important points to include in their writing.
When used for writing workshop, completing one of these planners will help students get ready to write.
As always, be sure to be specific about your expectations. Are a few words ok in each section? Or, is this the final writing product so you would like sentences?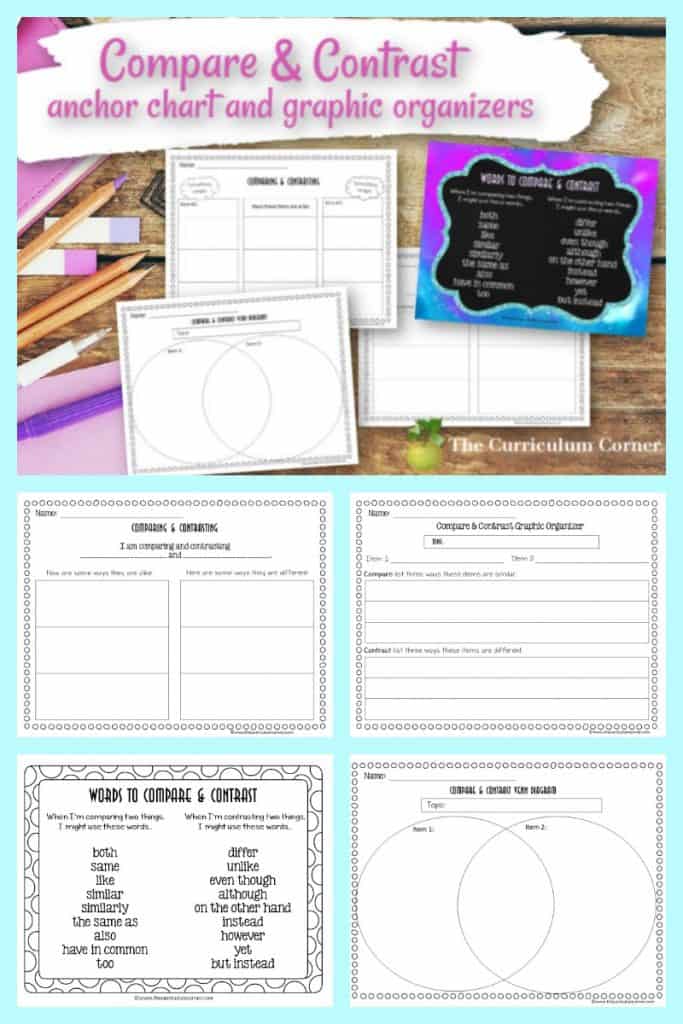 Writing Stems
Once they are ready to turn their planning into writing, share the compare and contrast anchor chart.
The anchor chart contains a variety of sentence stems for compare and contrast writing.
How else can the compare and contrast graphic organizers be used?
While these were intended to be planners for writing, these might also be a useful tool for close reading.
These can help students synthesize important parts of their reading.
Writing Tips
Be sure to share your expectations before students begin writing!
Some considerations might be:
How many paragraphs should the resulting essay be?
What is the minimum length for each paragraph?
What tools should be used for spelling? Word wall? Dictionary? Sound it out?
Appearance – writing neatly, evenly spaced words, indented paragraphs. Provide a writing checklist if these are pieces that you want students to pay attention to.
You can download these free compare and contrast graphic organizers and anchor chart here:
You might also like these other free materials from our site:
As with all of our resources, The Curriculum Corner creates these for free classroom use. Our products may not be sold. You may print and copy for your personal classroom use. These are also great for home school families!
You may not modify and resell in any form. Please let us know if you have any questions.