These vocabulary of Ancient Rome resources are designed for you to use in the way that fits your classroom best.
Download these free vocabulary of Ancient Rome activities to use with your students.
This is another free resource for teachers and homeschool families from The Curriculum Corner.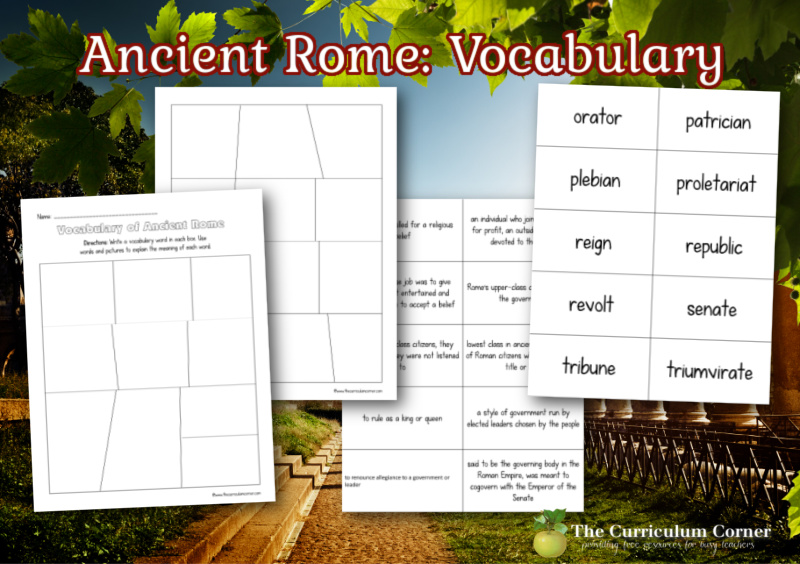 Studying Ancient Rome
We are ready to begin our next social studies focus, Ancient Rome.
There are many pieces I am working on putting together but I began with some vocabulary resources. I have more in the works but will most likely add those in next year.
Also, I wanted to make these in a way that they could be used as a center activity during my reading rotations. My children enjoy the freedom to choose the order of the work they are completing. This is a set that will be easy to work into their daily options. They can then choose the day next week that they complete the activity.
Vocabulary of Ancient Rome
This download contains a few different pages. I will share how I am using the pages but you might have your own ideas.
First, I will copy the two pages with the boxes front to back. This will be the student recording page.
Students will be asked to write a vocabulary in each box. They will then add words and pictures to show the meaning of each word.
Next, you will find cards that have the words and another set that contain the definitions.
One option is to use this as a sorting activity. Students can match the words and definitions. They can then record their answers.
Another idea is to use this as a write the room type of activity.
You can post the definitions around the room. You can then have students put the correct word cards on top of each definition.
Once you have checked the matches, students can work on their recording page.
You can download this set by clicking on the apples below:

As with all of our resources, The Curriculum Corner creates these for free classroom use. Our products may not be sold. You may print and copy for your personal classroom use. These are also great for home school families!
You may not modify and resell in any form. Please let us know if you have any questions.