This reading passage focuses on the fall of Ancient Greece and the reasons behind the decline.
Students can use this as a way to begin discussing the fall of Ancient Greece.
This passage was written to discuss many reasons or events that resulted in the weaking and eventual collapse of Ancient Greece.
This is another free resource for teachers and homeschool families from The Curriculum Corner.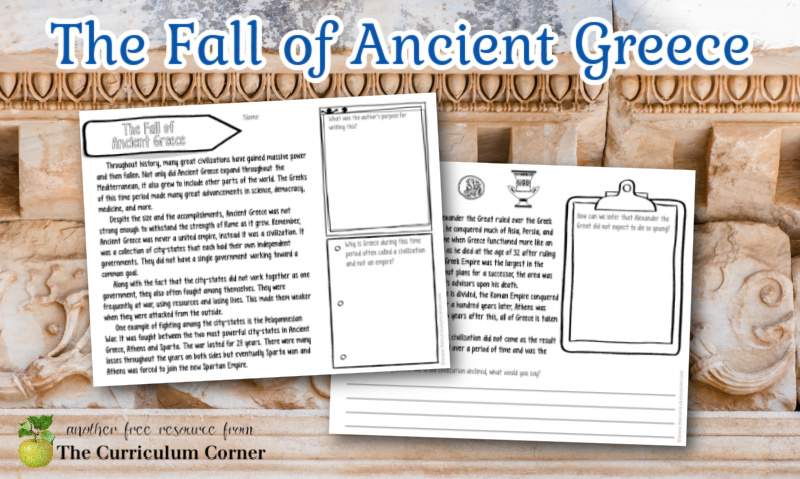 Studying Ancient Greece
As we studied Greece, students learned about the lack of a united group of city-states. We had also touched upon the Peloponnesian War. Along with other events, we had discussed Alexander the Great and debated if he was truly great or now.
When it was time to talk about Greece falling apart, my students were mostly familiar with the pieces put together in this reading.
I have found that I like having the passages like this one because students can highlight, circle, and draw to show their thinking. They have been a good tool to weave history and reading skills together.
The Fall of Ancient Greece
Along with the reading, I have included a few questions on the sides and at the bottom for students to share their thinking.
For this one, I told students they could use words and pictures in the boxes – the focus was not on writing in complete sentences but to share their thoughts.
The final question I asked for a written response using sentences. This was to provide practice for what they might see on a history test in junior high next year.
You can download this free resource by clicking on the apples below:

As with all of our resources, The Curriculum Corner creates these for free classroom use. Our products may not be sold. You may print and copy for your personal classroom use. These are also great for home school families!
You may not modify and resell in any form. Please let us know if you have any questions.