Use these volcano fill-in sentences during your volcano study.
These volcano fill-in sentences have been designed to accompany your study of volcanoes.
Print these as a vocabulary activity for your students.
This is another free resource for teachers and homeschool families from The Curriculum Corner.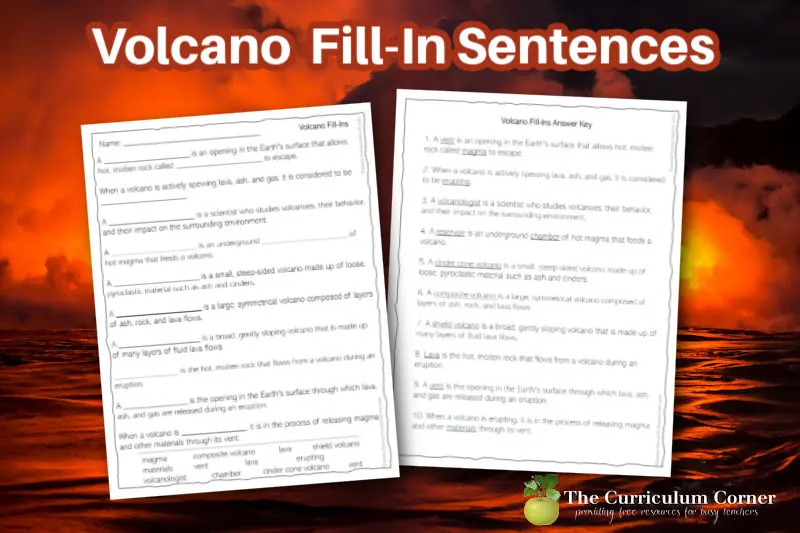 Volcano Fill-In Sentences
This activity was designed to be a part of my study on Pompeii.
We ran out of time so it did not get used this year but I will share my plans for how I would use it.
This was designed to be a challenging activity for my students. I knew they would have to be able to use their iPads as a tool. Before they did this, I wanted them to read through and see if they were able to find any of the answers on their own.
After this, they were going to work with a partner to find the remaining answers. I really wanted this to be a task they had to work at and not one that could be done from knowledge they already had.
These sentences are challenging so my thought is that they will fit into sixth or seventh grade. However, you know your students best!
Vocabulary Words
The following words are included in this task:
magma
materials
volcanologist
composite volcano
vent
chamber
lava
shield volcano
erupting
cinder cone volcano
(lava and vent are on the page twice – they will each be used two times)
You can download this free page by clicking on the green apples below:

As with all of our resources, The Curriculum Corner creates these for free classroom use. Our products may not be sold. You may print and copy for your personal classroom use. These are also great for home school families!
You may not modify and resell in any form. Please let us know if you have any questions.