This volcano research match is designed to help students develop their research skills.
You can easily create a center using this volcano research match set.
Students will be able to learn about volcanoes while practicing an important skill.
This is another free resource for teachers and home school families from The Curriculum Corner.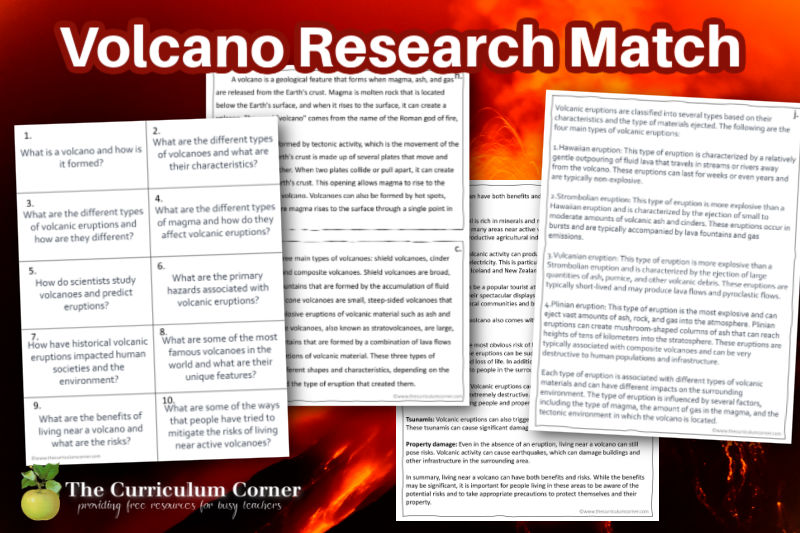 Why should students practice researching?
In my classroom, I am trying to give my students many opportunities to develop their research skills. Some days we work on iPads so they can practice go over search results. Other days, I have students practice with printed text.
I want to work on helping them develop critical thinking, problem-solving, and analytical skills.
Research skills involve the ability to find and evaluate information from various sources, such as books, articles, and online resources.
Practicing research skills can help sixth graders to develop effective study habits and improve their writing and communication skills. Research often involves synthesizing information from multiple sources and presenting it in a clear way.
I developed this center to provide students with practice finding a text that helps answer the question they are focusing on.
This volcano research sort
This sort is designed to help students match research questions with passages answering the questions. Students will not always have to read the whole page to find the match.
There are ten research questions.
There are also ten passages.
The answer to each question can be found in the passages.
In my room, I had students number from 1 to 10 in their reading response journals. They then put the letter of the card that contained the answer to the question.
Students did really well on this.
I sometimes struggle with finding centers that provide a challenge and will help students practice an important skill.
This seemed to be engaging enough that I saw children working together and discussing their thoughts as they matched the cards.
You can download this free center by clicking on the green apples below:

As with all of our resources, The Curriculum Corner creates these for free classroom use. Our products may not be sold. You may print and copy for your personal classroom use. These are also great for home school families!
You may not modify and resell in any form. Please let us know if you have any questions.