This addition with regrouping center set will give your students differentiated math practice.
This is another free resource for teachers from The Curriculum Corner.
This set of addition with regrouping resources will help you differentiate your students' practice during centers.
Introducing children to addition with regrouping can be a challenge.
Some students immediately understand the concept.
Others benefit from columns and boxes on their practice pages to make sure they keep their thinking straight.
You will have some students who need manipulatives to model for them the process.
The varying needs of students can make it challenging to create one math center that will fit the needs of a range of students.
We created this center set to meet that need.
With regards to the differentiated recording pages we have created four different options.
You will choose the level of support that each group or individual needs as they work to practice and master addition with regrouping.
Here are the levels you will see:
No Support – Students simply record the problems in the boxes and solve them.
Labeled Columns – Students are provided with columns and shaded boxes to remind them about regrouping.
Direct Support – Students are asked if they need to regroup and required to circle their answer before solving.
Concrete Support – Students are given counters to add the tens and ones and regroup of necessary.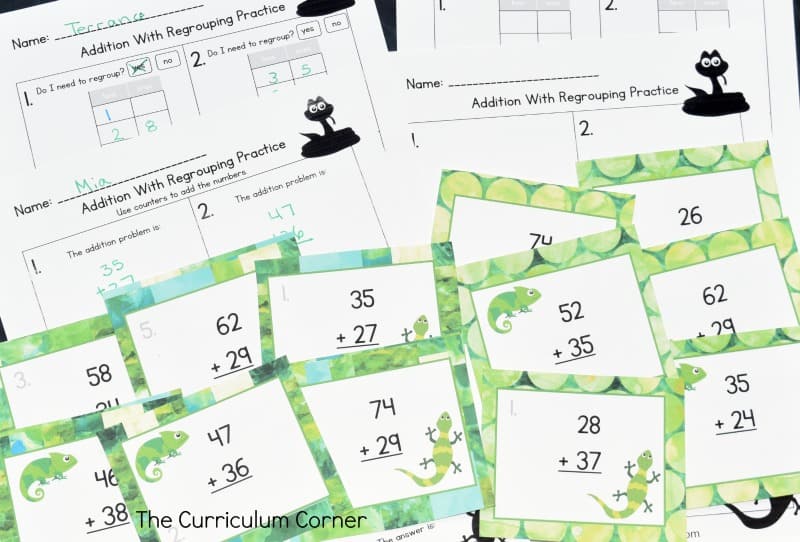 Getting you addition with regrouping centers ready
Our collection includes two sets of problem cards and multiple recording pages. These will provide your students with various levels of support for guided or independent practice.
The first set of cards all contain problems that require regrouping, While the second set is a mix and contains some problems that will not require regrouping.
Print these pages on cardstock and laminate the pages for durability.
Copy the recording pages that fit into your classroom.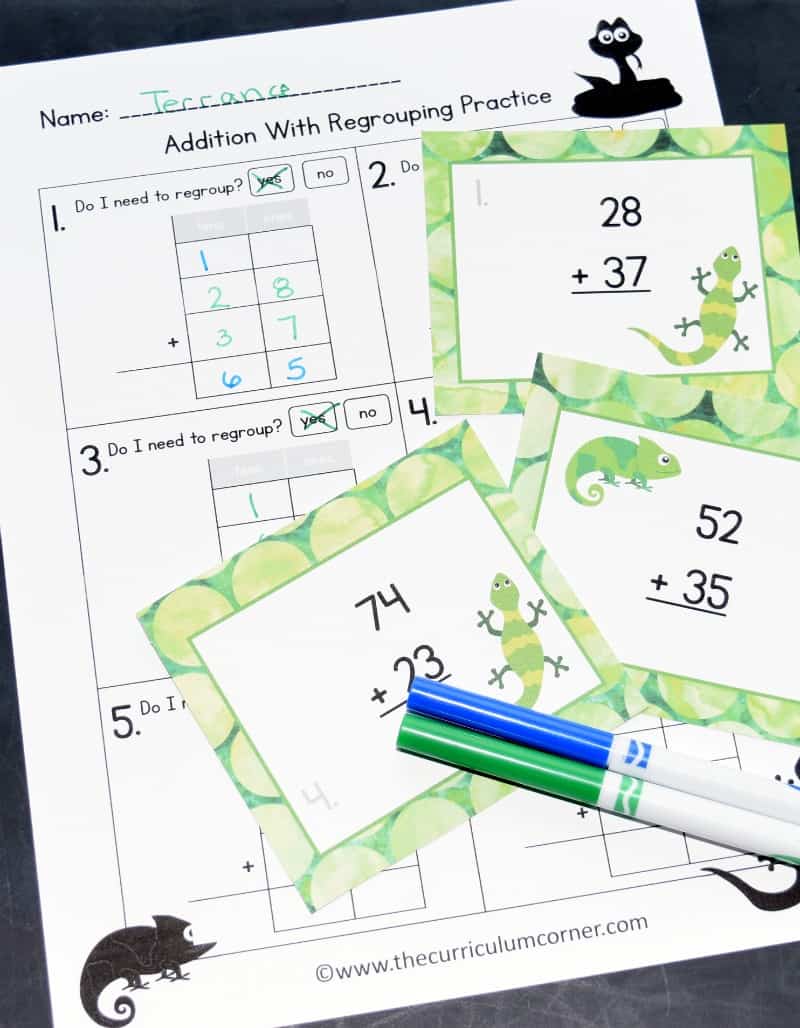 To download the reptile themed problem cards and recording pages we have created, click here:
You might also be interested in:
Looking for manipulatives for more hands on practice? Try these (contains Amazon affiliate links.)
---
As with all of our resources, The Curriculum Corner creates these for free classroom use. Our products may not be sold. You may print and copy for your personal classroom use. These are also great for home school families!
You may not modify and resell in any form. Please let us know if you have any questions.