Katherine Johnson: a collection of resources to help your students learn about Katherine Johnson through reading.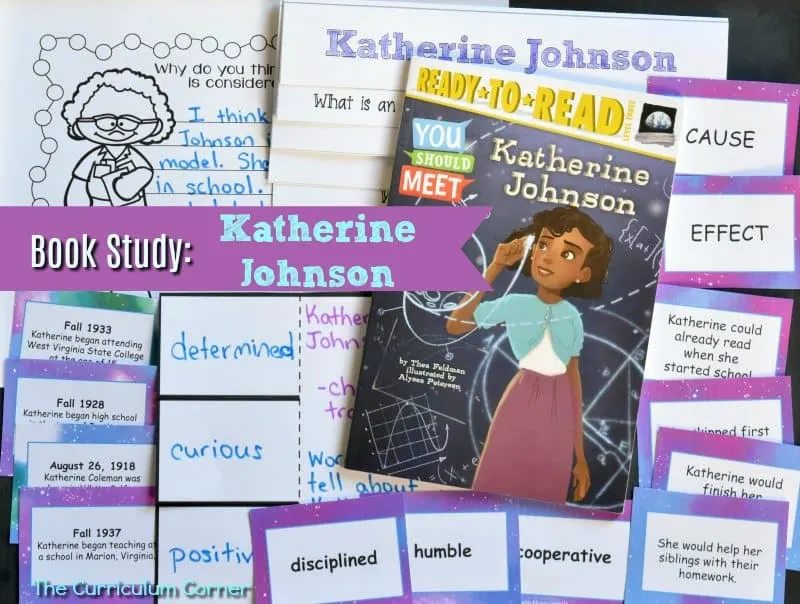 This is another free resource for teachers and homeschool families from The Curriculum Corner.
This collection of resources about Katherine Johnson is designed to help guide a book study of You Should Meet: Katherine Johnson.
This book about Katherine Johnson will be a great addition to your classroom.
This is a biography about one of the main characters in the movie Hidden Figures, Katherine Johnson. It will be a great addition to your classroom library!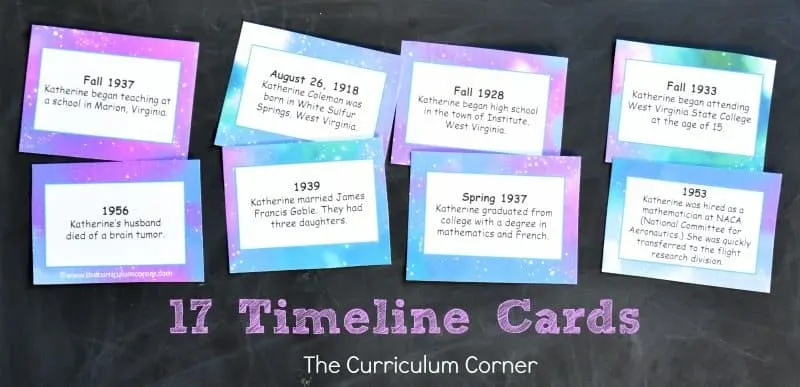 Katherine Johnson Book Study
The following printables are included in this download:
What I Have Learned About Katherine Johnson
This is a simple and open-ended graphic organizer students can use at a center after the book has been read aloud. Place the book at the center so students can use it to check the accuracy of their claims about what they have learned. Students can find the answers within the book.
Support Your Beliefs
This page is intended for use as a mini-lesson as you read the book together with your students. Students share one word they feel describes Katherine. They will then find three ideas from the book that will support the word.
Character Traits
If you want students to think more deeply about Katherine Johnson and the type of child she was, get them thinking about the different character traits that describe her best. We have provided nine words on card. Students can use these at a small group where they choose a card and must then share evidence to support the trait they chose. You might also choose to have students come up with their own character traits.
Interactive Notebook Directions
Students cut on bold lines and glue the middle vertical rectangle to their notebook pages. Next, they write Katherine's name in the part they glued down and fold the flaps fold over it. On the outside of each flap, students write a character trait they believe describes Katherine. Under the flap they will share support for the trait from their reading.
Thinking About Katherine Johnson – Synthesizing Activity
Students share their thinking about their reading following the prompts. This organizer might be best completed during class discussions depending on your students.
Katherine Johnson's Quote
This is an open ended page that you may use in different ways. The top contains a quote from Katherine's father. You might choose to have students share their dream using words and pictures. Another idea is to have students share what Michaela has done to make her own dream come true.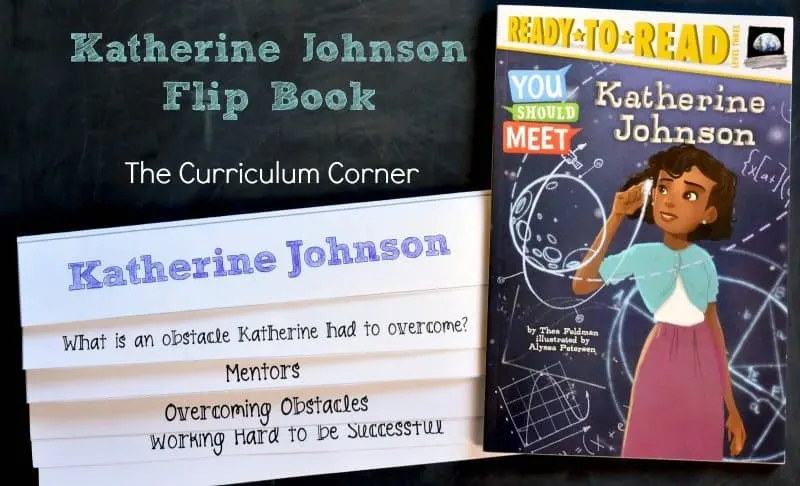 Flip Book
To assemble this booklet correctly. Print pages in the given order, front to back. Once you have done this, you will be able to fold the pages on the marked lines (look for the small marks on the side of the pages.) Stack the pages together and staple. Students will follow the prompts to complete the booklets.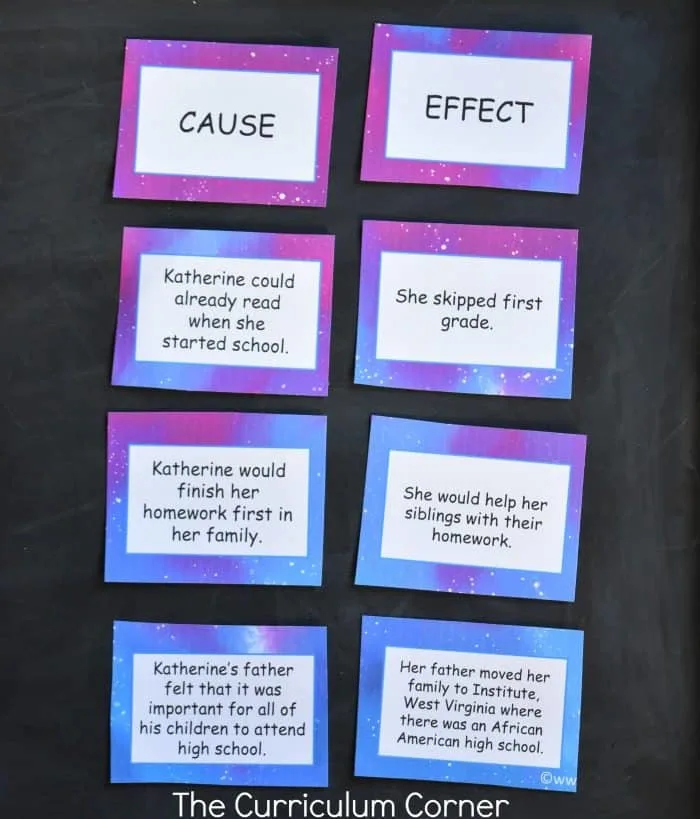 Cause & Effect
Students will match each cause with the effect at this literacy center. We have also provided a recording page.
Reading Response Pages
There are four different pages that have simple reading response questions to be completed after the learning.
Making Words
Students use the letters in the word MATHEMATICIAN to create smaller words. Comes with a page of letters for students to cut out and manipulate to make the words.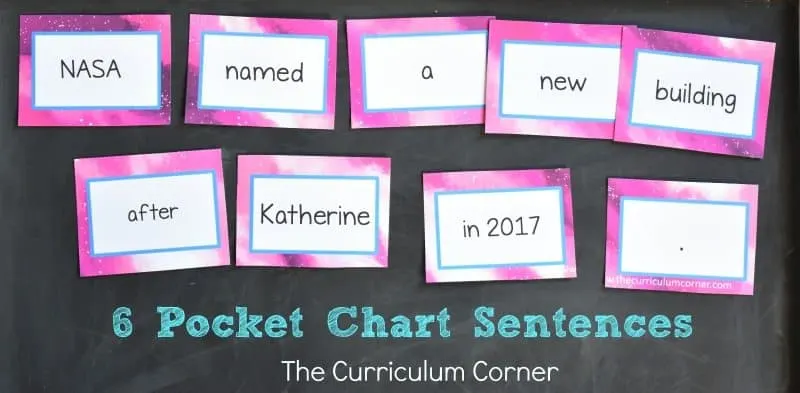 Pocket Chart Sentence Cards
These five pocket chart sentence cards can be used during a mini-lesson or as a scrambled sentence center. They borders are color-coded for easy sorting and storage.
Comparing Books & Movies
The movie Hidden Figures is not geared towards the same age group as this book. However, if your students will be following a reading of the book with a viewing with their families at home, you might be interested in this page. It is a simple chart used to compare the book and movie.
You will find this Katherine Johnson collection here:
Looking for other book studies to add to your collection? Take a look at these:
Need to purchase the book or other resources to accompany your study? We are sharing a couple links below (contains affiliate links).
If you are looking for additional resources for your study on biographies, you will find our unit of study here: Biography Unit of Study
As with all of our resources, The Curriculum Corner creates these for free classroom use. Our products may not be sold. You may print and copy for your personal classroom use. These are also great for home school families!
You may not modify and resell in any form. Please let us know if you have any questions.