Use this printable camping classroom decor set to create a fun and organized classroom with a great theme.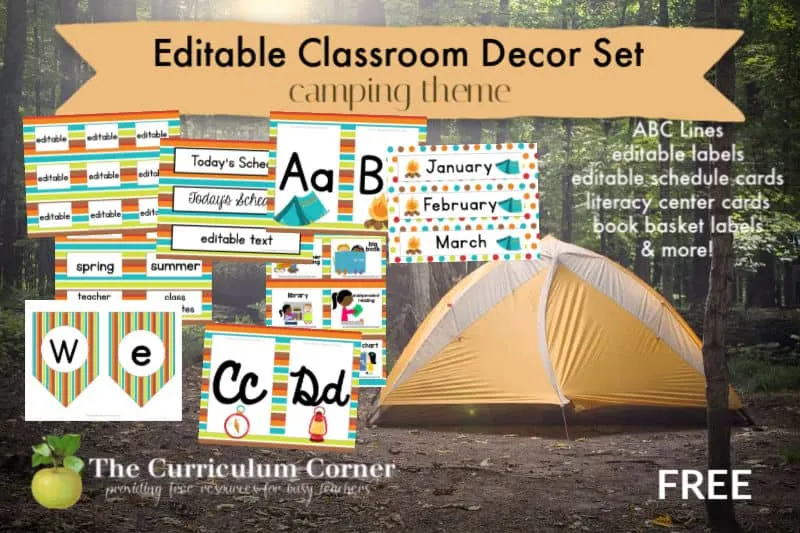 This is another free resource for teachers from The Curriculum Corner.
This printable camping classroom decor set is perfect for the teacher looking for a fun theme for the year.
The colors were chosen to match your camping decor. Many teachers like to add a tent for a reading corner. You might even build your own cardboard and construction paper campfire and add logs for seats.
This classroom decor set contains a wide range of materials. You will find ready to print materials along with editable pages.
How to Edit this Camping Classroom Decor Set
The editable files are available as PowerPoint downloads. Editing is simple but you must have PowerPoint to be able to download.
We have used free KG fonts in these files. You will need to add these to your computer in order to use these files.
The two fonts we used are: KG A Thousand Years, KG Penmanship Print & KG Eyes Wide Open. You are also able to change the fonts we used to other fonts of your choice.
Simply type over the wording we have entered to make it your own.
Need another color added to fit your class decor? You can change the font colors to make this set fit your classroom!
The assortment of sizes and shapes on the editable files will allow you to edit in order to create the following:
classroom labels
name tags
group name signs
group number signs
hall passes
book bin labels
supply labels
classroom center signs
blank anchor chart
response posters
classroom schedule cards
Our Non editable Files Include
ABC letters in print
ABC letters in cursive
color posters
cardinal directions posters
number line cards
number cards
ABCD cards for grouping students
calendar pieces
You can download these free Watercolor Classroom Decor files here:
Classroom Decor: Camping
This collection of classroom decor includes both editable and ready to print items in a fun camping theme. Click on the teal words below to download each part of the collection.
You can find the KG fonts we used here: