Use our free camping editable teacher binder to help you get organized for the school year.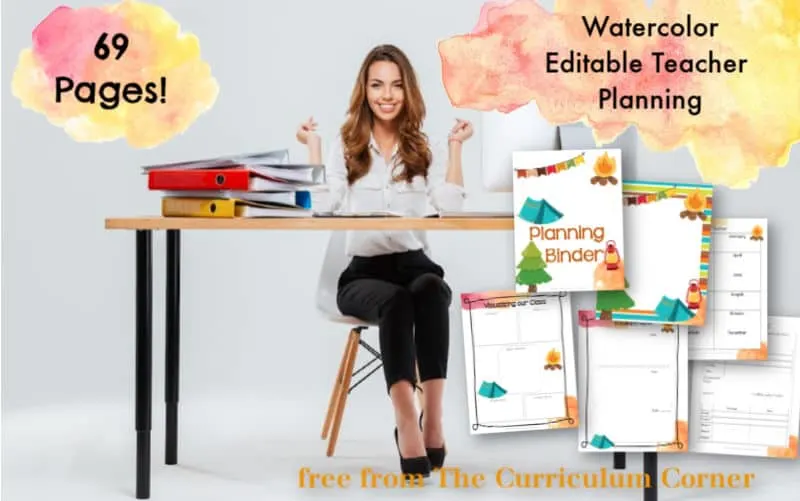 This is another free resource for teachers from The Curriculum Corner.
This camping editable teacher planning binder will be a fun addition to your camping theme.
Camping can be such a fun theme for the classroom – we love using a tent for a reading corner and have students work on an art project to build a model campfire.
If you are new to our site, welcome! Take a moment to look around to explore our always growing collection of free teacher resources.
Our most popular resource is our editable teacher binder – we've given it an update with some colorful watercolor splashes and trendy fonts.
Like the original version, we are providing the PDF and PowerPoint versions so you may edit if needed.
Terms of Use
You may not edit and resell. We are providing these as free resources for teachers. You may share the link to this post on your site.
Bloggers, school districts and teachers may not share the direct link to the downloads, only to the blog post.
Look below to find the links to download this newly updated binder.
You will also find links to other resources that can be used in your planning such as our reading management, math management and writing management binders.
Notes about some of the pages included in our editable camping editable teacher binder:
Student & Class Information An assortment of forms on information to collect at the beginning of the year. These forms include pages to record parent contact information. You will also a page for transportation, an IEP at a glance planner and birthday recording pages.
Daily Organizational Items Includes check off lists, behavior documentation, student schedules and things to do pages. You will also find pages for taking notes during meetings.
Lesson Planning From developing units to daily planning, there are an assortment of pages to help you pull together your plans. Also includes forms for student groupings.
Professional Resources Keep track of books to purchase, favorite quotes, conferences to attend and more.
We hope you find all of the pages you need within our collection!
If there are additional pages you would like to see added, please leave the ideas in the comment section below.
DOWNLOAD The Camping Editable Teacher Planning Binder HERE:
Interested in our other teacher binders? You will find all of the materials in our collection here:
** If you are using the editable version, you will need to install the following fonts:
We have the commercial use versions but you can use the free option for your personal use.