Add these digital addition boggle games to your distance learning collection.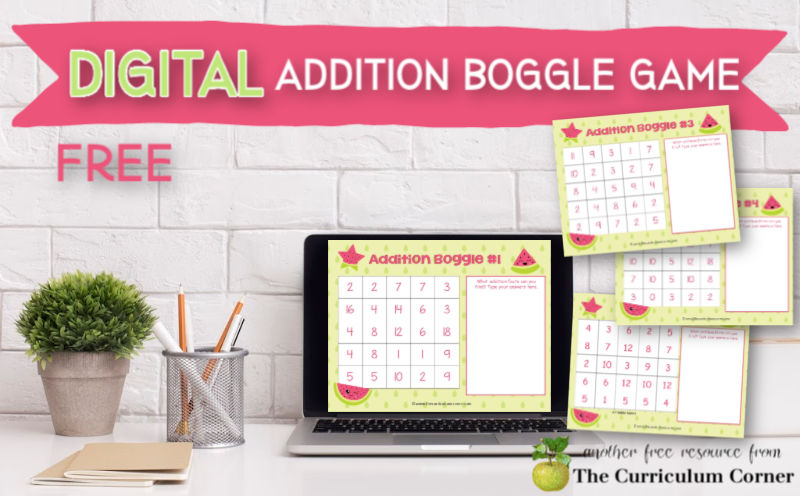 This is another free resource for teachers and homeschool families from The Curriculum Corner.
Our free digital addition boggle games can be a helpful addition to your distance learning collection.
We are looking to expand our collection of resources to help you as you head into the new school year.
These new digital options will help with distance learning and in class options that are no contact but still engaging.
This free game is being provided as a PowerPoint file and a Google Slides file.
Playing this Digital Addition Boggle Game
Each board has math facts hidden in the board.
Boggle games are similar to word searches but the boxes do not need to be in a straight line. The boxes must be touching above or side to side (not diagonal.)
Students will search for the facts and type them in the white box on the right.
You can have students screenshot and send or save and share their finished slide.
This download includes multiple versions of the game. The games have the following focus:
Doubles addition facts
Plus 1 facts
Plus 2 facts
Making 10 facts
Larger sums
Editable board
You can download this free math game here:
*** You will not need to request access from us when using the Google Slides version. Simply save to your Google Drive and then you will be able to use the document.
---
You might also like these other digital options for the classroom:
As with all of our resources, The Curriculum Corner creates these for free classroom use. Our products may not be sold. You may print and copy for your personal classroom use. These are also great for home school families!
You may not modify and resell in any form. Please let us know if you have any questions.