Use our Fry word fluency sentences to help students improve their fluency skills. Focuses on the first 500 words.

This is another free resource for busy teachers from The Curriculum Corner.
We believe that helping students master Fry words (or other sight words you work on) can help them become better readers. Part of becoming a better reader is fluency.
These Fry Fluency Sentences will help your students use sight words they have mastered to develop their reading fluency.

Resources within this post include Fry fluency sentence cards, Fry fluency sentences tracking pages and a Fry fluency sentence reading page.
We feel that the Fry fluency tracking pages can help those teachers in need of data. When you need to show student growth, these pages will give you an easy way to track improvement in reading.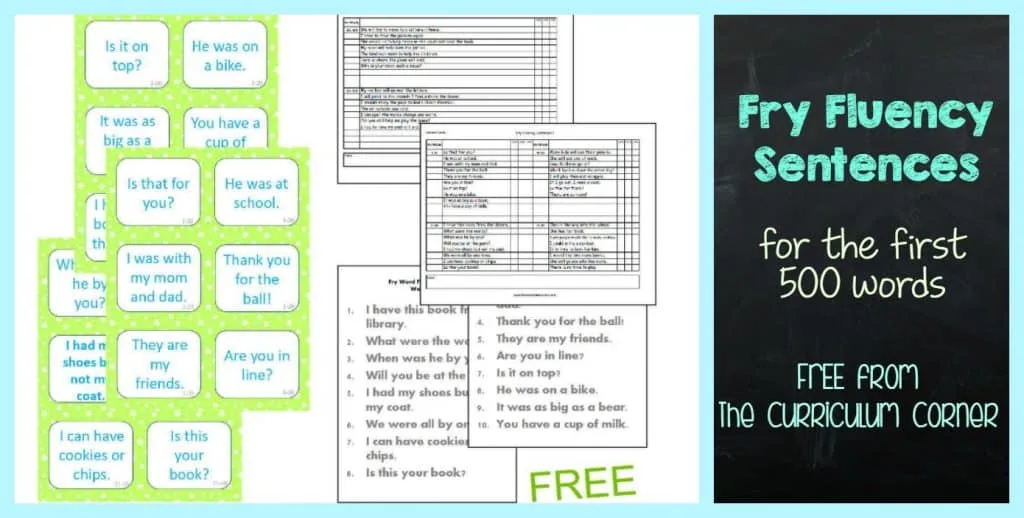 Our Fry Fluency Sentences
For these sentences, we separated the Fry list into groups of twenty words.
We then wrote a set of sentences that includes all the words in that group of 20. This will allow students to get practice decoding and using the words they are learning in context. (Special thanks to Jessica Guelcher for writing the fifth hundred!!)
The sentences include statements, questions, commands and exclamations so that your students are practicing their intonation for the different types.
To create a these sentences we did need to include words outside of the Fry list. We made an attempt to use words that would be known to students.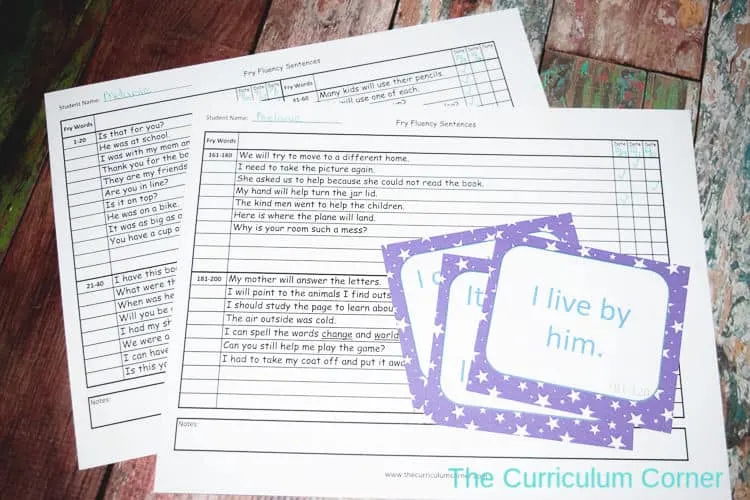 We have also created a teacher checklist for the Fry fluency sentences. You will find pages of the sentences for students to read for the assessment.
This is an update to our original Fry fluency sentences. This is a more complete set of our previous materials.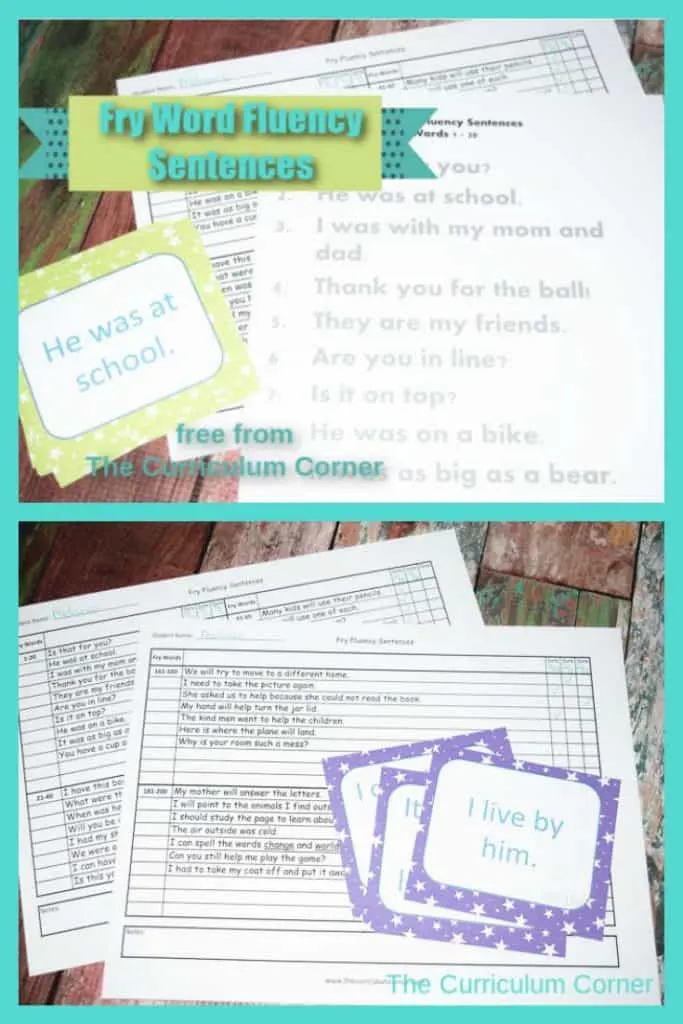 (Each set of 100 words is provided in a different color for easy organization and assignments. However, the groups of twenty have been noted on each card.)
The cards are great for practice of these sentences. You can place these at a literacy center and have students practice with partners or independently.
Differentiation is easy because you can tell students which color of cards they need to focus on.
You can also print these to send home with students for practice. Even one or two cards each evening for early readers is a great idea for having them work on their fluency.
Download our Fry Fluency Resources Below:
Fry Fluency Sentence Checklist
Fry Fluency Sentence Student Reading Pages
Green Fry Sentence Cards First Hundred (1 – 100)
Purple Fry Sentence Cards Second Hundred (101 – 200)
Orange Fry Sentence Cards Third Hundred (201 – 300)
Yellow Fry Sentence Cards Third Hundred (301-400)
Blue Fry Sentence Cards Fourth Hundred (401 – 500)
If you are looking for additional sentences for your kids focusing on the first 100 words, try these:
Superhero Themed Fry Fluency
You will find our complete collection of free Fry Word resources here:


Fry Resource Collection