This Growing Readers Unit with teach you How to Launch Reading Workshop in your classroom.
This is another free resource for teachers from The Curriculum Corner.
Not sure how to launch your reading workshop? We believe the key to a successful readers' workshop is teaching your students the right procedures so that the workshop runs smoothly and effectively. Use these launching lessons to create a more organized and meaningful experience for you and your students.
Since many of these lessons build the foundation of your workshop and are more managerial in their intent, not all address specific standards, however taking the time at the beginning of the year to teach organization and procedures will pay off in the long run as you'll spend much less time redirecting students and giving directions to other students during your important small group guided reading lessons and conferencing.
What is Reader's Workshop? – Below is a short description of what workshop looks like in many classrooms, keep in mind that time frames can vary a bit and that some days things may look a bit different depending on the focus.
Reading Mini-Lesson – A true reading workshop begins with a 5 to 15 minute mini-lesson that focuses on a specific concept or skill. Many times this includes some type of read aloud. Some teachers prefer to read the suggested book for the lesson during a read aloud time earlier in the day or even the day before. This allows the students to enjoy the story before being asked to focus on a specific concept or purpose. It also helps the teacher keep the mini-lesson within the 15 minute suggested time frame because only the portion of the story that is needed for the lesson can be reread.
Independent Reading and Teacher Conferencing – Following the mini-lesson, students move to self-selected or independent reading. During this time students should be given a task to complete in order to help them stay focused and to allow them to practice a new skill. This can be something as simple as placing post-its in their books to illustrate the lesson that was taught, or it can be as directed as a graphic organizer for students to fill out. As students read independently and respond to their reading in very specific ways, the teacher conferences with individual students. If you do not yet have a system set up for conferencing, we have a few ideas and forms here: Indpendent Reading Conference Forms.
Lesson Wrap-Up – At the conclusion of independent reading, the class returns to a meeting spot to review the lesson and discuss what students did to practice a new skill on their own.
Literacy Centers – In our classrooms, we then immediately follow Reader's Workshop with our Literacy Centers to finish out our Language Arts block of time. This is the time where students can complete Word Work, Vocabulary & Comprehension Building Activities or other reading skills practice. It is also the time that we meet with our small leveled guided reading groups.
GROWING READERS – How to Launch Your Reader's Workshop
The following 20 lessons contain ideas and resources to get your reader's workshop started in an organized and successful way. You can follow them as we have laid them out or choose what lessons you feel your class needs. Click on the links to access each lesson plan. Additional resources (anchor charts, lists, etc) are also available with many of the lessons for your use.
We have chosen a "Growing Readers" theme for the resources. If you are so inclined, you might think about bringing in some gardening supplies (gloves, hats, watering cans, etc) and/or flower pots to add some fun to this unit and emphasize what it means to "grow" readers. Set up a bulletin board to display important anchor charts & information and set up a table with your gardening themed props, flower pots & flowers for the students to care for and appropriately leveled books on flowers or gardening. Students helping to grow actual flowers may truly add some emphasis to your Growing Readers theme! Here is a poster you may want to print as the title of your bulletin board – We Are Growing As Readers! Poster
L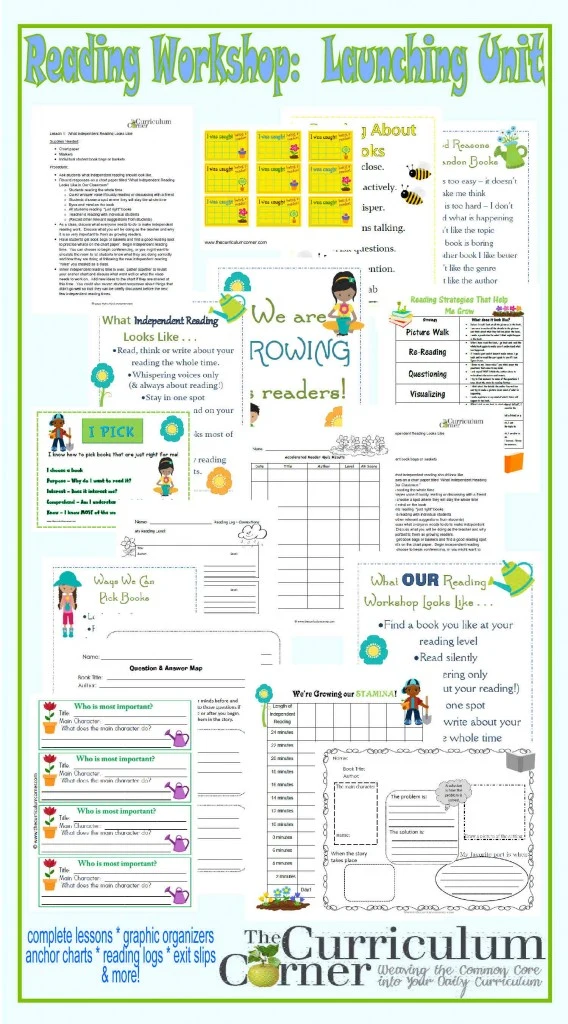 1: What Independent Reading Looks Like – This beginning lesson helps students set classroom guidelines for independent reading. You might choose to use the anchor chart your class creates at first and then print our Growing Readers Independent Reading Anchor Chart to display in the classroom as a daily reminder.
Lesson 2: How to Pick Just Right Books – This lesson helps students understand what a "just right" book feels like and also why it is important to be reading "just right" books much of the time. The lesson includes a fun way to illustrate to students how to make sure they are picking "just right" books. A template for the t-shirt idea can be found here: T-shirt Template. (A few different options are provided. For our classroom we created three different sizes (small, medium and large) to simulate too easy, too hard and just right books. The lesson explains the concept.) If you are looking for something a little different than the suggested class-created anchor charts or want another resource for helping students to think about the books they are choosing, try our I PICK Poster.
Lesson 3: Growing Readers Need to Build Stamina – It is important for readers to build stamina as they progress so that they can read for longer periods of time. This lesson encourages the entire class to stay on task and increase their reading time each day using a Growing Readers Stamina Graph to record the true time they are following procedures and truly reading each day. (If you would rather have a graph without the clip art we have provided that here: Stamina Graph.
Lesson 4: Buzzing About Books – This lesson helps students understand the expectations involved in discussing the books they are reading (with partners) during sharing time. It not only gives them guidelines for talking about their books with friends, but we also provide some ideas for teaching students how to lead a small group discussion about a book if you have small book clubs running during your independent reading time. Use our Buzzing About Books Anchor Chart and/or the Student-Led Discussion Anchor Chart to display in your classroom as a reminder for students.
Lesson 5: Being Respectful and Organized with Classroom Books – This lesson follows a read aloud of the book The Librarian of Basra: A True Story from Iraq by Jeanette Winter. In this story, a librarian in Iraq works to protect her books during war. Students create a list of ways to take care of the classroom books and learn a Library Promise for taking care of the classroom library.
Lesson 6: Ways To Choose New Books – Students don't always know where to begin when they are searching for new books for their independent reading time. They need some initial strategies for when they first pick up books to decide whether to put them into their baggies. This lesson gives them some guidance to know where to start. Use our Ways We Can Pick Books anchor chart for this lesson and the Why I Chose My Book exit tickets so that you can assess your students thinking about choosing new books.
Lesson 7: Exchanging Books During Independent Reading Time – Students need to be able to exchange all or some of the books in their baggies or baskets at least once a week in order to keep interest high and a more focused independent reading time. Here we present a lesson to show students how to pick which books they will exchange and a few different book exchange procedure ideas that have worked in our classrooms. Regardless of your system for exchanging books, be sure that one of your early mini-lessons teaches students the specific procedures for this in your classroom.
Lesson 8: Abandoning Books – It is important for students to understand that sometimes, readers abandon books. It is also important for students to understand that when abandoning books, they should have a good reason. This lesson gives them some good reasons to stop reading books when it is necessary. Our anchor chart Good Reasons to Abandon Books is used in the lesson and can be displayed in the classroom as a reminder.
Lesson 9: Thinking About What Good Readers Do – This lesson gets your students thinking about how they can take charge of their own reading growth. Discuss and display the anchor chart What Good Readers Do to go along with this lesson.
Lesson 10: Developing the Habits of GREAT Readers – This lesson has your students talking with older, more experienced readers to learn the habits that they have created. It takes a little cooperation from a colleague in the intermediate grades. This is similar to the lesson "What Good Readers Do", but goes into more depth about the thinking that should take place before, during and after reading. The anchor chart The Habits of Great Readers will help them to remember what they should be practicing each and every day in their reading.
Lesson 11: Using Your "Inner Voice" as You Read – This lesson teaches students what their "inner voice" is and how to listen to and use that inner voice to make sure they understand what they're reading.
Lesson 12: Using Context Clues to Read New Words This lesson includes a read aloud of the book Splat the Cat by Rob Scotton. Students use context clues and beginning letters/sounds to decode new words. (Another book of your choice can be used if you don't have this one.) For this lesson you will begin an anchor chart that you will add to in the next few lessons and anytime you teach a new reading strategy during reading workshop. We have provided a start to that anchor chart titled Strategies Readers Use to Read New or Bigger Words that you can use after this lesson OR you might want to wait to use it after Lesson 14 since it has context clues, pictures and chunking all listed to start your anchor chart.
Lesson 13: Using Pictures to Read New Words – This lesson can be done on a Smartboard if you have one available, but if not you can print the book we suggest. Students read this simple text and discuss how picture clues can help readers read new words. You can also choose a book from your collection if you find one you feel would teach this strategy well.
Lesson 14: Use Chunking to Read New Words – This lesson can also be done on a Smartboard, but works on chart paper whiteboard just as well. Students learn what "chunking" is and how it can help them to figure out larger words.
Lesson 15: Using Strategies to Help You Understand What You Read – This lesson teaches students about the importance of picture walks, rereading, questioning, visualizing and summarizing in comprehending stories. For this lesson we have provided a Growing Readers Comprehension Strategies Poster that we believe should be printed for reference for all the students throughout the year, but should also be on display in the classroom. (We have also created a Comprehension Strategies Poster that doesn't reflect our theme in case you would prefer that version. They contain the same strategies.)
Lesson 16: Keeping Record of What You Have Read This lesson shows students how to record and keep track of what they have read. The teacher can choose any book to read aloud and a reading log of choice, but we have provided suggestions in the lesson. The teacher models how to use the reading log and then, students use the reading log during independent reading. You might want to use our Growing Readers Accelerated Reader Log or Growing Readers Connections Log to get started and in keeping with the theme, but we have more types of reading logs that can be used with the above lesson here: Independent Reading Logs.
Lesson 17: Good Readers Practice Fluency – This lesson includes a read aloud of the book Pirates Don't Change Diapers by David Shannon and teaches students the importance of fluency on reading and meaning. The Growing Our Fluency anchor chart gives you a place to record students' ideas about fluency to display in your classroom. Keep in mind that this anchor chart is only a start and that you will add to it as you teach or discuss further strategies.
Lesson 18: Using Post-It Notes as You Read – This lesson includes a read aloud of the book Too Many Toys by David Shannon. (Another book of your choice can be used.) The teacher models using post-it notes to record thinking while reading. It includes an anchor chart When to Use Post-Its in My Reading to give students a reminder about the correct way to use these in their reading.
Lesson 19: Readers Need Strategies for Reading Nonfiction Books – It seems many primary students are drawn to nonfiction books. This lesson is an introduction to reading nonfiction books that may or may not be too difficult. It gives students strategies for looking at a nonfiction book that may have words or information that is a bit difficult. You will go into more depth about nonfiction strategies in your Nonfiction Unit of Study, however students will need some strategies for books they are reading right now and this lesson gives them a start. Use our Strategies for Reading Nonfiction Books anchor chart to give students a reminder about things they can do while reading potentially more difficult texts.
Lesson 20: Asking & Answering Questions Before, During and After Reading – Students need to learn to purposefully and spontaneously ask questions and seek answers before, during and after they read. The best way to teach them this is to model it on several different occasions and in various ways. We have created this lesson as a beginning to this modeling and have developed our Question & Answer Organizer for this purpose. In addition to generating questions as they read, students also need to be able to answer more directed questions during and or after their reading as well. We have created a Story Map and our "WH" Question Bookmarks which provide a more directed way for students answer questions and show their comprehension while thinking about their reading.
Additional Resource – Finally, we have also created some sticker charts/punch cards to be used for all kinds of things throughout your Reader's Workshop. Once you have taught students guidelines and procedures, you can fill up or hole punch charts for a number of reasons. Whether they are buzzing correctly, taking care of the classroom books, using their strategies appropriately or are displaying a respect and understanding for any of the Reader's Workshop guidelines. Use our Caught Reading Charts and come up with a celebration or reward for when students fill one up!
Good luck as you start your Reader's Workshop!! We hope these lessons will help get you started. We truly believe that if you spend the time at the beginning of the year establishing procedures and helping students to understand the importance Reader's Workshop for them as readers, it will be worth your while. Your workshop will run much more smoothly and efficiently. Please comment below if you have any other great ideas or lessons you would like us to make printables for to match our Growing Readers theme. We love input from our followers!