Our newly updated editable classroom labels will help you when setting up your classroom.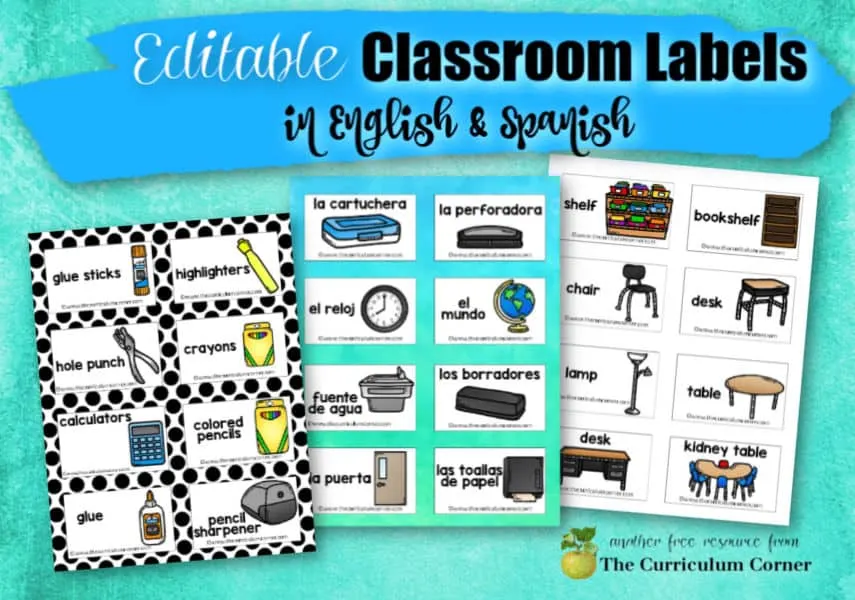 This is another free resource for teachers from The Curriculum Corner.
Our editable classroom labels will provide you with a way to label your classroom.
These newly updated labels are available in English and Spanish.
You will find our labels in three styles. Among the collection are black and white polka dots and a watercolor scheme. You will also find a set with a white background.
Why would I label my classroom?
Beginning teachers will ask us how these editable classroom labels might be useful.
Adding labels to common classroom objects can be a great way to expose your young readers to more print. The students know the names of the objects so pairing them with the word can be a way to increase exposure to common words.
The constant exposure to these words can help your students make a connection between the print, picture and real object.
Labeling the room for English language learners
These editable classroom labels are also a tool you can use for your students learning English.
Within each download you will find an English version and a Spanish version of each label.
You can begin by labeling the objects with the English and Spanish cards.
As students begin to build their confidence and develop an understanding of the English language, you can remove the Spanish word.
This is a helpful way to scaffold learning for your students.
Please note – we do not claim to be fluent in Spanish. If you find any changes you feel should be made in our word choice, please send us a message.
Our editable classroom labels
This set of classroom labels contains 56 cards. Each card contains a picture of the object and the word in English or Spanish. (We've also included a card with just the picture within each noneditable set.)
If you are looking to change wording on the cards, you will want to download the editable versions. These are provided as PowerPoint files.
In order to display the font correctly within the PowerPoint file, you will need to download the following font: KG Blank Space.
Due to copyrights, you will not be able to move the clip art.
How else can these classroom labels be used?
While the original intent of these cards was to create classroom labels, you might find that they are useful in other ways.
Print these pages on card stock, laminate and cut apart the cards. These can then be used as flashcards.
Because each card contains a picture, it is helpful for students learning to read.
Send the cards home with your students learning English – they can add labels to objects in their home to help build their English vocabulary.
Download our Classroom Labels Here:
The top row contains PDFs of the labels. The bottom row contains the editable PowerPoint files.
You might find additional labeling cards that will fit your classroom here:
Literacy Center Pocket Chart Cards
Thanking you Teaching in the Tongass for the classroom clip art!
---
As with all of our resources, The Curriculum Corner creates these for free classroom use. Our products may not be sold. You may print and copy for your personal classroom use. These are also great for home school families!
You may not modify and resell in any form. Please let us know if you have any questions.