This collection of teaching inferencing activities is meant to help your students understand what inferences are and how to make them.
This is another free resource for teachers from The Curriculum Corner.
Teaching inferencing to children can be a challenge – these resources have been created to help as you begin to help your children learn to maker inferences.
What is Inferencing?
Readers make an inference when they use what they already know to make a guess about what is happening in the text. These guesses are more like a hypothesis that is based on other knowledge.
Students who are reading need to learn to constantly infer as they read.
Children must learn to be good at inferencing to become good readers. This skill helps them comprehend as they read.
According to Debbie Miller, author of Reading with Meaning,"When readers infer, they use their prior knowledge and textual clues to draw conclusions and form unique interpretations of text."
Our hope is that these resources will help you to teach inferencing in your classroom.
They will also provide your students with materials to understand what inferences are so that they can make them appropriately when they read.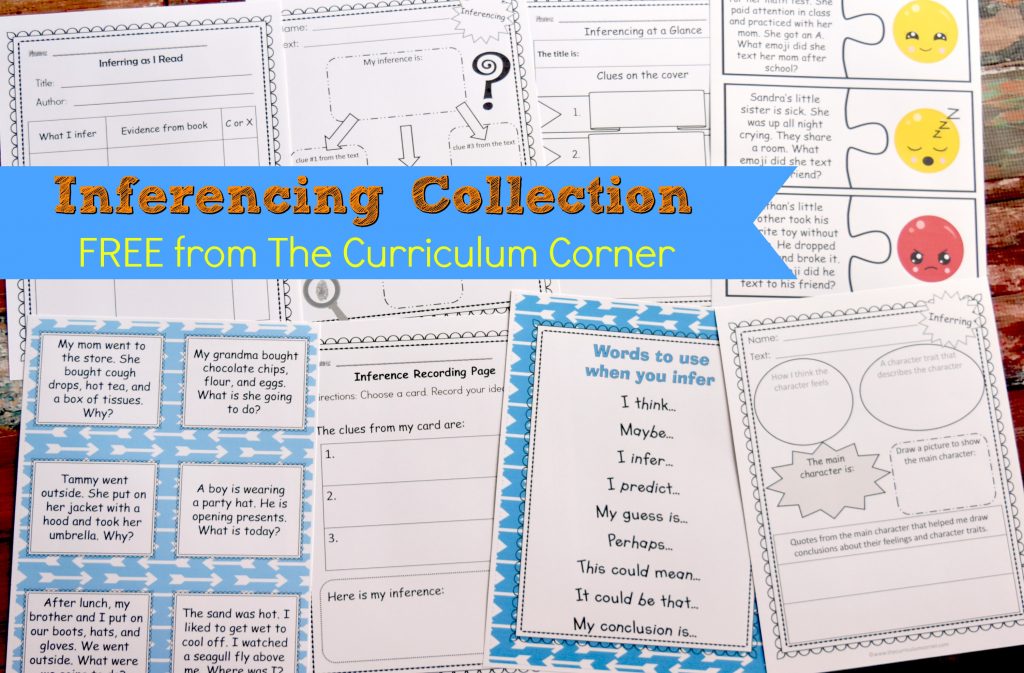 Teaching Inferencing
The resources we have created will help you give children learning how to infer as they read.
Anchor Chart
Use this anchor chart for reference throughout your study of making inferences. It includes phrases your students might use to begin their own inferences.
Inferencing at a Glance
Making predictions can be considered a form of making inferences.
Students use what they already know and what they see or read to make guesses about what something is about or what is about to happen.
Give your students an initial understanding of inferences by helping them to understand predictions.
Choose one of these three organizers along with some book covers. Use these to show your students how to make inferences about what the books might be about.
Wordless Books
Wordless picture books can be used to help students think about what the words could be in a story.
These are also a good introduction to making inferences.
As you share these books with your students and as they look through the pictures, encourage them to tell the story of what is happening in the book.
Be sure to dig deeper in your questioning to ask them WHY they are able to tell a story without the books actually having words. (They use what they know about real life situations and what they see to create meaning.)
We have three organizers for this activity.
Focus on the Illustrations to help with Teaching Inferencing
Another good way to use these books to help students learn to infer is to have students look at the illustrations.
They should focus on the main character(s).
Discuss how to use facial expressions and the body language of the various characters to make inferences about their traits and feelings.
We have created a graphic organizer for character traits and one for character's feelings you can use for this.
The variety of graphic organizers can be used during a whole class lesson. Or, use during a small group mini-lesson. Children who need to practice this skill might also complete an organizer during a literacy center or independent reading.
It's a Mystery!
This is a fun activity to reinforce your teaching of making inferences.
Put an object in a bag and give the students five clues about your object. After each clue, allow students to guess what your object might be.
Explain to students that they are making an inference each time they guess based on what you are telling them for each clue.
You might also want to send our "It's a Mystery!" page home with a brown paper bag attached for each student to write clues about an object from home.
Be sure to give guidelines about what can go in the bag! No LIVE creatures is a good rule!
Inference Cards
Print, laminate and cut out our inference cards for an engaging literacy center.
Place the cards at a center with a stack of Inference Recording Pages.
Students choose a card, write the clues they read on the card and make an inference about what is happening.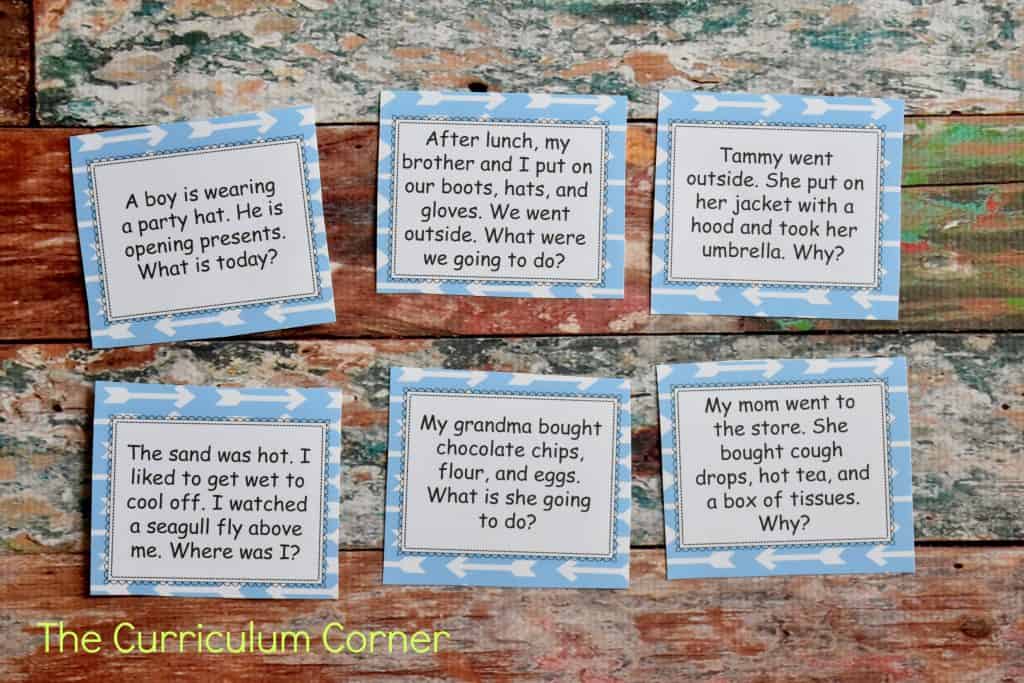 Emoji Puzzles for Teaching Inferencing
Another fun possibility for a practice mini-lesson, small group activity or a making inferences center is our emoji puzzles.
Print these pages on card stock for durability, laminate and cut them apart.
Students match the scenario with the emoji that best fits the situation.
Use the Emoji Inference Recording Page so that students are required to record their thinking about some of the puzzles.
EXTENSION: We have also provided these puzzles without the given scenarios. After using the original set to model how these puzzles work, have your students use Vis-a-vis markers to write their own scenarios. Or simply use this second set for students who may need a bit more of a challenge.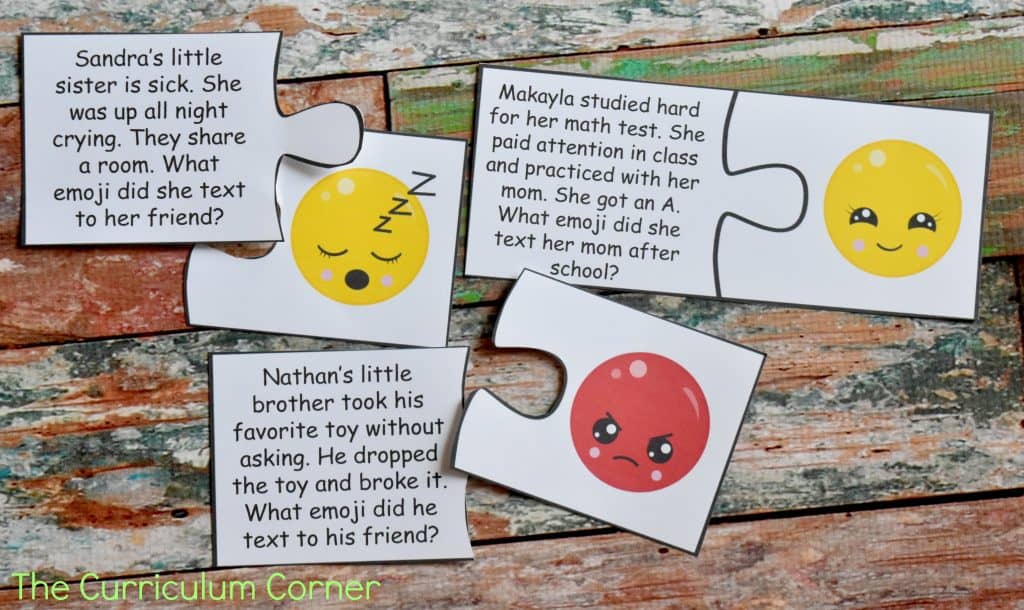 Who's Been Here?

Books
This series of books written by Lindsay Barrett George is great for teaching inferencing.
The pages tell about animals that have left clues in the environment as to what they might be.
We have created a Who's Been Here? Organizer for students to complete with the books.
Be sure to read the first book and model the organizers with your class.
Then, we place the other books at a center for students to complete independently.
For younger students, you could choose to read each of the other books aloud before having them complete the center.
EXTENSION: Have your students choose an animal and use the book's format to write clues of their own for the class to read.
Creatures of the Earth, Sea, & Sky
We are always looking for great poetry books to add to our libraries and this one is an amazing addition.
This book is a collection of poems and they are perfect for inferencing lessons. Students use their background knowledge to infer what animal each poem is about.
We have created an organizer in case you want your students to do this at a center and want to read about their thinking. These are also great poems for encouraging students to act out!
Graphic Organizers for Teaching Inferencing
For this unit a great deal of modeling for making inferences will be important for students to truly understand the concept.
It can be difficult for some students.
We feel many days of guided practice is important, so we encourage the use of several different Making Inferences Graphic Organizers for modeling purposes.
We have included seven additional organizers you can choose from for your students.
You can download this free teaching inferencing collection here:
---
Another important reading skill is to use inferencing to determine the meaning of new vocabulary words. Ideas and suggested texts for this skill can be found here: Inferencing to Determine the Meaning of New Words.
After working on inferencing to determine the meaning of new words, you might then want to move on to using photo prompts. These are another great way to teach students the concept of making inferences. You will find prompts and activities for that here: Inferring From Photo Prompts.
Here are some books we like to accompany this inferencing activities unit:

As with all of our resources, The Curriculum Corner creates these for free classroom use. Our products may not be sold. You may print and copy for your personal classroom use. These are also great for home school families!
You may not modify and resell in any form. Please let us know if you have any questions.