Download this spring movement break to offer your students a brain break during your day of distance or in-person learning.
Our spring movement break will be a fun way to get your students up and moving.
This is another free resource for teachers and families from The Curriculum Corner.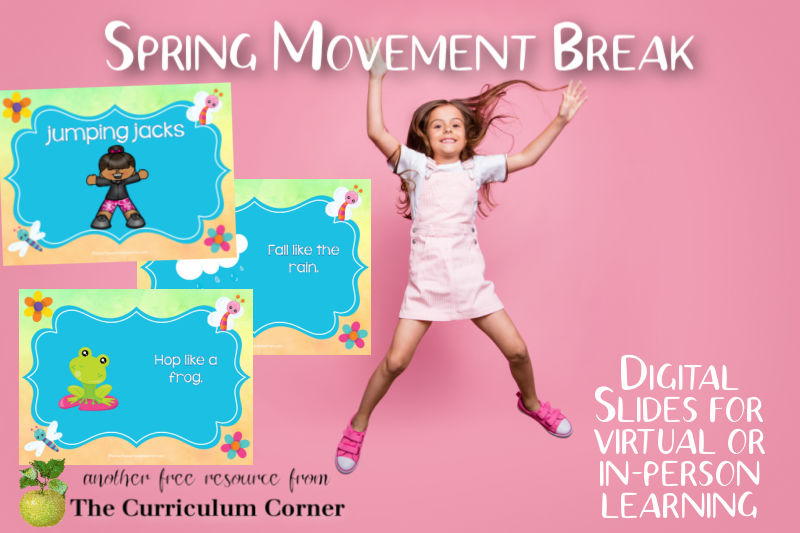 Add this spring movement break to your classroom brain breaks!
Children need movement built into their day, either when in the classroom or at home.
The more opportunities we encourage children to stretch and move, the more focused they will be when it is time to work.
This is especially true during times of distance learning.
Too many children are spending their entire day in front of a computer and we know this is not how their brains work best.
These free slides will give you a fun and colorful way to encourage your students to move a little bit.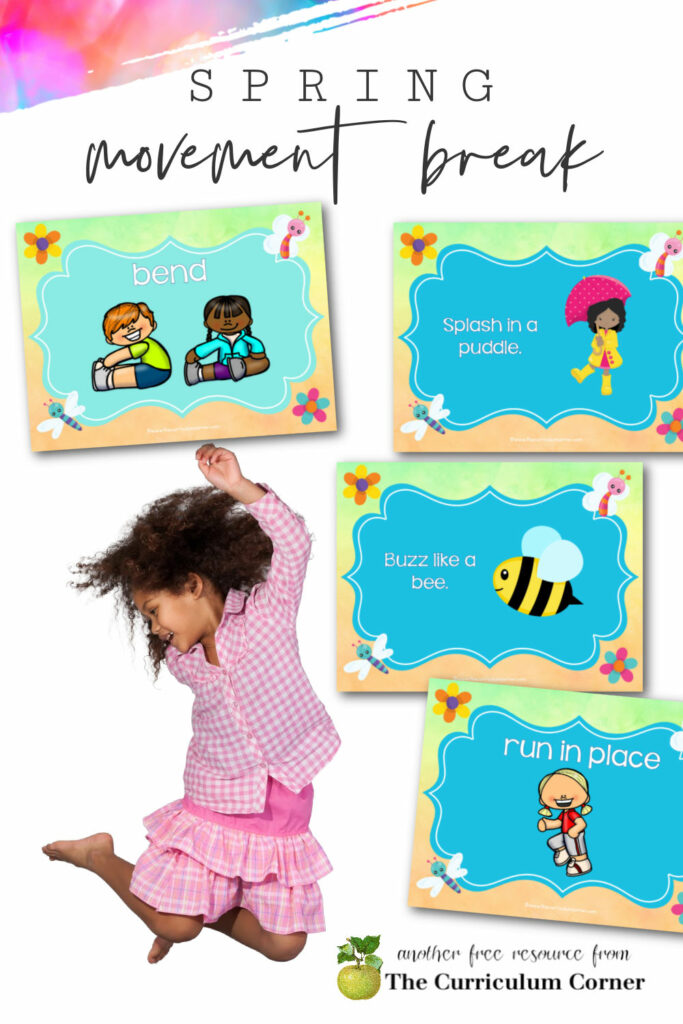 Using these slides
These slides are being provided as a PDF.
Due to copyrights, you will not be able to modify the slides. We are also not able to provide them as a PowerPoint.
After downloading the file, you will be able to open and view the PDF.
You might choose to use all of the slides during one brain break. Or, you can use a few slides as a small break throughout your lessons.
Some students might enjoy these as an activity at a center. The slides displayed on an iPad might be a fun reward for when they finish a task.
On days when children seem to be lacking energy as they enter the class, you could choose to use these to get everyone moving before starting your day.
You can download this free brain break set here:
Looking for other free spring resources? Try these other freebies we have created:
As with all of our resources, The Curriculum Corner creates these for free classroom use. Our products may not be sold. You may print and copy for your personal classroom use. These are also great for home school families!
You may not modify and resell in any form. Please let us know if you have any questions.