Download this boggle for word work literacy center to help you create word practice in your classroom.
Try our boggle word work center to add engaging practice to your word work time.
This is another free resource for teachers and families from The Curriculum Corner.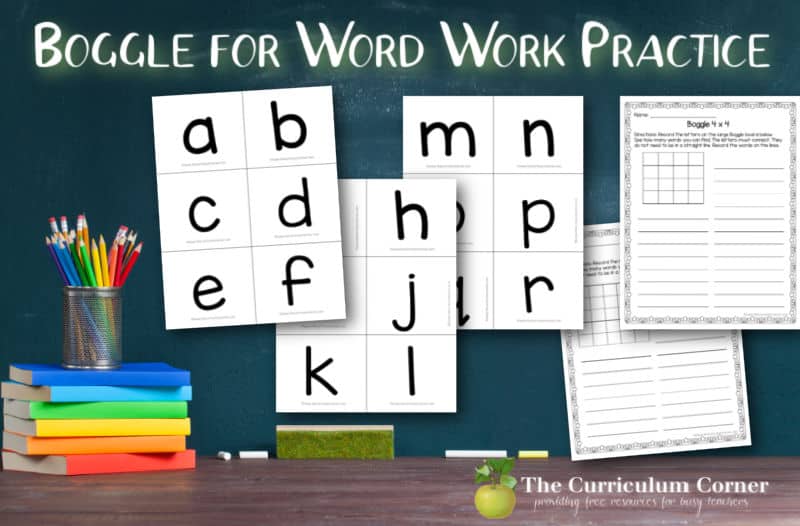 About this boggle for word work
This free download will help you create a fun way to practice words in the classroom.
Boggle can be a fun way for students to review words and practice spelling.
Students love it because it is a game and teachers love it because it is word work that keeps children engaged.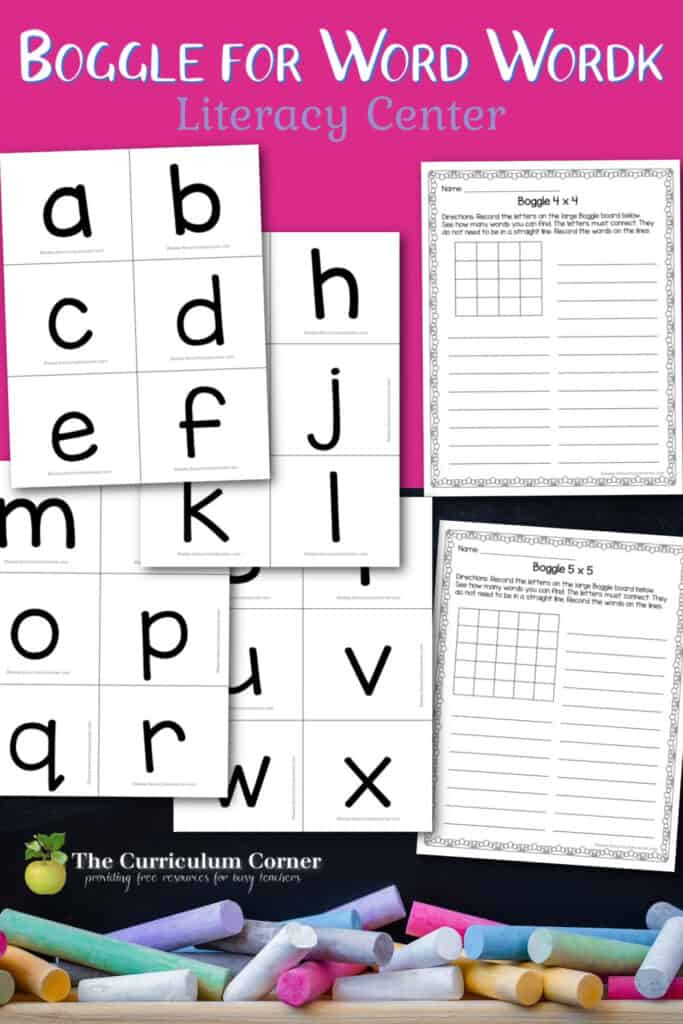 Setting up your literacy center
Print our letters on heavy cardstock.
This set is on a plain white background so you can choose any colorful cardstock.
You might want to print two or three of each page to provide you with more word options when setting up your board.
Depending on where you will creating your board, you might attach magnets to the back so that they are easy to display.
If you need to use a wall or cabinet, you might use tape or attach velcro to make changing the letters easy.
We are sharing two recording forms. One for a 4 x 4 board and the other for a 5 x 5 board. Choose which one works best for your students.
To create a Boggle board, begin with the words you want to include.
We first place these on the board. To spell a word, letters need to be connected but do not need to be in a straight line. Once we have added our words that we must include, we fill in the other spaces with other letters.
Because students are so used to doing word searches, it sometimes takes a little work for them to remember words do not need to be in a straight line.
We try to include small or larger words so that all students can be challenged when participating.
You can download this free word work set here:
Looking for other free word work activities? Try these freebies we have created:
As with all of our resources, The Curriculum Corner creates these for free classroom use. Our products may not be sold. You may print and copy for your personal classroom use. These are also great for home school families!
You may not modify and resell in any form. Please let us know if you have any questions.