These resources focus on helping students with the close reading skill of determining importance in informational texts.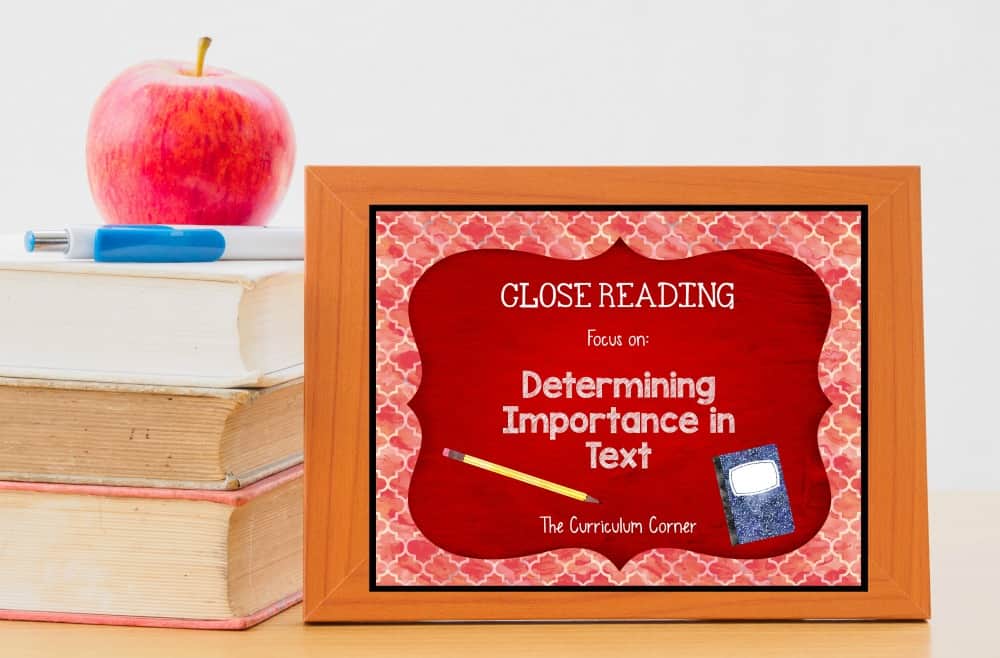 This is another free resource for teachers from The Curriculum Corner.
The unit on determining importance in text includes ideas for introduction, mini-lessons, modeling and practice.
One important reading strategy for our students is determining importance. Students today have access to information but often struggle with pulling out the most important parts of the text.
We have developed these close reading resources to help you give your primary students a start in understanding this skill. They will also receive some guided practice with this important strategy.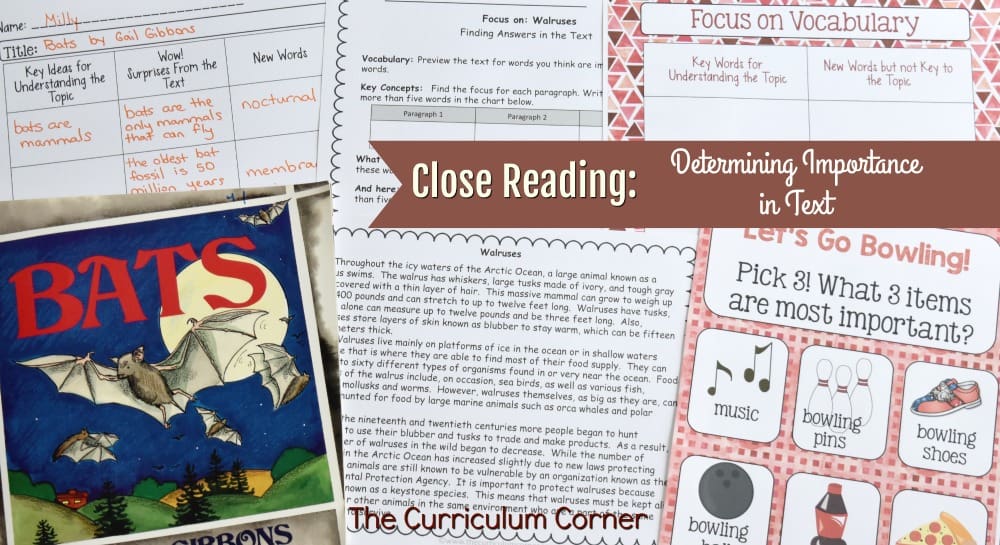 Why do students need to be taught how to determine the importance of parts of the text they are reading?
In today's world, children often encounter large pieces of reading they need to tackle. When completing a search on-line, this text can often be above their reading level.
Students are challenged with the task of pulling out important pieces of information as they read.
Giving children direct instruction that teaches them how to pull out the most important information when reading will help students when they encounter more challenging pieces.
As they practice, students will need to learn the difference between essential and nonessential information in their reading. Children are determining what is important and what is not important as they read.
Proficient readers are able to automatically complete this task. By isolating this skill and providing direct instruction, we are helping our students build the ability to do this on their own.
The lessons we are providing below will give your students different nonfiction strategies to practice.
Determining Importance Mini-Lessons
Introduction to Determining Importance
We suggest you start simply by asking students to think about their daily lives. Guide a discussion about the items they come into contact with each day and have them write their ideas on Post-It notes.
Gather students and let them know that you will be categorizing their ideas into two groups – needs and wants.
Start by discussing what they wrote and placing the Post-Its on a board in two groups.
Next, rename the groups "important to life" and "not important, but nice" and then facilitate the discussion further by talking moving the Post-Its again if necessary.
Talk about the specifics of why some things are important (or necessary) in our lives, while other things are nice, but not necessities.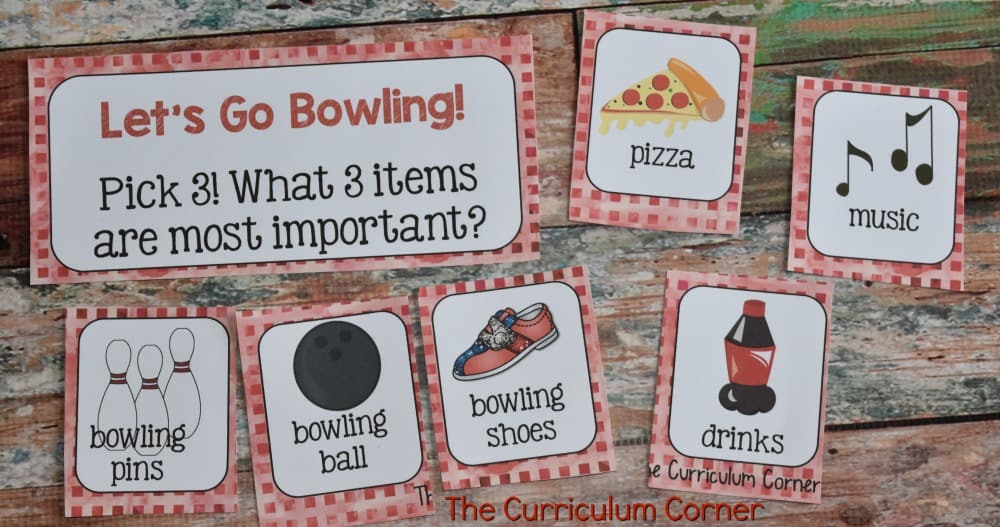 Determining Importance Practice
The first four pages in our collection will give students targeted practice.
Instead of requiring students to explore this reading strategy inside a text, we have pulled the skill out.
The four pages contain a main topic along with supporting ideas. Three contain pictures and the final contains words.
Students choose which ideas are essential to the main idea. t
Discuss these as a class or place students in groups for discussion and then allow groups to share.
Modeling the Strategy
It will be important for students at this age to have this strategy modeled again and again so that they become very familiar with the thought process behind determining importance in texts.
The graphic organizer can be used for modeling the strategy with any piece of text or passage with your entire class.
Use this printable in color or choose the black and white version.
Determining Importance in Text Reading Passages
Use the three reading passes with topic specific organizers. These can be used for mini-lessons or small group guided practice.
For some grade levels, these passages will provide a challenge. Use guided practice as needed.
Helping Students Learn When to Take Notes While Reading
Taking notes can be especially hard for students, so giving them early practice can be key to their success.
The problem most students have is writing way too much or almost re-writing what an author has shared.
Understanding how to determine importance will help them understand what notes to take.
Use our anchor chart with some guidelines for taking notes while reading. To practice this skill, discuss the chart and then read a short nonfiction book or passage.
Have students write their ideas on Post-it notes as you are reading. They can then place their Post-Its in the correct spot on the poster for discussion.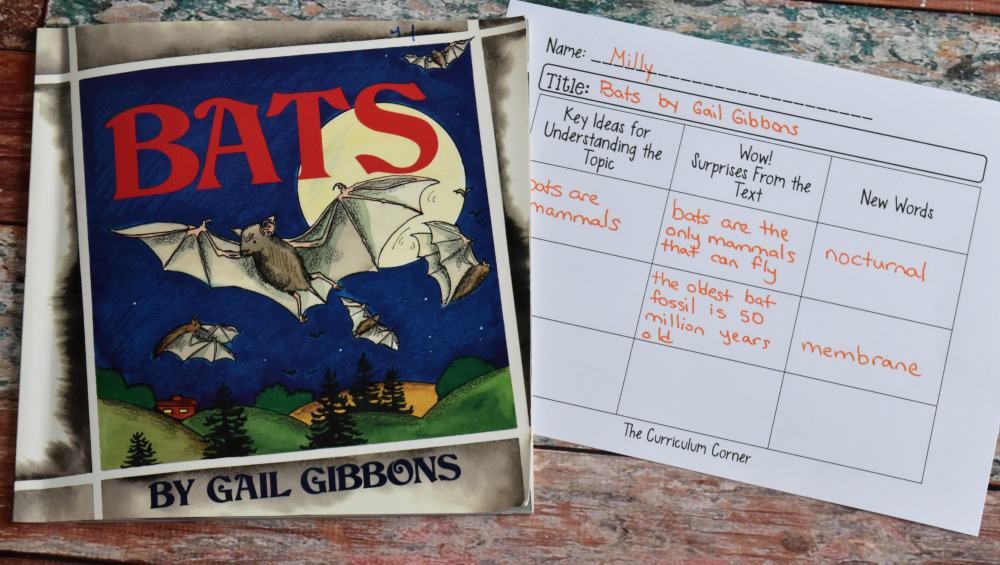 Helping Students Focus on Important Vocabulary Words
There may be lots of words in nonfiction texts that are new to students.
While understanding them all is important, we want the students to be able to note the words that are content specific to the topic and therefore very important to the understanding of that topic.
Again, lots of modeling and guided practice are what students need for success.
Use the poster provided for whole class reading and discussions about vocabulary and save the black and white organizer for practice.
Writing a Summary
Finally, we want our students to be able to write about their new learning.
Again, modeling several times in front of the class will make students more comfortable when they begin to attempt it independently.
We have provided an anchor chart and four different organizer posters (with accompanying student organizers) for this purpose. Choose the ones that you feel would serve your students best.
There are also two pages for written rough drafts you can use.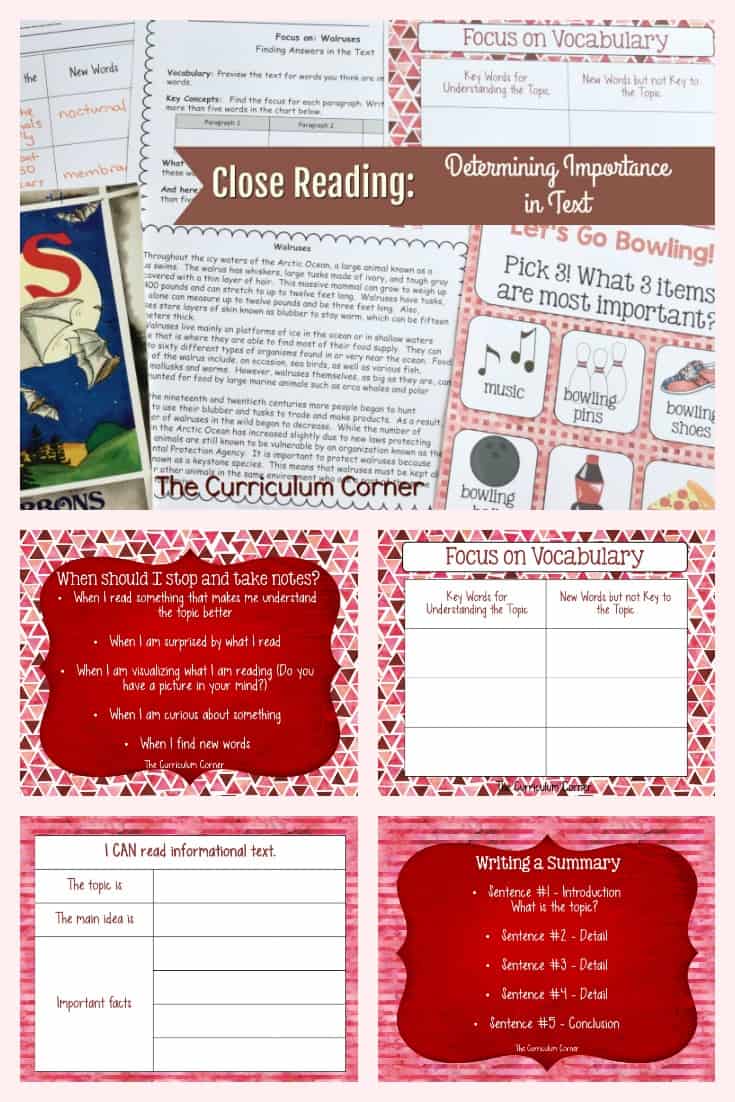 Download these Determining Importance resources here: Importance in Text
You might also like the following free close reading resources from The Curriculum Corner:
You will want to carefully choose books for this study. Ideally, your books will provide a challenge for your readers but not be too difficult. You wan them to have an opportunity to practice the skill without frustrating your readers.
We like Gail Gibbons and Seymour Simon books for this task but this is very dependent on your students. Seymour Simon books are written at a higher reading level so make sure they fit your readers if you choose to use them. Here are a few of our favorites. (Contains affiliate links.)
---
As with all of our resources, The Curriculum Corner creates these for free classroom use. Our products may not be sold. You may print and copy for your personal classroom use. These are also great for home school families!
You may not modify and resell in any form. Please let us know if you have any questions.