These free printable 4th grade sub plans are written to be a ready to go set of plans when that unexpected absence pops up.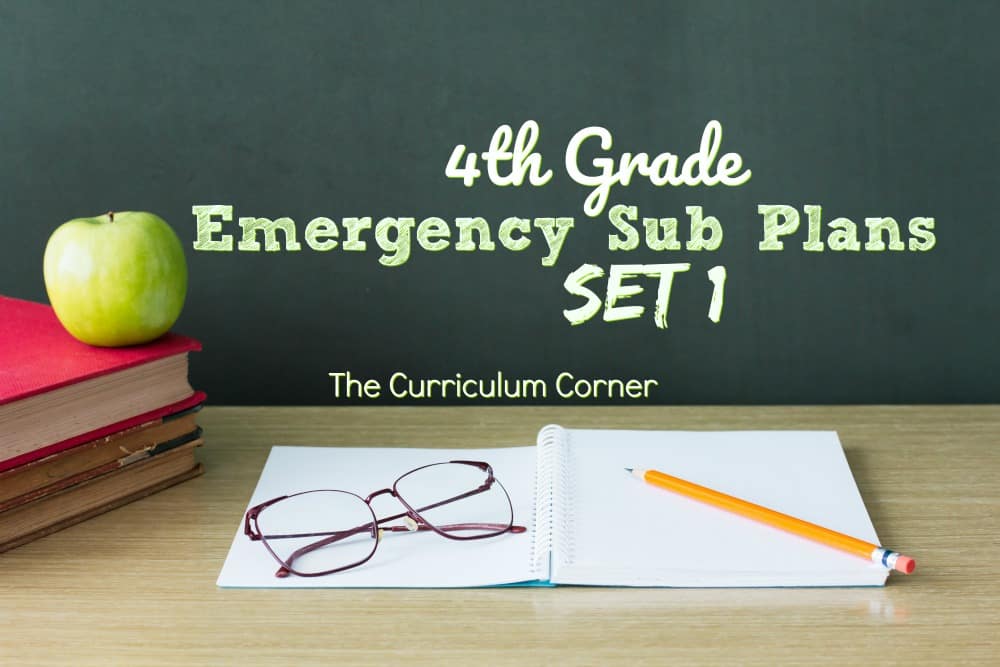 Fourth grade teachers, how often do you go into school when you are truly sick simply because going to school will take less effort than pulling together sub plans?
All teachers know that it is sometimes worse to stay home than go to school sick. Hopefully these emergency sub plans will make your life just a little easier when you simply cannot make it to school.
We suggest printing these materials and plans ahead of time. This way, when you do need to call in, you can avoid driving to school at 1 a.m.! We've all done it, right? Put everything in a tub marked "Sub Tub" and you will be ready to go with very little effort.
We have included the Common Core Standards when possible below. Don't worry, if your state does not teach Common Core, these activities should still fit into your standards.
Our goal was to create these 4th grade sub plans so they can act as review since these need to be applicable at any point in the year. You never know when you will need them!

You can download each resource provided to create this set of sub plans below. Each resource is provided as its own download link. This set is not currently available as a single download.
We are providing additional emergency sub plan links at the bottom of this post so that you can set up more than one day of sub plans using our free resources.
Sub Plans We started with a Word document that gives directions for the activities below. There are spots to fill in information about your class. Or, simply cut and paste to add to your own sub plans. You might need to make changes to fit your students, but we are hoping this will take a little time out of your planning!
Math
The Answer Is Math Task Cards Each card contains an answer to a question. Students must then create the word problem that was being asked. Includes a recording page.
CCSS.MATH.CONTENT.4.OA.B.4 Find all factor pairs for a whole number in the range 1-100. Recognize that a whole number is a multiple of each of its factors. Determine whether a given whole number in the range 1-100 is a multiple of a given one-digit number. Determine whether a given whole number in the range 1-100 is prime or composite.
Number Cards 1 – 32 Use our large number cards to give your students practice reviewing factors. Have the guest teacher give one student a large number. The rest of the class uses the remaining numbers to identify the factors.
Factor Practice Page A follow-up activity for the factor page above.
Language Arts
CCSS.ELA-LITERACY.RL.4.2 Determine a theme of a story, drama, or poem from details in the text; summarize the text.
CCSS.ELA-LITERACY.RL.4.3 Describe in depth a character, setting, or event in a story or drama, drawing on specific details in the text (e.g., a character's thoughts, words, or actions).
CCSS.ELA-LITERACY.RI.4.2 Determine the main idea of a text and explain how it is supported by key details; summarize the text.
Fiction Graphic Organizers Informational Text Graphic Organizers We have created three graphic organizers for each area to be used with any book. You can choose to have the guest teacher model the completion of a graphic organizer. For classrooms where students are familiar with the terms, you might choose to have students complete as proof of their independent reading for the day.
CCSS.ELA-LITERACY.W.4.4 Produce clear and coherent writing in which the development and organization are appropriate to task, purpose, and audience.
Persuasive Writing Three simple persuasive writing prompts to use for writing workshop. We have also included one blank page so you can write in your own prompt. (You will find additional persuasive writing resources here: Persuasive Writing Unit of Study. This post includes an anchor chart and list of words used in persuasive writing.)
CCSS.ELA-LITERACY.L.4.4.B Use common, grade-appropriate Greek and Latin affixes and roots as clues to the meaning of a word (e.g., telegraph, photograph, autograph).
Prefix & Suffix Cards This file contains an assortment of prefixes and suffixes along with cards with their meanings. Also included are three printable practice pages to be used along with the card set. This can be used as a whole class activity where students are given a card and have to find their match or as a small group activity.
If you are looking for additional resources to fill out your sub tub, try the links below:
4th Grade Emergency Sub Plans Set 2
5th Grade Emergency Sub Plans Set 1