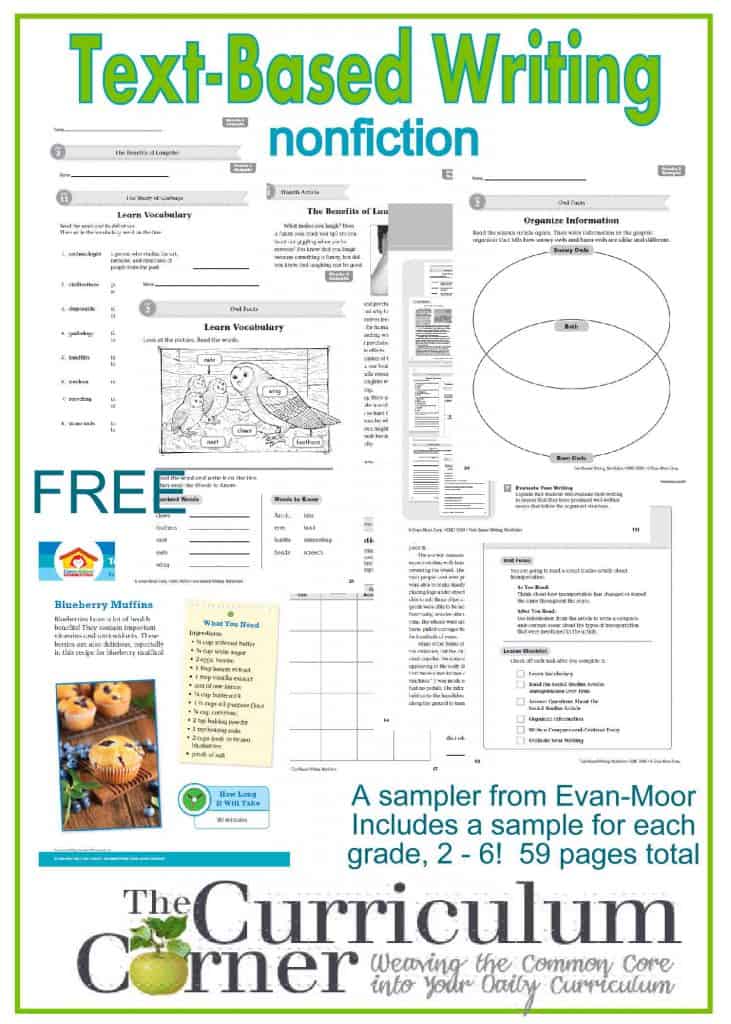 Whether your state has adopted Common Core or not, more than likely you are adding more and more nonfiction into your reading and writing curriculum.  We are learning how essential this is for our students in today's world, and many teachers are searching for materials to support this need.
Recently, well known education resource company, Evan-Moor shared a spectacular resource with us that we believe does just that.
Text-Based Writing: Non-fiction contains engaging and appropriate content articles paired with the resources you will need to extend your lesson from reading non-fiction into writing about non-fiction.  The lessons are extremely guided which we believe will really help newer teachers.  Types of writing include explanatory, compare-and-contrast and cause-and-effect (among others).   Each lesson contains:
Leveled articles so that teachers can differentiate for individuals or small groups in their classroom
A clear objective for students
Related vocabulary to build background
An engaging and age-appropriate non-fiction article (science, social studies, health, biography)
Questions to test comprehension
A graphic organizer to allow students to think through ideas and stay focused in their writing
A writing prompt that requires students to use the non-fiction text
A chance for students to think more deeply about their writing by evaluating it in a guided way (4th – 6th grades)
Home/School Connection pages to send home to parents that involve fun ways to extend what they have learned at school in the article
We read through and talked about each lesson in the FREE Text-Based Writing Sampler and were impressed by the articles and resources they contained.  Lessons are very thorough and could be used in so many ways in the classroom:
Use a few as mini-lessons to get your students familiar and more comfortable with text-based writing.
Since they are leveled, use them as the base for your small group guided reading plans, and then flow them straight into your small group guided writing plans with the same group.
For more advanced students copy the entire set of pages for a lesson and let them work independently.  Then meet with them to discuss their thoughts, ideas and struggles over the topic and their writing.
After taking a look at the sampler (and printing the FREE resources!)  if you'd like to purchase a specific grade level book, click on the link below which will take you to the 4th grade resources on Evan-Moor's site.  From there you can find the other grade levels you might need.
Text-Based Writing Resources from Evan-Moor
Already use these in your classroom?  How do you incorporate them?  We would love your ideas!