Use this choose your destination activity to help your students explore new places around the world.
I found that this choose your destination activity was a big hit with my sixth graders!
This is a fun way to weave together social studies, writing and research skills.
This is another free resource for teachers and homeschool families from The Curriculum Corner.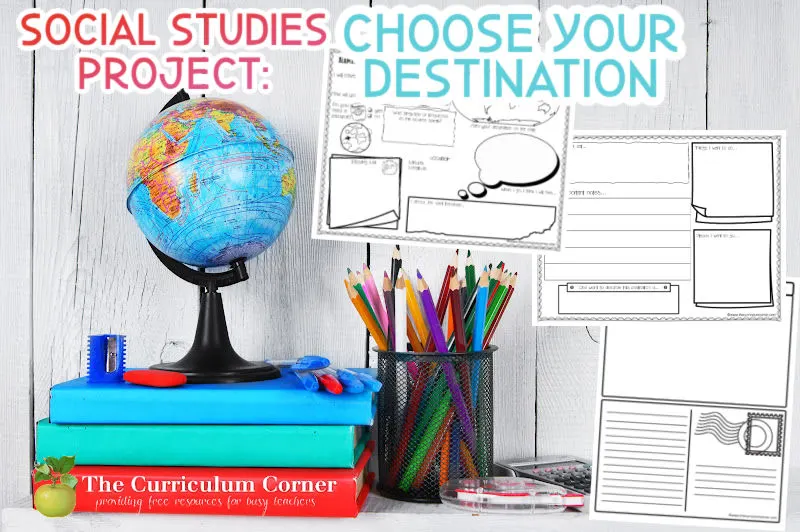 About this project
I was looking to create a way to get my students interested in maps and learning about places around the world.
Since I love to travel, this project is what evolved.
We began by reading one of my favorites, The Day You Begin. I love that this book provides a twist on talking about your summer vacation. It helps children see that even if they didn't go on a fancy vacation, they could still have amazing memories to share.
After we read, we looked at pictures from a few destinations around the world. I focused on places they might not be familiar with to help them see there is so much new in the world for them to discover.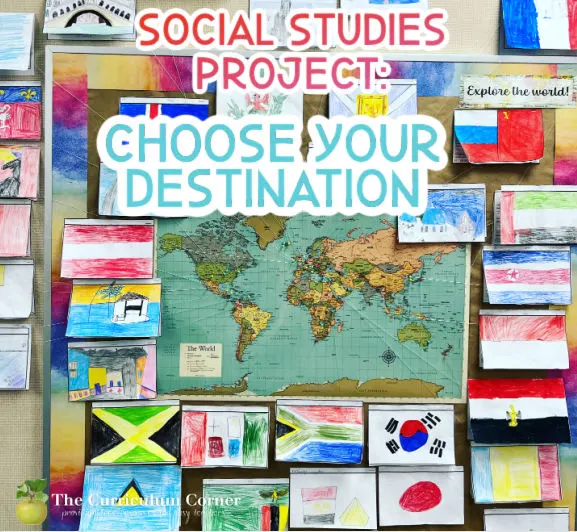 How to use these materials
I began by having my students each choose a destination. I made a list as we went and made sure no two students had the same location. Also, I tried to encourage students to find places outside of the United States. I think next year I will not all any spots within the US.
Once places were chosen, students began researching. They used their iPads to complete the organizer. I encouraged them to think about what they would share if they were on a vacation.
The next step was to write a rough draft of their postcard. We shared some postcards and how they often have a picture of where you visited on the front.
Finally, there was time for editing and the final draft.
Students drew a picture to fit their location.
When everyone was finished, I used map pins and string to create a display.
I tied a string to each map pin and placed the postcards around the board.
I love the final look!
On top of the researching and writing skills that were practiced, students also got excited about learning about new places.
I've also included some quotes you can use to decorate your space while you are waiting on your students to complete their work.
You can download the materials I used by clicking on the apples below:

As with all of our resources, The Curriculum Corner creates these for free classroom use. Our products may not be sold. You may print and copy for your personal classroom use. These are also great for home school families!
You may not modify and resell in any form. Please let us know if you have any questions.