This free focus on close reading resource helps you teach students about text features within informational text and how to use them.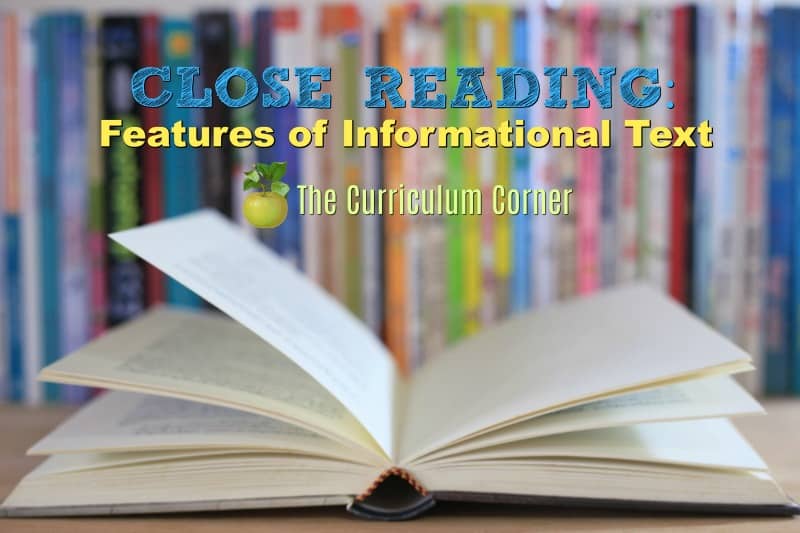 This is another free resource for teachers from The Curriculum Corner.
Help students learn informational text features with this collection of resources. This is a part of our series on Close Reading. If you are looking for additional free resources, please visit our Complete Close Reading Collection.
As you work to incorporate the skill of Close Reading into your daily classroom routine, you will find our set of free Close Reading materials a helpful tool.
One of our goals recently has been to learn more about Close Reading strategies. As an emphasis on Close Reading is becoming more common in classrooms across the country, we want to make sure we are providing our followers with tools to make this shift easier to implement.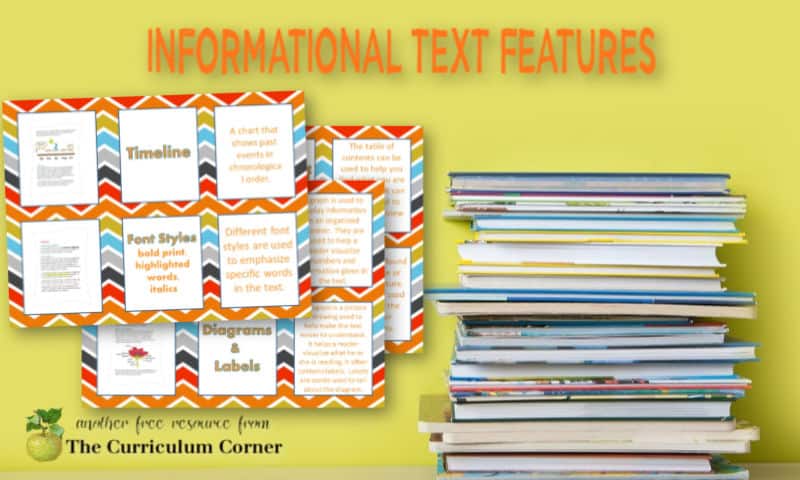 Informational Text Features
While most students are able to correctly identify nonfiction text features, it can be more difficult for children to use those text features to help them develop a deeper understanding of what they are reading. For this reason, it is important to spend time helping students learn how to get information out of nonfiction text features.
This collection of resources has been designed to help your students develop their understanding of informational text features.
These resources can be added to your mini-lesson plans or presented at a literacy center depending on the needs of your students.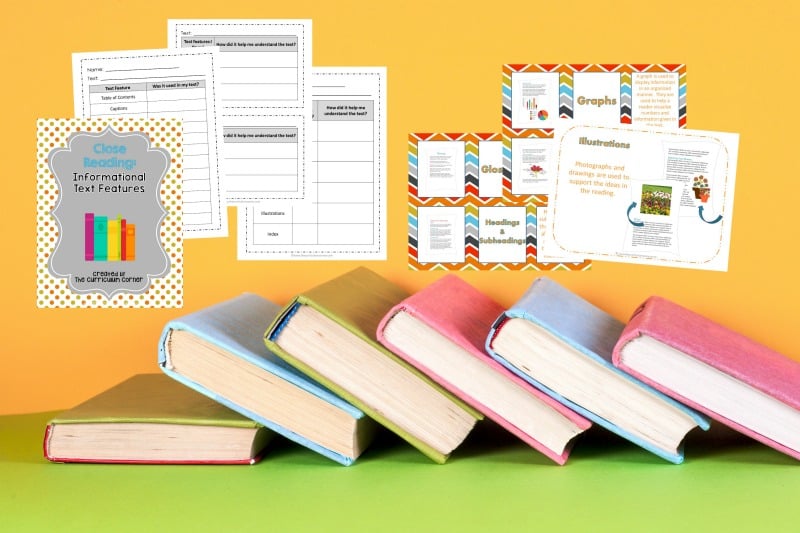 Start With Noticings
This is a skill we would use noticings to introduce. If you aren't familiar with noticings, here is how they work:
The teacher will gather a large stack of books that show the skill you will be teaching. In this case, you will be looking for informational text books that contain the examples you are focusing on.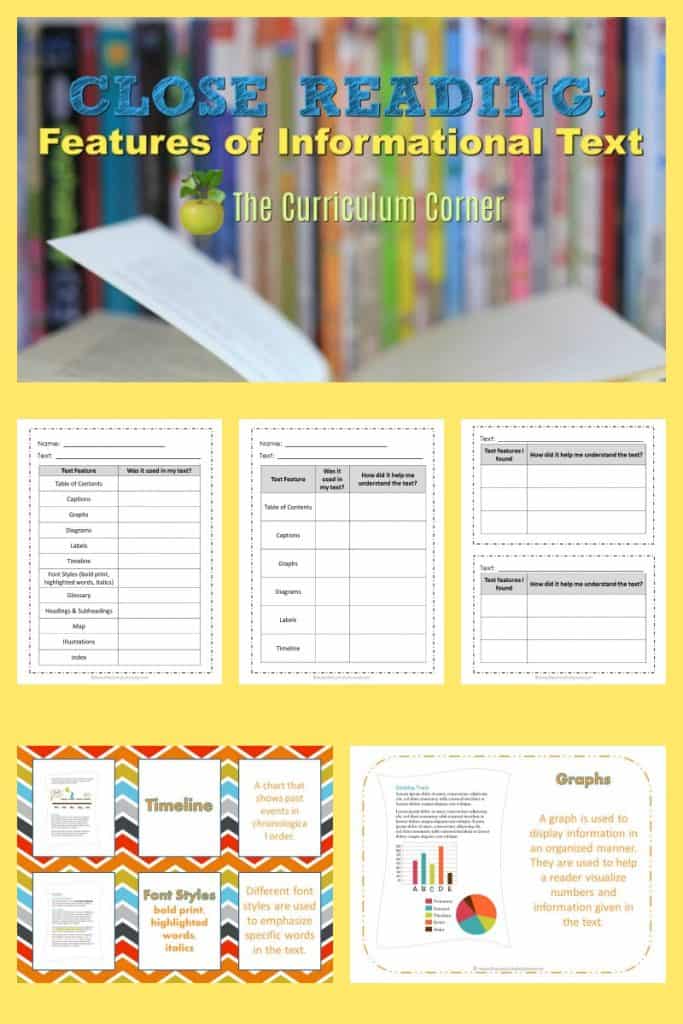 You will give students a quick overview of text features – this is short and not necessarily meant to teach. The idea is to help students know the focus.
You will put students in groups or allow them to find their own. Each group will have a couple of books from the stack.
Their job will be to look through the books and see what they "notice" about the nonfiction books. They are specifically looking for text features. It is ok if they are not always right during this time.
When the time is up, you will gather and allow students to share. If students share an idea that is not correct, you might put that book aside with a note so you can use it as a reference when you are talking about that specific skill during a future mini lesson.
What You Will Find in our Informational Text Features Collection
Anchor Chart Posters These are designed as 8 1/2 x 11 pages. You could also choose to print on a poster maker if desired.

Feature Sort Cards

These colorful cards have six on a page. Print in color and laminate. They can then be placed at a center where students are asked to put together a feature, definition and example.
Notebook Cards These are presented in black and white. You may choose to print at 50% sizing and have students glue into their interactive notebooks for reading. Or, give full size sets to groups of students. Have the students use the cards to create large display posters in the classroom. For a twist, do not give students the examples. Have students find their own examples in magazines.
Nonfiction Text Feature Hunt Students simply check off when they find a given feature in their text.
How Did it Help Me? Students identify which features were found in their text. They share how each feature helped them understand the text.

How Did it Help Me? BLANKS

– the teacher or students may enter the desired text features, two different versions are provided

Interactive Notebook Insert

This small chart is designed to have students record three examples they find in their reading. They then tell how the text feature helps their understanding of the text.
You can download this free Nonfiction Text Features Set here (you will need to download both sets):
The nonfiction text features samples are courtesy of Poppydreamz Clip Art.
---
As with all of our resources, The Curriculum Corner creates these for free classroom use. Our products may not be sold. You may print and copy for your personal classroom use. These are also great for home school families!
You may not modify and resell in any form. Please let us know if you have any questions.
You may not modify and resell in any form. Please let us know if you have any questions.