This close reading collection focuses on using text features. Includes free resources to get you started from The Curriculum Corner.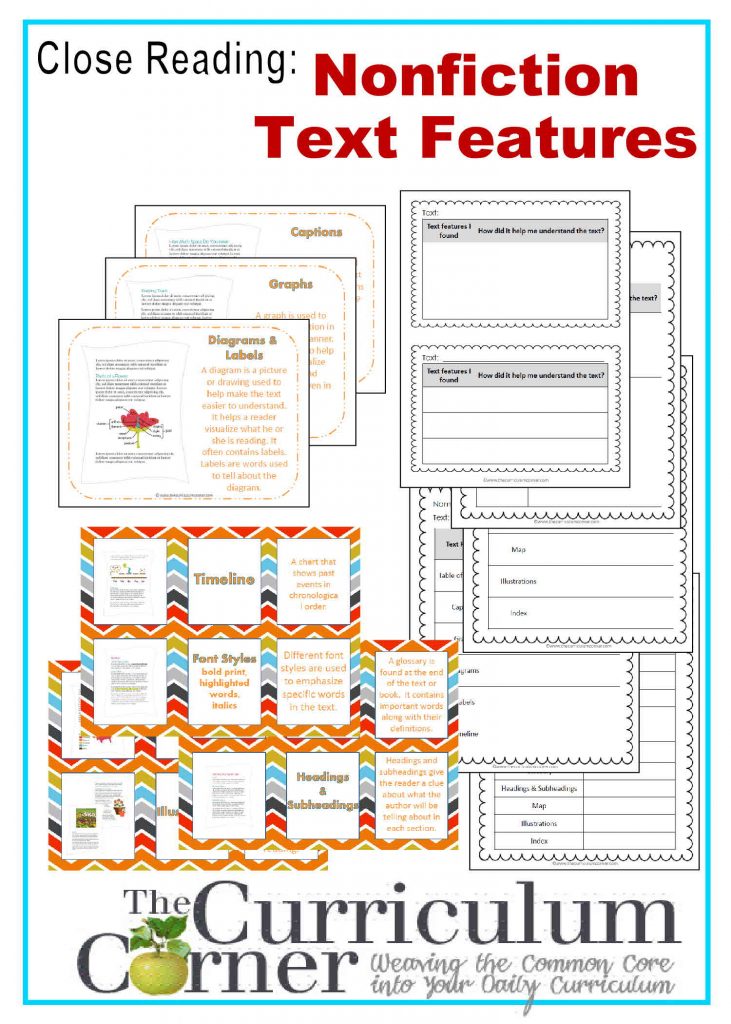 This is a part of our series on Close Reading.  If you are looking for additional free resources, please visit our Complete Close Reading Collection.
While most students are able to correctly identify nonfiction text features, it can be more difficult for children to use those text features to help them develop a deeper understanding of a text.  For this reason, it is important to spend time helping students learn how to get information out of nonfiction text features.
Anchor Chart Posters  These full size posters each contain a text feature, example and definition.
Introducing Text Features  Have students find examples of text features in magazines and cut out.  Create anchor charts displaying the examples they find.
Feature Sort Cards  These colorful cards have six on a page.  Print in color and laminate.  They can then be placed at a center where students are asked to put together a feature, definition and example.
Text Feature Notebook Cards  These are presented in black and white.  You may choose to print at 50% sizing and have students glue into their interactive notebooks for reading.  Or, give full size sets to groups of students.  Have the students use the cards to create large display posters in the classroom.  These can then be used as a resource for students during reading workshop.  For a twist, do not give students the examples.  Have students find their own examples in magazines.
Graphic Organizers for working with text features  We have a range of organizers so you can choose the ones that work best for you.  Includes:
Nonfiction Text Feature Hunt  Students simply check off when they find a given feature in their text.
Nonfiction Text Feature:  How Did it Help Me?   Students identify which features were found in their text and then tell how each feature helped them understand the text.
Nonfiction Text Feature:  How Did it Help Me? BLANKS  – the teacher or students may enter the desired text features, two different versions are provided
Interactive Notebook Insert  This small chart is designed to have students record three text features they find in their reading.  They should then go in and tell how the text feature helps their understanding of their text.
The nonfiction text features samples are courtesy of Poppydreamz Clip Art.
You will find additional Close Reading resources here:  Close Reading on The Curriculum Corner