This free focus on close reading resource helps you teach students about the THIEVES informational text reading strategy.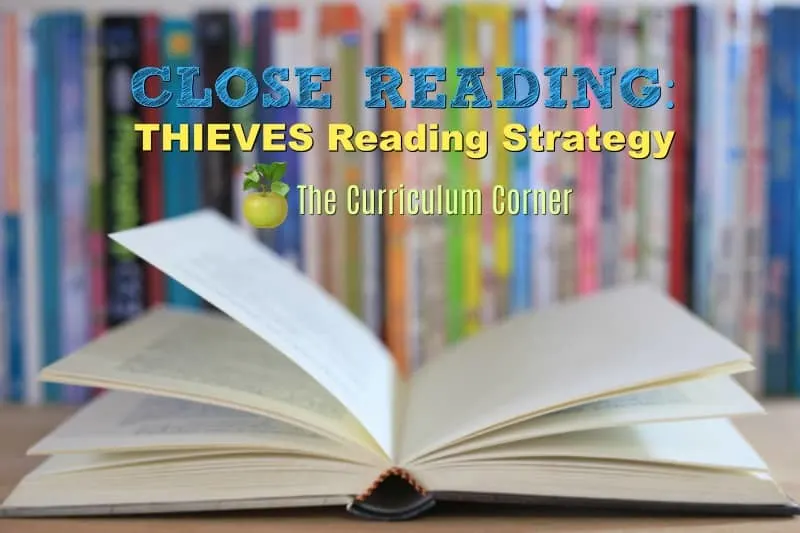 This is another free resource for teachers from The Curriculum Corner.
Help students learn how to use the THIEVES strategy when reading with this collection of resources. This is a part of our series on Close Reading. If you are looking for additional free resources, please visit our Complete Close Reading Collection.
As you work to incorporate the skill of Close Reading into your daily classroom routine, you will find our set of free Close Reading materials a helpful tool.
One of our goals recently has been to learn more about Close Reading strategies. As an emphasis on Close Reading is becoming more common in classrooms across the country, we want to make sure we are providing our followers with tools to make this shift easier to implement.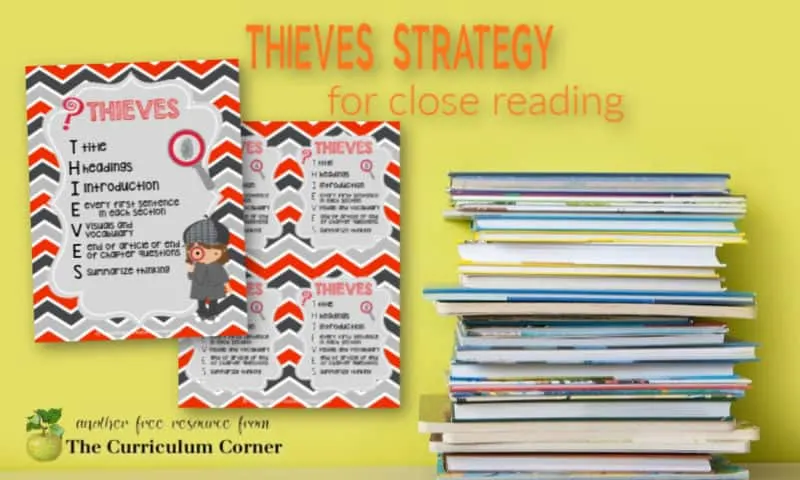 THIEVES is a non-fiction reading strategy that helps children preview text in depth.
This strategy helps students build previewing skills. You are building comprehension skills by activating prior knowledge.
We first learned about the concept while reading Close Reading of Informational Texts: Assessment-Driven Instruction in Grades 3-8 by Sunday Cummins.
If you are trying to learn more about close reading, we highly recommend this text.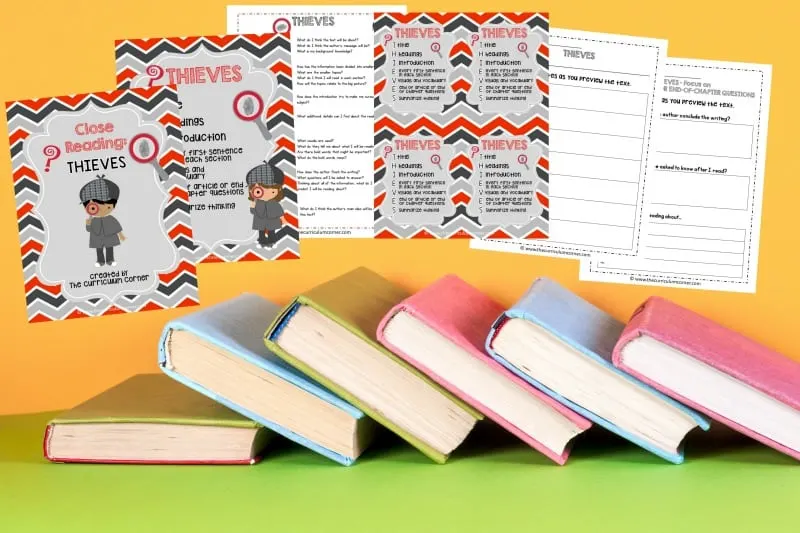 What is THIEVES?
The idea of THIEVES is that an in-depth preview of a text can help students set a purpose for their reading. This purpose will result in students being able to have more success while reading.
By introducing students to THIEVES and practicing as a class, your goal is for students to be able be able to preview and set a purpose on their own without the prompting of a teacher.
When thinking about how to help students remember the mnemonic, explain that you are helping them "steal" information from the text before they read.
THIEVES is a mnemonic
T – Title
H – Headings
I – Introduction
E – Every first sentence in each section
V – Visuals and Vocabulary
E – End-of-article or end-of-chapter questions
S-Summarize thinking
Here is the way Cummins describes this mnemonic:
When you take something that is not yours, what are you trying to do? You are trying to get ahead! If we preview a text, in a sense we are trying to get ahead of the author. We are trying to get on top of the content by being able to predict some of the author's central ideas and then by comparing these predictions to what we already know about those ideas.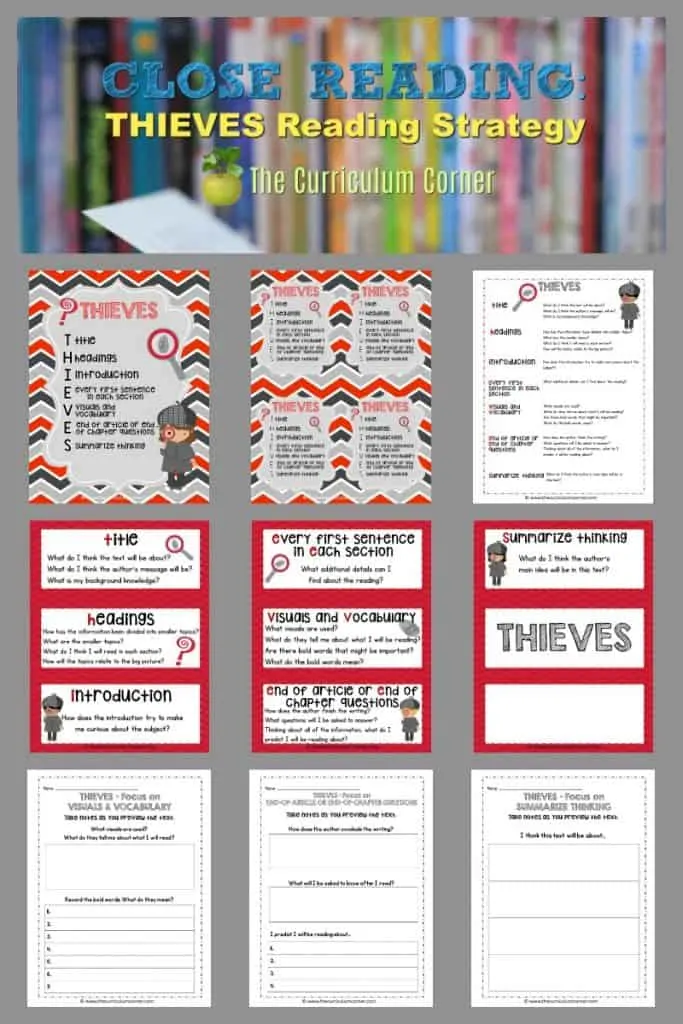 What You Will Find in this Collection:
THIEVES Mnemonic Posters

You will find three versions so you can choose the one that fits your needs.

Mini Mnemonic Posters

These are a smaller version of the mnemonic posters so you can place them at a center for a reminder. You might also have students place them in an interactive reading notebook as a reference.

Posters for Guidance

These pages offer descriptions of each step in the THIEVES process. These can be turned into a larger anchor chart or placed in a reading notebook.

Individual Signs

We have also created individual signs for each piece of the thieves mnemonic. You might choose to display one at a time as you help students gain an understanding of each part or you might choose to display them above your board.

Graphic Organizers

Simple THIEVES Graphic Organizer – this graphic organizer gives students a spot to record notes on each step.
Individual Graphic Organizers – you will find seven graphic organizers. Each graphic organizer focuses on one step of the THIEVES process.
You can download this free THIEVES close reading set here:
As we were researching to learn more about THIEVES, we stumbled upon this great slideshow created by Derek Pizzuto. We love it for teachers trying to develop an understanding of THIEVES and think it is even better for students as they learn. Check it out! Getting Around Non-Fiction Like Thieves!
Thank you to Print Magic Party Printables for the cute clip art.
---
As with all of our resources, The Curriculum Corner creates these for free classroom use. Our products may not be sold. You may print and copy for your personal classroom use. These are also great for home school families!
You may not modify and resell in any form. Please let us know if you have any questions.
You may not modify and resell in any form. Please let us know if you have any questions.