This collection of Close Reading resources is free from The Curriculum Corner.

This is another free resource for teachers from The Curriculum Corner.
Our close reading collection includes mini lessons, graphic organizers & much more!
Help students learn how to complete a close read with this collection of resources. You will find links to each of our reading resources within this post.
As you work to incorporate the skill of Close Reading into your daily classroom routine, you will find our set of free materials a helpful tool.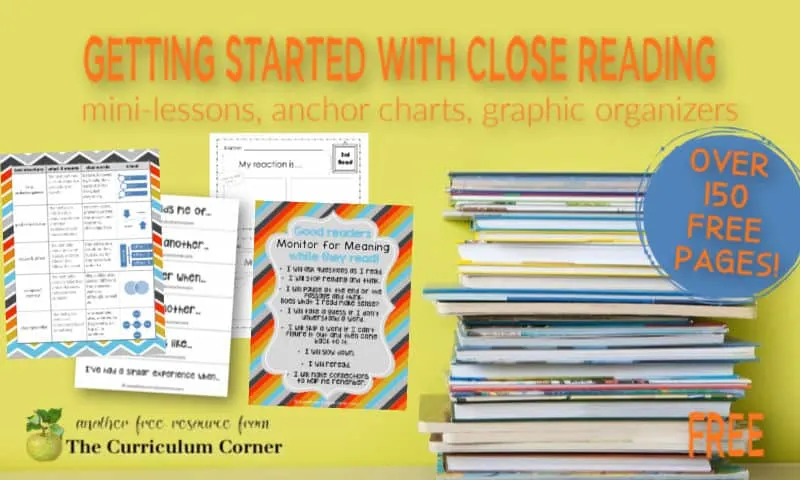 Why did we create a close reading collection for teachers?
One of our goals recently has been to learn more about Close Reading strategies. As an emphasis on Close Reading is becoming more common in classrooms across the country, we want to make sure we are providing our followers with tools to make this shift easier to implement.
We have created these resources to include what you need to get started with teaching the process in the classroom.
If you feel like we are missing an important focus within our collection, please share in the comment section below. We would love to make this your favorite spot to find resources reading.
What is Close Reading?
Close reading is when readers closely examine a text.
During close reading, children are not simply reading a book or passage to answer comprehension questions. It is not students simply writing a summary or finding the main idea.
This skill requires students to dig deeper into the text.
In close reading students are learning to pull out the most important parts of a text. They are learning to find evidence to support their thoughts.
Often introducing students to this strategy involves shorter, more complex passages. There will be fewer prereading activities and more time spent examining the author's words.
Students will reread the passages during a close read multiple times. Children will be given the opportunity to reflect on what they have read. Another important piece of close reading is that students will be encouraged to talk about their reading.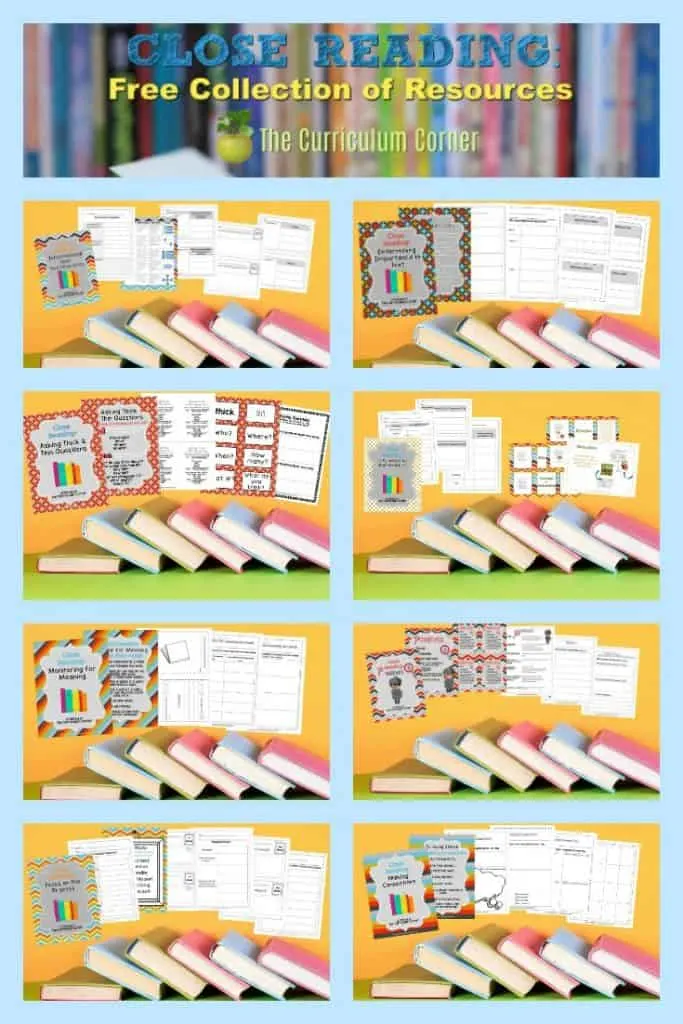 Why do you need these free close reading resources?
Close reading is when you teach children to dig into what they are reading. You are looking for more than having them simply search for specific answers. You are teaching children how text works so that they can develop a deeper understanding while they read.
Some steps of close reading, such as making connections, are often taught beginning at younger ages. As students grow in their reading, you can add other aspects.
The set we have created is designed to help get you started when teaching this skill to your students. The resources will be a good starting point where you will be guided through different strategies for your students to use.
Resources Included in our Collection
To access each set of materials, click on the images below.
Each image will take you to a separate post of free resources to help you get started with this approach!
Resources provided include mini-lessons to guide your teaching. You will find anchor charts to display in your classroom and to help share processes with your students. Also, you will find pages students can add to their reader's notebooks. Also, there are graphic organizers and exit tickets.
Overall, you will find over 150 pages to add to your close reading collection!
You will find sets for each of these skills:
Text Structures These are problem & solution, cause & effect, compare &contrast, description or list and time order or sequence.
Focus on the Process Children will learn the process of completing a reading.
Determining Importance in Text Students will practice how to find the most important aspects of the reading. They are looking for the essential versus the nonessential content.
Text Features Students will examine the text features authors use.
Making Connections Children will practice connecting what they are reading to the schema they have by making connections.
Monitoring for Meaning As students read, it is important for them to be able to think about what they are reading. Children must question their thinking to make sure what they are reading makes sense.
THIEVES This reading strategy is a way for students to preview the text in order to "steal" clues from the author's writing.
Asking Thick & Thin Questions Children will examine how to write "thick" questions. They learn that "thick" questions require thinking about the text instead of simply locating an answer in the text.
Think Marks Think marks encourage children to note their thoughts as they read.
Synthesizing While Reading Synthesizing means that students are thinking about their reading.
Close Reading
Dive into close reading in your classroom with this free collection of resources from The Curriculum Corner.
With the help of these lessons, students will learn how to dig deeper into text.
---
As with all of our resources, The Curriculum Corner creates these for free classroom use. Our products may not be sold. You may print and copy for your personal classroom use. These are also great for home school families!
You may not modify and resell in any form. Please let us know if you have any questions.
You may not modify and resell in any form. Please let us know if you have any questions.