This free opinion writing for 5th grade is a complete unit of study to help you plan for your writing workshop for intermediate classrooms.
This opinion writing for 5th grade unit is brought to you by The Curriculum Corner and VariQuest.
You will be able to use this unit to help you in planning and implementing an effective unit of study. You will find that many of the lessons will also fit into your 4th or 6th grade classroom.
This is another free unit of study for teachers and homeschool families.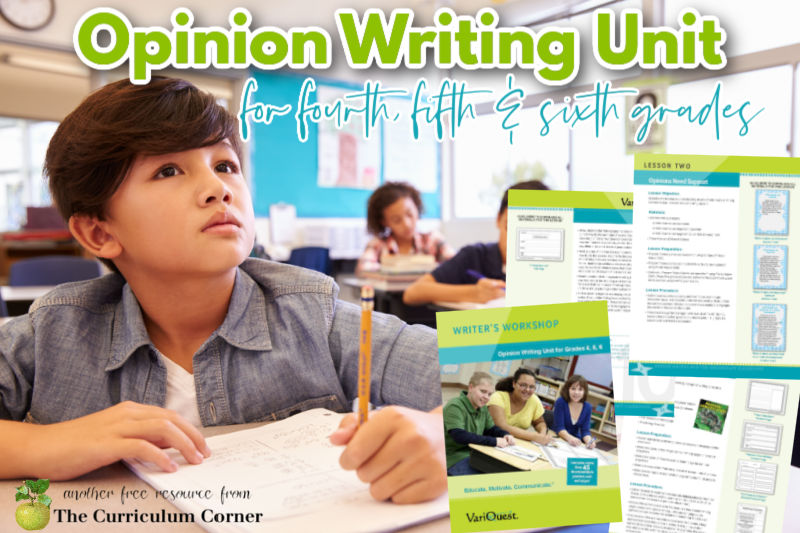 Our free opinion writing for 5th grade unit of study will help teachers working to create a just right unit of study for their classroom.
You will be able to use the lessons, anchor charts and other printables provided to help you craft a unit of study that fits your students.
Opinion writing can be extremely engaging for young writers who typically enjoy sharing their thoughts on topics. The goal of this unit is to help students begin to share support for their opinions.
Backing their ideas with evidence and support is what will ultimately lead others to take those opinions more seriously.
Teaching effective opinion writing in elementary school can lay the foundation for more thoughtful and powerful writers in the future.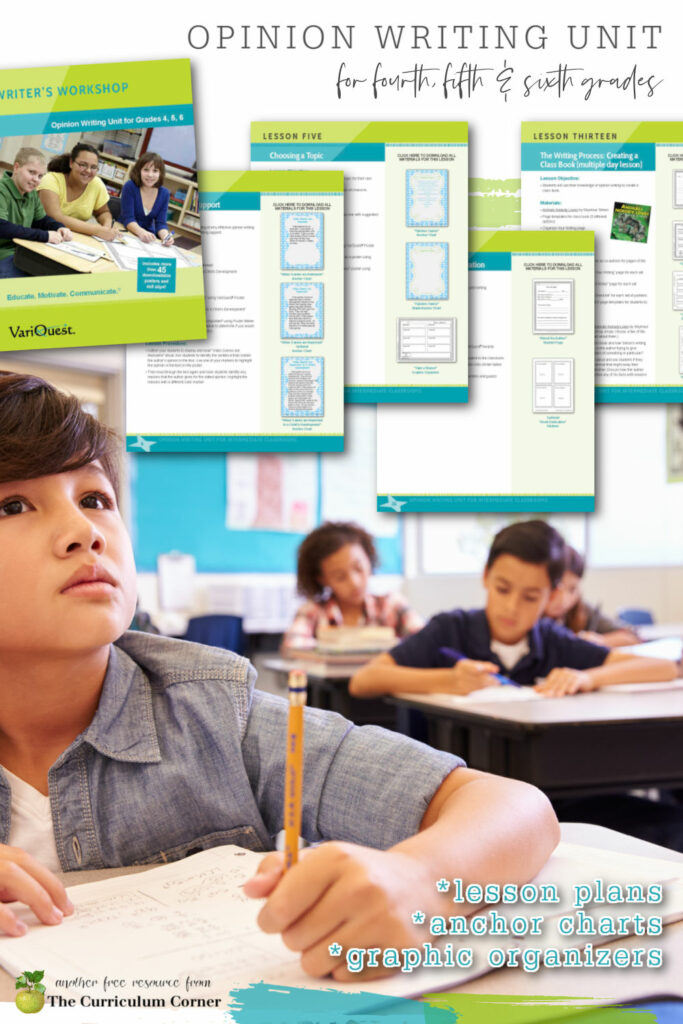 About this unit of study
In writing this unit of study we looked closely at standards for fourth and fifth grades, weaving requirements into engaging activities for writing.
Within this unit of study you will find everything you need to help you develop a unit of study for opinion writing.
In this e-book, you will find anchor charts, mini-lessons and graphic organizers to fit your writing workshop.
You will also receive additional writing resources for students to use such as transition phrases to use in writing.
Even if you are not working through a complete unit of study in your classroom, look and pull out the lessons that fit your needs.
The study begins by having students complete noticings about opinion pieces of writing. By the end, they will be ready to write their own opinion pieces. It includes all of the printables you will need to get started.
This complete unit of study is available on Variquest's blog. It is available as an e-book and will be emailed to you, completely free!
Hop on over to VariQuest to receive your free copy:
Looking for other resources to add to your study? Try these freebies we have also created:
As with all of our resources, The Curriculum Corner creates these for free classroom use. Our products may not be sold. You may print and copy for your personal classroom use. These are also great for home school families!
You may not modify and resell in any form. Please let us know if you have any questions.
You may not modify and resell in any form. Please let us know if you have any questions.