These endangered animals passages are designed to help your students with reading informational text and understanding vocabulary.
Download this set of endangered animals passages to help your students work on reading and research.
These were designed to help you during your endangered species focus in the classroom.
This is another free resource for teachers and homeschool families from The Curriculum Corner.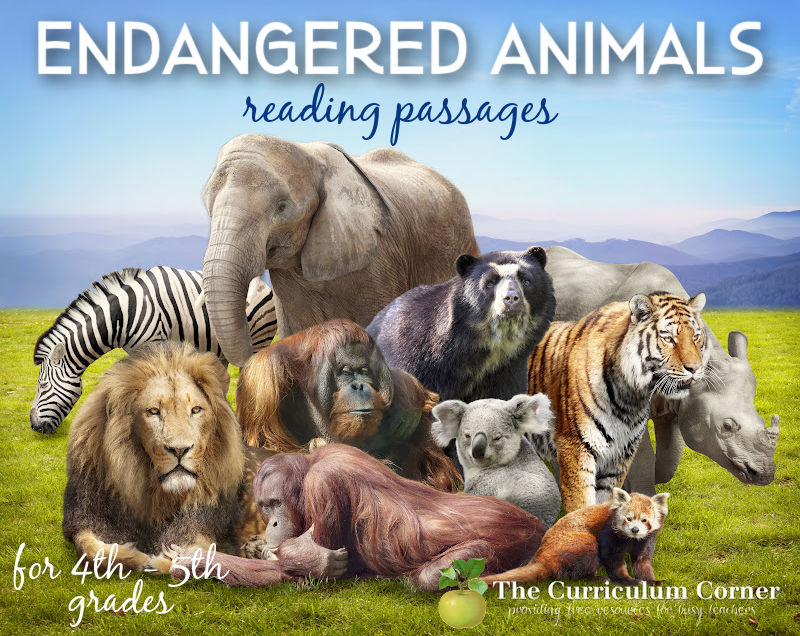 Researching Endangered Animals
These passages and vocabulary work have been created to accompany Literacy Centers: Endangered Animals. Among other resources, this first set contains graphic organizers and outline materials for students to use when writing about endangered species.
This new set can be used to help students complete their research. For students learning to research, it can be challenging to pour through the many available options on-line. The passages here are written to include important facts and vocabulary that will challenge students.
I have been working with a sixth grader on writing and reading skills. One of her loves is animals. I've developed these materials based on her interests and her needs – I hope these also help students in your classroom!
We began with the literacy centers I created and moved on to writing about endangered animals. We only have about thirty minutes to work at a time and my focus is on helping her develop reading and writing skills. When we began searching for facts for her book, I decided I needed a new strategy. While I know research skills are important, we have different goals to focus on first. For this reason, I knew creating passages for her to use when researching, would help us focus on our goals.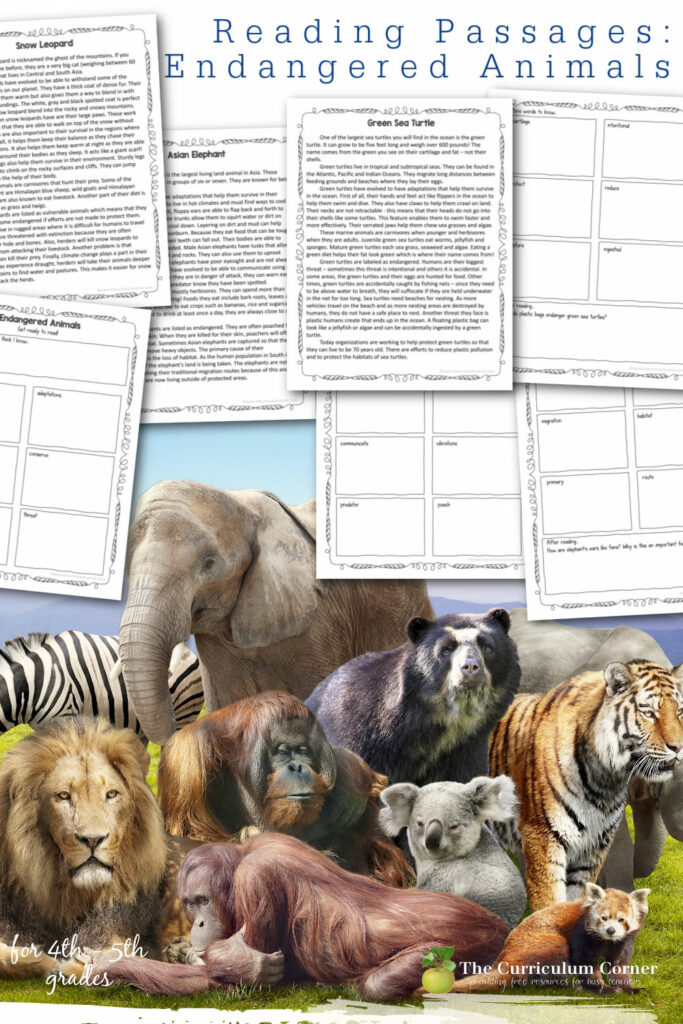 About these Endangered Animals Passages
The first page you will find is designed to help students before they begin reading.
Words included will help students build background knowledge so that they are ready to read.
When working with my student, we added words and pictures to the squares to help her build understanding.
I am finding that this really helps her comprehension as we read through each passage.
Next, you will find four passages, the animals are: polar bear, green sea turtle, Asian elephant and snow leopard.
Along with the passages, there are two pages for students to build background knowledge before reading. The pages contain vocabulary words for students to discuss and learn before reading.
Each page contains one reflection question for students to think about after reading.
I hope these help your readers and are engaging for them!
You can download these passages for reading here:
As with all of our resources, The Curriculum Corner creates these for free classroom use. Our products may not be sold. You may print and copy for your personal classroom use. These are also great for home school families!
You may not modify and resell in any form. Please let us know if you have any questions.
You may not modify and resell in any form. Please let us know if you have any questions.