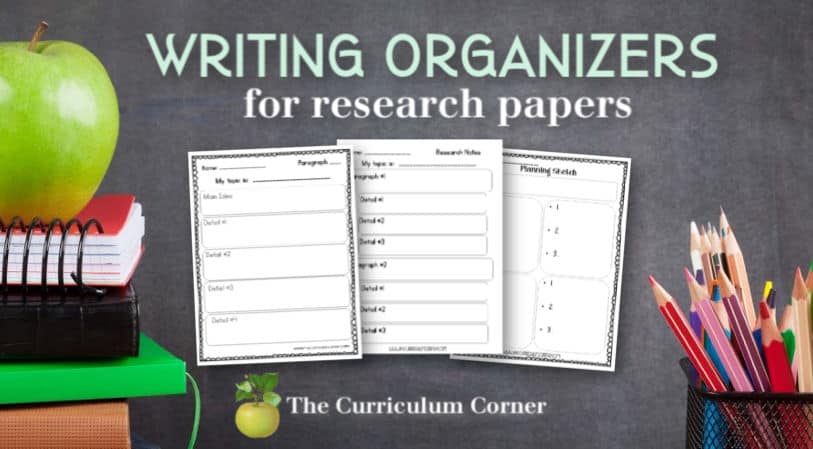 Our multi-paragraph organizers and single-paragraph organizers for writing research papers can be helpful in many classrooms.
These are another free resource for teachers from The Curriculum Corner.
We have expanded our collection of multi-paragraph organizers for writing research papers.
Included in our collection are a range of options for you to choose from.
Our new set includes options for single-paragraph essays along with choices for multiple-paragraph essays.
A few years ago, my oldest son came home from school with a 10-paragraph research paper assignment.
After choosing The Holocaust as his topic, he set out to gather knowledge and facts.
His teacher gave the students an organizational tool which involved index cards. Basically, he was to brainstorm 10 broad topics related to The Holocaust. He then would write them on 10 different index cards.
Then as he set out to gather his research, he was to have at least 5 index cards for each broad topic. Those cards were for containing information and/or facts to go with each of the topic cards.
These would eventually help him to develop his 10 paragraphs for the research paper.
My first thought said it was a great organizational tool and a very concrete way to help the students stay on topic. I quickly realized that this method was probably not the easiest for all kids.
While he did fine, I would see him occasionally shuffling through cards and getting them mixed up.
It got me thinking about those students we all have in our classes who have true struggles with organization. Those students might lose research because they misplace or mix up their cards.
As a result, I set out to create an organizer for those students.
Graphic Organizers for Research Writing
One of our graphic organizers follows the same organizational pattern as the index cards.
Instead of separate cards, students write all facts for each paragraph on one sheet of paper.
So for my son's research paper assignment, he would have had 10 pages to keep in a folder, as opposed to several index cards.
Obviously, students would have one organizer for each paragraph of their paper, no matter the length of the research paper that was assigned.
While my son's work inspired me to create the first organizer, the collection has grown to include a range of planners. You can browse through the set and choose which fit your classroom best.
One of the great aspects of these organizers is that they provide scaffolding for your writers. Students can choose the tool that works and makes sense to them.
Sometimes we find that students benefit from being able to choose their own.
This is a great way to provide choice and help students be successful.
You can download this set of organizers here:
Multi-Paragraph Graphic Organizer
You might also like our unit of study for writing research papers:
How to Write a Research Paper
As with all of our resources, The Curriculum Corner creates these for free classroom use. Our products may not be sold. You may print and copy for your personal classroom use. These are also great for home school families!
You may not modify and resell in any form. Please let us know if you have any questions.
You may not modify and resell in any form. Please let us know if you have any questions.