This fun, tie-dyed theme collection will be a great addition to your end of year celebrations at school! We've created an assortment of GROOVY resources to add to your fun.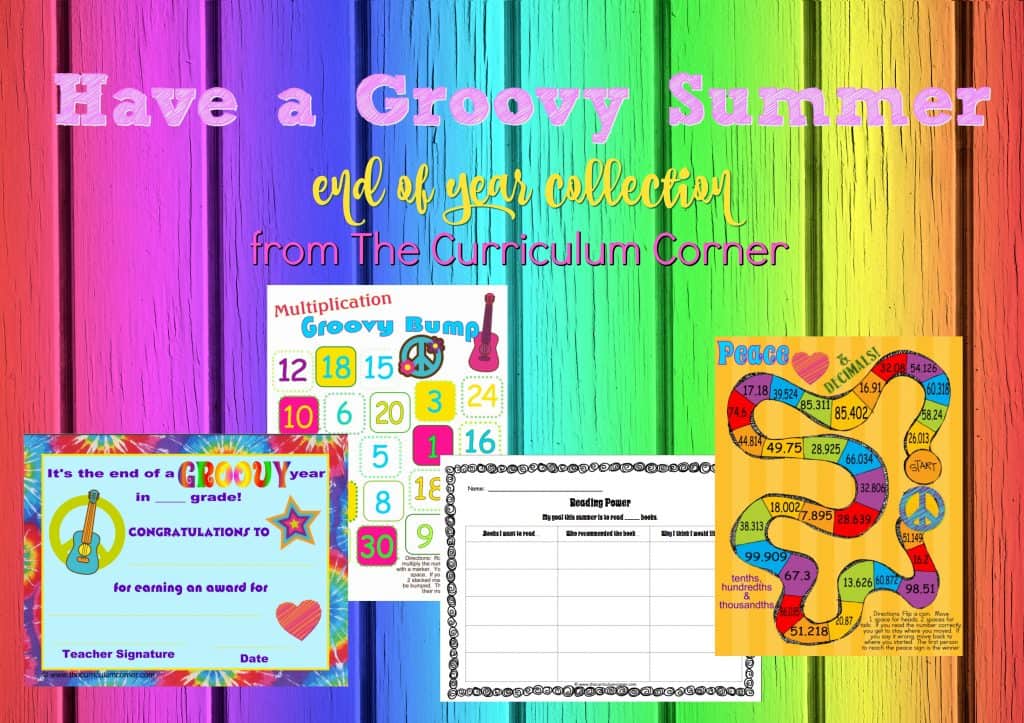 This end of year set will be a fun addition to a day of tie-dying in your classroom!
We thought intermediate students would have fun with a hippie-themed end of the year celebration.
We have created many ideas here to get you started.
Of course, what groovy party wouldn't be complete without a little tie dying? We've included a link to a couple of ideas at the bottom of this post.
As this is an older post, each resource is provided as an individual link. To download each, click on the bold title.
Groovy Award Certificates It is always fun to end the year by recognizing each student for what he or she brought to the classroom. Print off these colorful certificates and personalize. Hand out the certificates on the last day of school during a fun celebration. We know you're busy so we've created a list of some award ideas to get you started: Award Ideas.
Have a Groovy Summer Bookmarks
Peace, Love & Decimals Math Games Pair up your students and give each pair two markers and a coin. Students flip the coin and practice reading numbers with decimals. Tenths Board Game Tenths & Hundredths Board Game Tenths, Hundredths & Thousandths Board Game
Groovy Bump For practice with multiplying two digits, 1 – 6. Your students will need two dice and markers.
Reading Power Encourage your students to keep reading over the summer. Begin by encouraging students to share their favorite books on a piece of chart paper or use this fun poster found on VariQuest's blog (End of Year Reading Celebration.) Once the poster is filled, give each student a reading goal sheet. This is a great time to encourage students to be social and share their books with their classmates. As students hear about a book that interests them, have them record each book on their goal sheet.
Kids love to tie dye so we did some research and found some of the easier ways to do this in your classroom. (Let's be honest… tie dying with a WHOLE class of kids will never be stress-free!)
We found an easy plan for using Sharpies to tie dye on Susie Can Stitch. We think this plan might lead to less mess-making in your class although there are no guarantees here! Check out the directions here: Sharpie Tie Dying.
You'll find even more end of the year ideas on The Curriculum Corner 123: Splash Into Summer and The Best of our End of the Year Activities.