Help your students begin to explore historical fiction with this collection of resources that are just right for intermediate classrooms!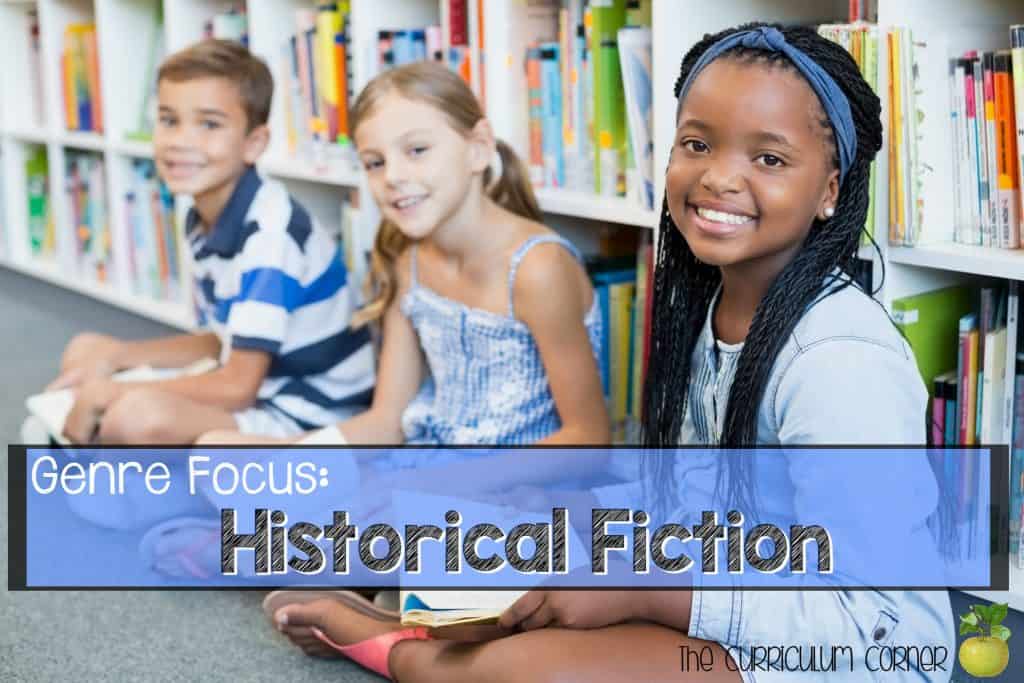 Historical fiction can be such a wonderful genre to teach! Students are not only getting a story with rich characters and a dynamic plot, but also a peek into a time period presented in a much more real way than many informational texts are able to provide.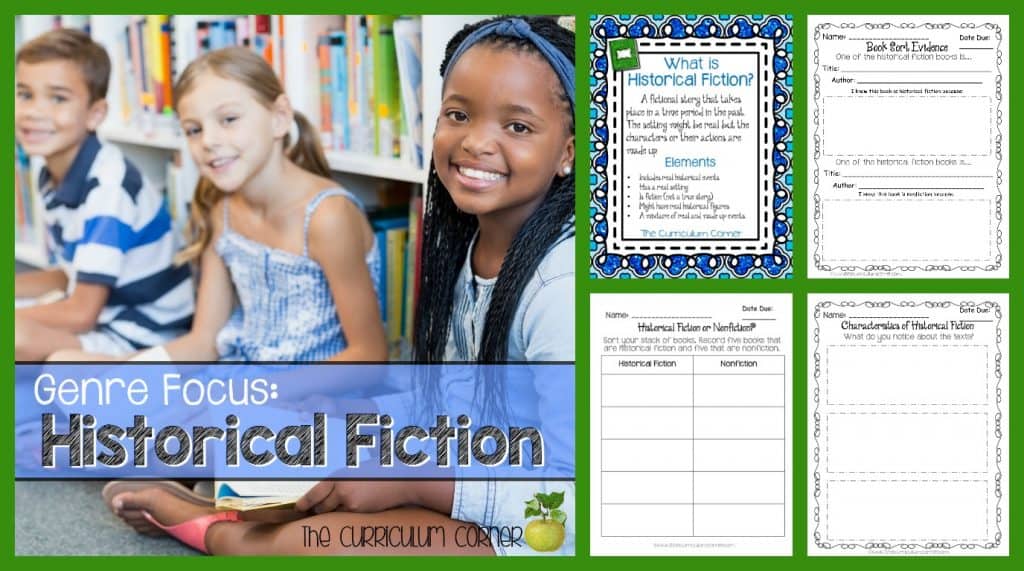 Looking at What We've Created
The resources we have created for this collection can be used in many different ways.
They can be the basis for mini-lessons, resources for your small groups, engaging work for literacy centers or pages for differentiated book club packets.
There are many different types of organizers dealing with setting, character, story line, events based on historical facts, comparisons & contrasts and more.
Below you will find titles and brief descriptions (where necessary) of the pages within this collection.
The complete download can be found at the bottom of the post in BOLD blue words.
Print the entire download or simply choose the pages you will need for your instruction.
Though these resources are presented as a collection for you to use in the way that suits your needs, we suggest a few introductory lessons if your students don't have any (or much) experience with historical fiction.
We have provided ideas and pages for a few "noticings" lessons that involve the students in a book sort and some analysis of the historical fiction texts.
Introductory Lesson 1
For this lesson you will need stacks of nonfiction and historical fiction texts (mixed & shorter picture books instead of chapter books) for each group you have assigned. (We have provided Amazon links to some historical fiction texts in case you are interested in purchasing some or getting some ideas of those you might be able to check out from your library.)
Have your students work in these small groups to sort the books according to what they notice about their characteristics.
You can use the organizer "Historical Fiction or Nonfiction" and tell your students up front the two types of texts they are working with, or simply give them blank paper and have them attempt to sort the books and write observations based on what they see. (The determination about the types of texts would be up for discussion after the lesson as you bring your class together.)
In either situation, there should be a follow up discussion about why they sorted the texts the way they did and the characteristics they found in each.
As a follow up mini-lesson or a literacy center activity, you can use the "Book Sort Evidence" page to delve deeper into the comparing and contrasting of historical fiction and nonfiction.
Introductory Lesson 2
For a second lesson in becoming familiar with this genre, give each of your small groups three historical fiction picture books and have them use "Characteristics of Historical Fiction" to look deeper into each text and compare them according to their similarities.
Follow up the group work with a discussion of their findings and an introduction to the anchor chart you can display in your classroom.
(We have also provided this in black and white in case you want to copy it for your students' reading binders.)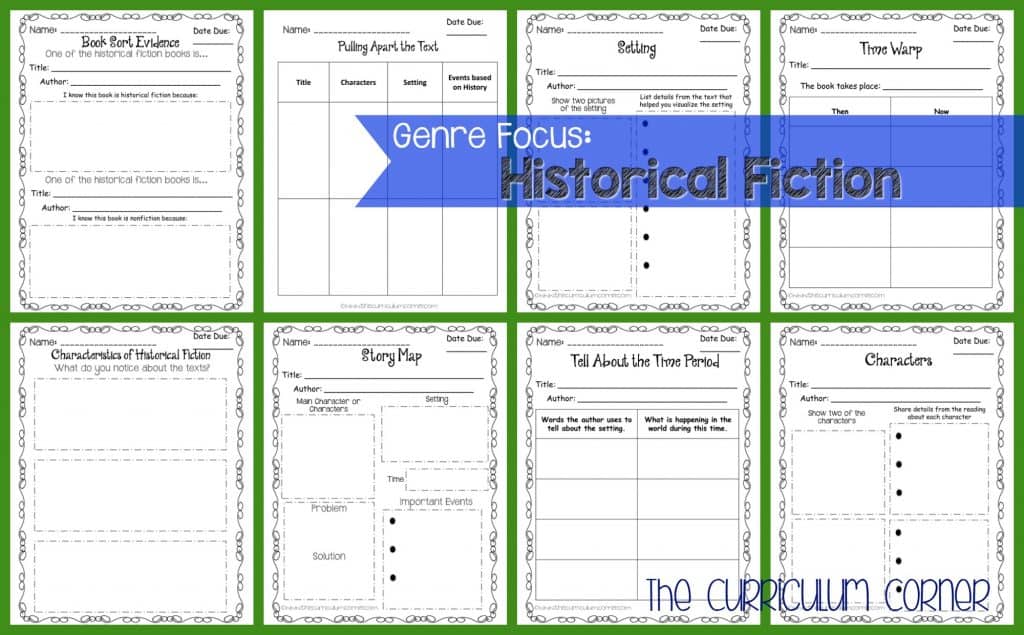 Titles/Descriptions of Pages Included in This Collection:
Historical Fiction Book Club Packet Cover – If you decide to do differentiated historical fiction book clubs with some of the resources, this cover will help to disguise the fact that there are different pages in each book club's packet.
Pulling Apart the Texts – These three pages are meant to be used for book comparisons. The first two have students comparing different numbers of texts, while the third page is more open-ended as far as what the students will be comparing. You can fill in the top or have students figure out how they can compare the texts.
Comparing Fact & Fiction – These pages provide students with the opportunity to think about what is happening in the story of their book and how it relates to the historical period in which it was written.
Story Map, Characters, Setting & Plot Pages – Students concentrate on the fiction elements of the text they are reading.
Visualizing the Time Period – Students think about what the text helps them visualize about the time period. There is room for students to draw two pictures.
Tell About the Time Period – Students will share words the author uses to help them understand the time period. They then connect this to the time period.
Time Warp – Students compare the time period of the text to present day.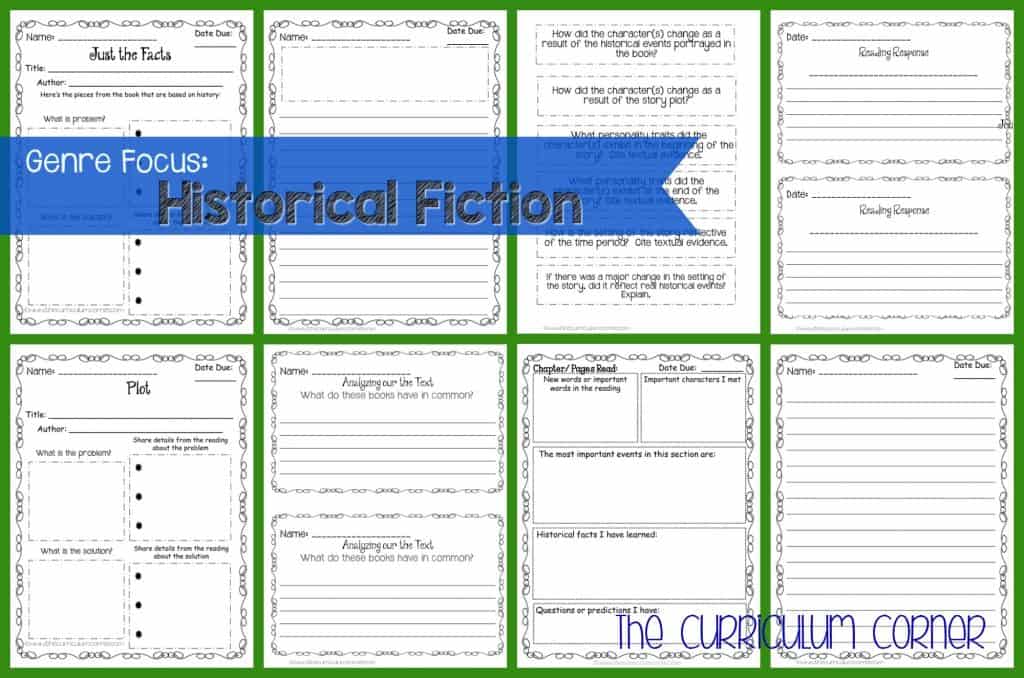 Let's Get Social – Students think about characters in the story and how they might present themselves in modern day social media.
Just the Facts – This page has students focusing on the parts of the text that are based on history.
Title, Characters, Setting & Events – This chart can be used to pull together student learning at the end of a historical fiction book study. This chart is designed for when students are reading books with a common theme. For example, if all students have books about the American Revolution, use this chart to wrap up this study and share learning.
Analyzing The Text – This exit ticket can be used after the class chart is completed above as a way to assess student understanding.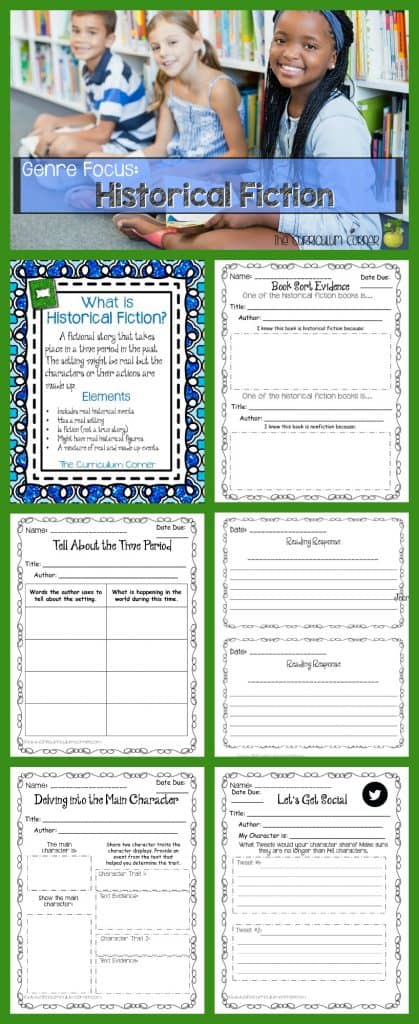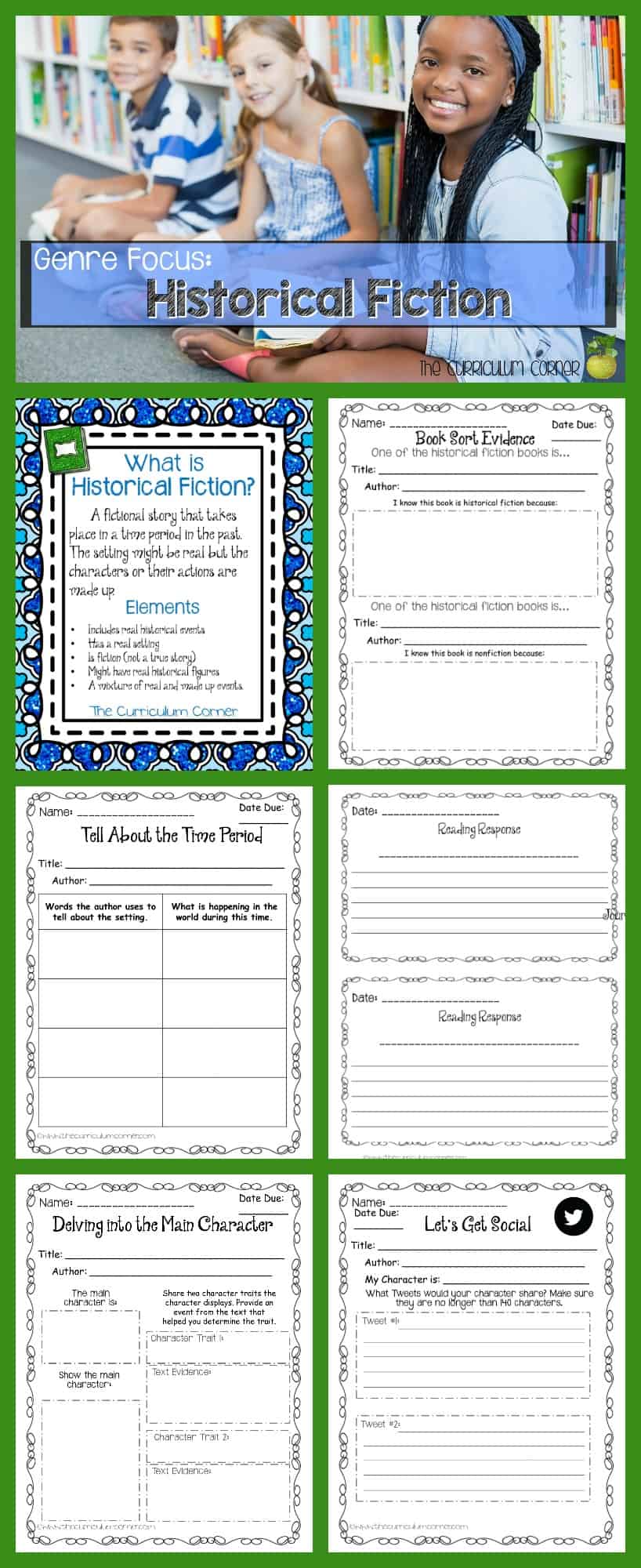 Reading Response Questions – This set of 15 questions can be attached to cards and placed at a center for students to choose and answer. They can be specifically assigned to different groups. They can also be used as discussion starters in book clubs or small groups. We have also provided a question and response page where students can copy (or cut & paste) the question at the top and respond on the lines below.
Comic Strip Template – Have students create a comic strip using a scene from their books.
Timeline Graphic Organizers – Students can complete as they read or at the end of a book study for a wrap-up activity.
Book Club Packet Chapter Reflection Page – For those groups reading longer historical fiction texts that have sections or chapters, you can copy one of these pages for each section of their packet so that they can reflect and discuss after each assigned book club reading.
Journal Response Pages – These three pages can be glued into journals and used for any type of reflective response questions or visualization exercises.
Book Club Celebration – We love wrapping up a book study with a fun celebration. Maybe have children make a food from the time period or dress up as a book character. Do you have other great ideas? Please share below!
You will find all the resources described above in one download here:
You might also be interested in our Mystery Collection.
Looking for some great books to get you started? We've included links to some of our favorites below. (Contains Amazon affiliate links.)