These free persuasive writing graphic organizers will help your fourth, fifth and sixth grade writers plan their writing during writing workshop.
You can use these persuasive writing graphic organizers to help your students organize and plan their writing.
These eight printable pages will help you in planning for student writing.
This is another free resource for teachers and families from The Curriculum Corner.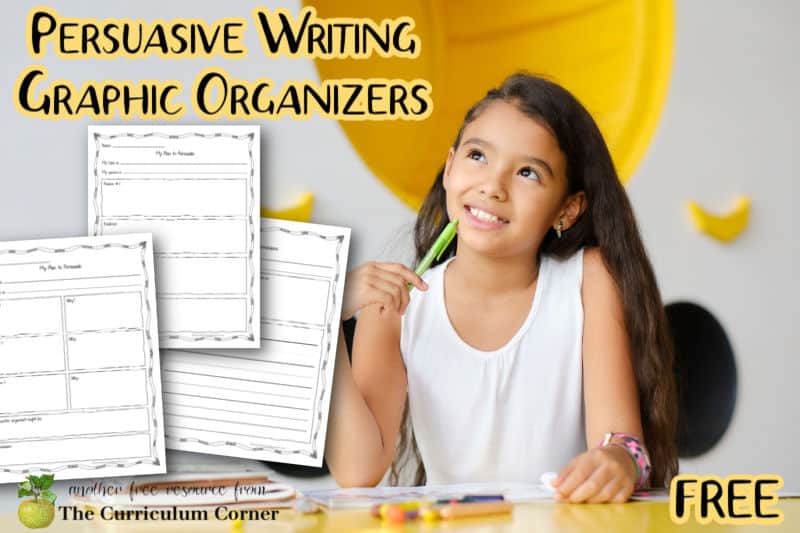 Using graphic organizers during writing workshop
Looking for new pages to help your students plan their writing? These are a great place to start!
These graphic organizers are designed to help your students organize their thoughts and research.
Beginning a writing piece by completing one of these pages will make the writing process a little bit easier for your students.
Use these graphic organizers to get started with their opinion writing.  Choose the one that fits the given task or the one that meets the needs of each student.
There are a variety of pages for you to choose from. You can either pick the organizer that fits the writing process your students will be using or let students choose.
Sometimes the choice is key to motivating writers. Other times, it can be helpful to plan your instruction around a specific organizer. Do what you believe will be the best fit for your class!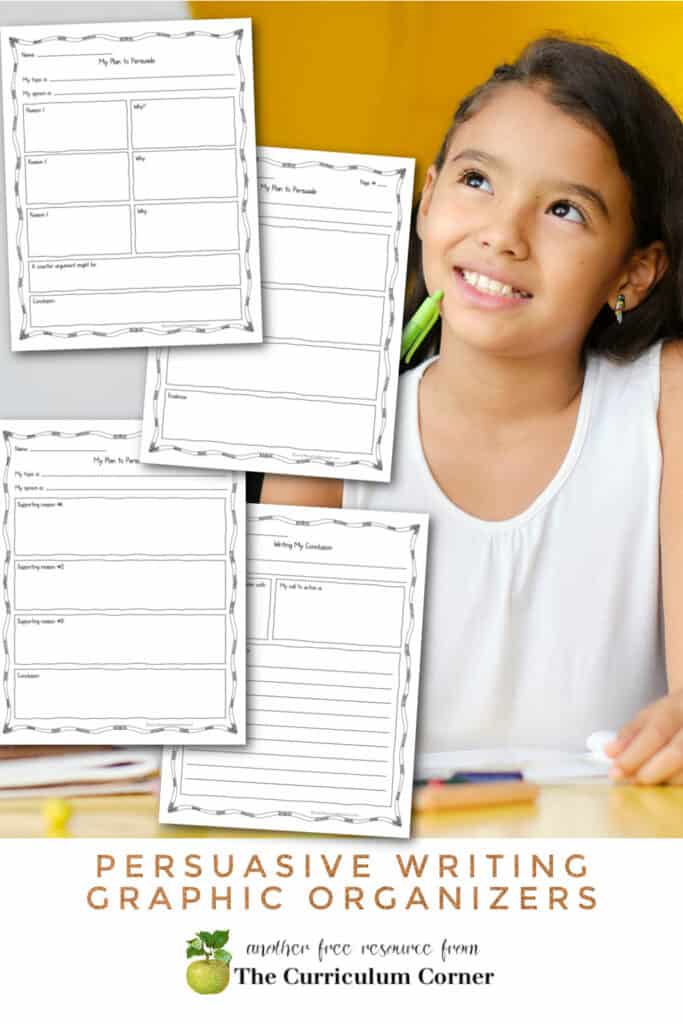 About these persuasive writing graphic organizers
This collection contains eight pages.
Along with a spot for students to identify their topic and then opinion of the topic, there are places for students to begin their planning.
Students will share their reasons for their opinions on some pages.
Part of persuasive writing is citing evidence to support student opinions. Encourage students to add notes about what their research teaches them.
One of the provided pages can be used for students creating a longer research pieces. Look for the organizer that says page#: at the top right. Students can use one page for each paragraph they are planning. Along with sharing their reason, they will record three pieces of evidence to support their opinion.
You might choose to also add one of the two provided conclusion organizers to student planning.
You can download this complete set of graphic organizers for writing here:
Looking for other writing resources? Try these freebies we have also created:
As with all of our resources, The Curriculum Corner creates these for free classroom use. Our products may not be sold. You may print and copy for your personal classroom use. These are also great for home school families!
You may not modify and resell in any form. Please let us know if you have any questions.