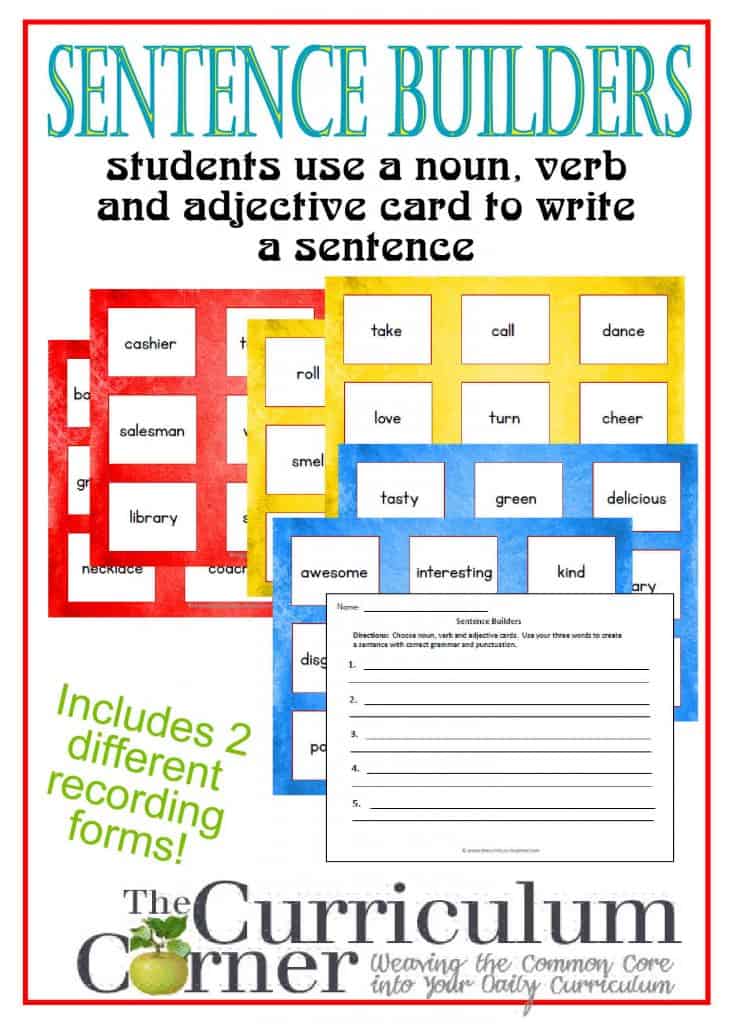 Give students practice with writing complete sentences and understanding the parts that a sentence must have.  These noun, verb and adjective cards can be a creative (and sometimes SILLY) way for students to write, expand and understand the parts of a complete sentence.  Not to mention that it's a great way for you to get a quick glimpse of your students' strengths and weaknesses in sentence writing.
For this activity, print, cut and laminate each set of cards (nouns, verbs, and adjectives).  Place each set in a different bag or basket.  Students choose one noun, one verb and one adjective and then use their creativity to incorporate all three words into one sentence.
We have included two different recording pages at the end of the cards.  One which has lines for their complete sentences and one that asks them to identify the complete subject and predicate of their sentences.  You could also give them a different set of directions and have them write on plain lined paper if you have a different objective.
Once they have written their sentences, you can take it a step further by having them identify specific parts of their sentence to show understanding of conventions of Standard English.
To differentiate, you can take out the adjectives and/or another category of words OR you can choose to make it more difficult by having them choose more than one of any of the categories to incorporate into a sentence.
**Note – please tell your students that these sentences may end up being very funny because the noun, verb and adjectives they choose may not be words that "normally" go together.  That's okay…they can still write funny sentences and learn about language!  Our students laughed a lot doing this as a center and didn't even seem to mind that they were writing sentences!