These positive message morning mats can welcome your students as you head back to school for the new year.
This newest set of focus mats has been created to share a positive message with your students as they begin each day.
Provide these for a relaxing morning entry choice.
This is another free resource for teachers and homeschool families from The Curriculum Corner.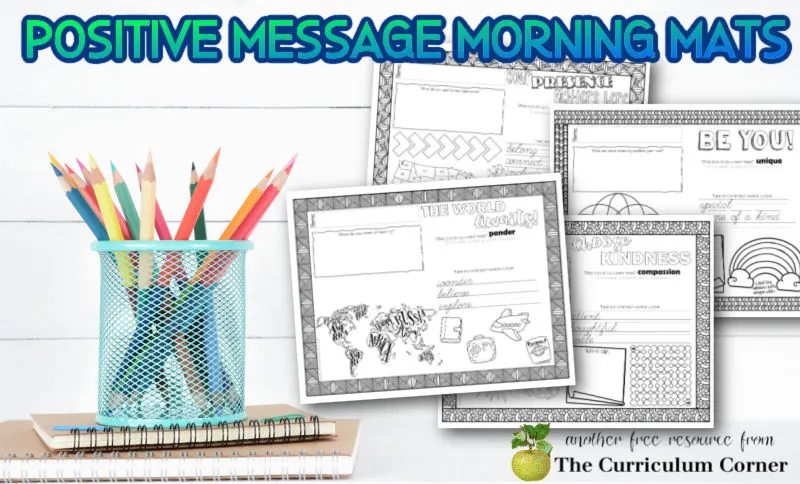 Morning entry ideas
I am a fan of creating a calm morning entry for students. As teachers we like to come into the school and fill up our coffee cup as we say good morning to friends. Children often need the same. Instead of coming in and being silent, allow them to take a walk around the room and say good morning to friends.
I will sometimes have a large puzzle out so children can take a moment to fit in a few pieces as they unpack.
You might add a bell ringer and Post-it notes so students can share their response.
The mats I am sharing below can be another option to offer your children.
These positive message morning mats
This download will give you a set of six new mats. These have been designed to fit into third to sixth grade classrooms – if your students are younger, just take a look and see if they will work for your children.
Each mat has a spot for students to write their names – you can encourage them to use unique letters and different colors.
On the top right you will find a short motivational saying for students to color in.
There is also a word of the day. Have students talk with classmates to determine the meaning. They can then share the meaning by using words and pictures or by using the word in a sentence.
So often we don't have time to teach cursive but I found a way to sneak in a short practice here. There are three words relating to the saying or word of the day students can trace and then write.
Next, there are additional response requests, mazes or doodles for coloring.
Provide students with an assortment of coloring tools such as fine tip markers, colored pencils and crayons.
You can download these free morning mats by clicking on the apples below:

As with all of our resources, The Curriculum Corner creates these for free classroom use. Our products may not be sold. You may print and copy for your personal classroom use. These are also great for home school families!
You may not modify and resell in any form. Please let us know if you have any questions.
You may not modify and resell in any form. Please let us know if you have any questions.