This sentence scramble center will provide your fourth and fifth grade students with an engaging sentence practice activity.
Provide this sentence scramble center for your students working on forming sentences.
This activity is created using longer sentences with a variety of word choice.
This is another free resource for teachers and homeschool families from The Curriculum Corner.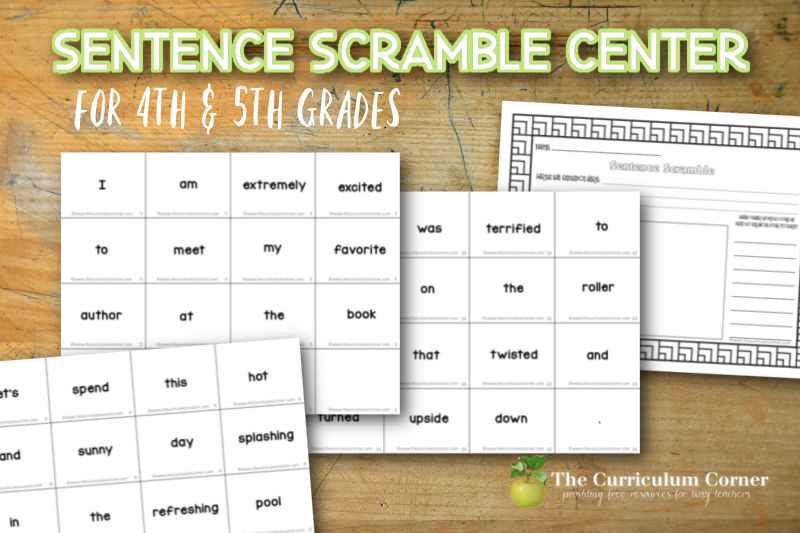 Literacy Centers for Older Students
As we work to develop a writing workshop for intermediate students, it can be a challenge to find engaging and meaningful center activities.
We are definitely looking for ideas that will be high interest. Plus, they can never simply be busy work.
There are still many students who still need help with the mechanics of writing at this age so it is important to find ways to do this.
About this sentence scramble center
I am currently tutoring a fifth grader in writing. My number one goal is for her to enjoy the work we do together.
She currently hates writing and feels like she is not good at it. I hope that I can help her see she can be a writer and that she can succeed.
One goal we are working on is forming complete sentences. I know my second graders often enjoyed mixed up sentences but the ones I already have would not offer much of a challenge. The sentences also do not have topics that would be as high interest for a fifth grader.
I decided to create a new set that would contain sentences that would offer more of a challenge. Plus, I tried to use topics I knew would be good for her.
I created this set with a white background. I'm hearing more and more that teachers prefer the plain background due to the cost of color ink.
When creating your center, you can copy each sentence on a different color of card stock. This will make for easy sorting when the cards get mixed up.
I have also added numbers at the bottom of the cards in case you will be using white card stock.
Using this sentence scramble center
I have a couple of thoughts for how to use this center.
First of all, it could be a traditional center. You put a few sets of sentences at a center and students use the words to form sentences using all of the words.
There is a recording page for students in case you use this option.
In my case, I will be using it for direct instruction with the student. You might also use it in a small group.
I will start by giving the student a small grouping of the cards that will still form a complete sentence.
For example, I might give her enough cards for this sentence: I watched as the butterfly floated into the sky.
After she is able to form this sentence, we will talk through words that could be added to make the sentence more descriptive. I will let her come up with her own words.
Eventually, I will give her all of the cards and have her form the complete sentence.
This will give her a guided way to practice adding descriptive words to her sentence.
You can down this literacy activity here:
As with all of our resources, The Curriculum Corner creates these for free classroom use. Our products may not be sold. You may print and copy for your personal classroom use. These are also great for home school families!
You may not modify and resell in any form. Please let us know if you have any questions.
You may not modify and resell in any form. Please let us know if you have any questions.