This collection of free 120 chart worksheets will help your children practice completing 120 charts with missing numbers.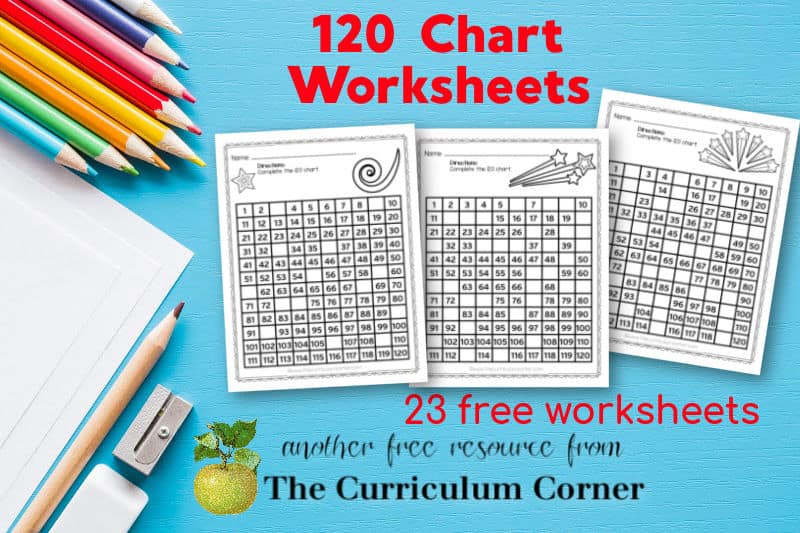 This is another free resource for teachers and families from The Curriculum Corner.
You can use this set of free 120 chart worksheets to give your children an opportunity to practice number sense skills.
This set of worksheets was created for those classrooms that focus on using a 120 chart as opposed to a hundreds chart.
We know that many classrooms have been moving towards celebrating 120 day as opposed to the traditional hundreds day.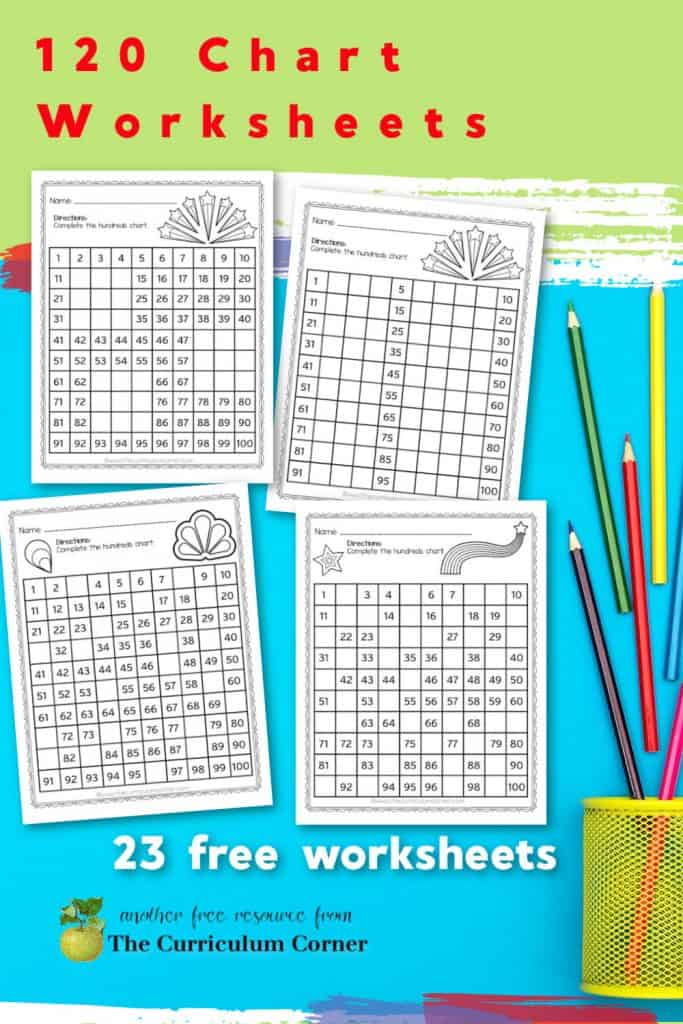 Why would I work on 120 charts?
Using a 120 chart is a great option for students.
Because numbers span into the hundreds, it gives children an opportunity to build number sense beyond tens and ones.
The jump from counting to 100 and working with bigger numbers containing three digits can be challenging. A 120 chart gives children a clear visual to begin working with these numbers.
Hundreds charts can be a meaningful tool when children are working on skip counting. They can be used to work on finding and repeating patterns.
If you are looking for hundreds charts and 120 charts children can use as tools in math class, you will want to look at our Printable Hundreds Chart Collection. This set contains a range of printable charts for you to print and laminate for classroom use.
These 120 Chart Worksheets
These practice pages will give your children the opportunity to practice completing 120 charts.
These worksheets could be used at a math center if you need to have options where students are not sharing supplies or manipulates.
When school is back to normal, these might simply be used as practice or a way to check in with student progress.
Children look for the patterns and fill in the missing numbers. Because there are a range of pages, you can have students choose to complete the worksheet that is just right for them.
You can download this free set of math worksheets here:
Looking for other free resources? Try these:
As with all of our resources, The Curriculum Corner creates these for free classroom use. Our products may not be sold. You may print and copy for your personal classroom use. These are also great for home school families!
You may not modify and resell in any form. Please let us know if you have any questions.