Download these printable word family spinners to help you create an engaging literacy center for word work.
These printable word family spinners are a fun way to work on word families in your classroom.
This is another free resource for teachers and families from The Curriculum Corner.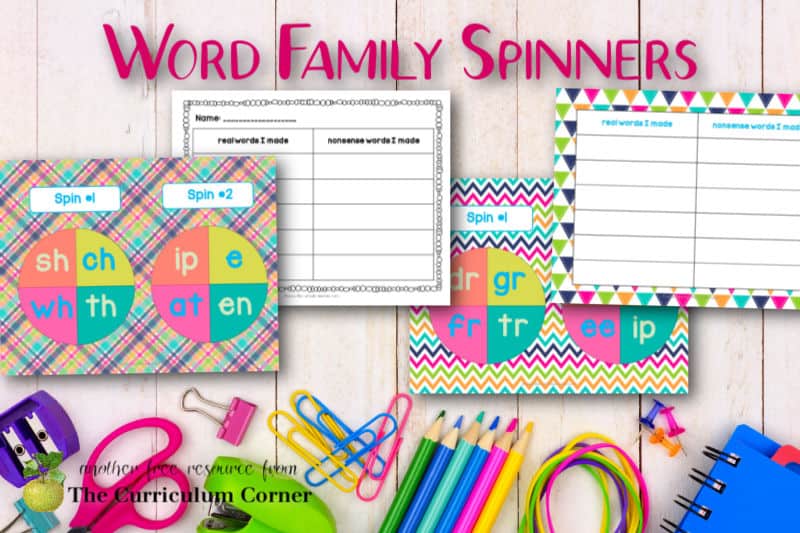 About these free word family spinners
We are excited to present this set of resources (a word family activity) to help you create new literacy centers!
This set of word work games includes five different spinner mats. We like that they are colorful and more engaging for students than worksheets.
With centers such as these we are looking to help teachers wanting to go more paperless with their curriculum and instruction.
Creating centers and practice opportunities for students that are timeless and can be reused year after year is important.
This is especially important as we are finding our funding for supplies such as copy paper dwindle.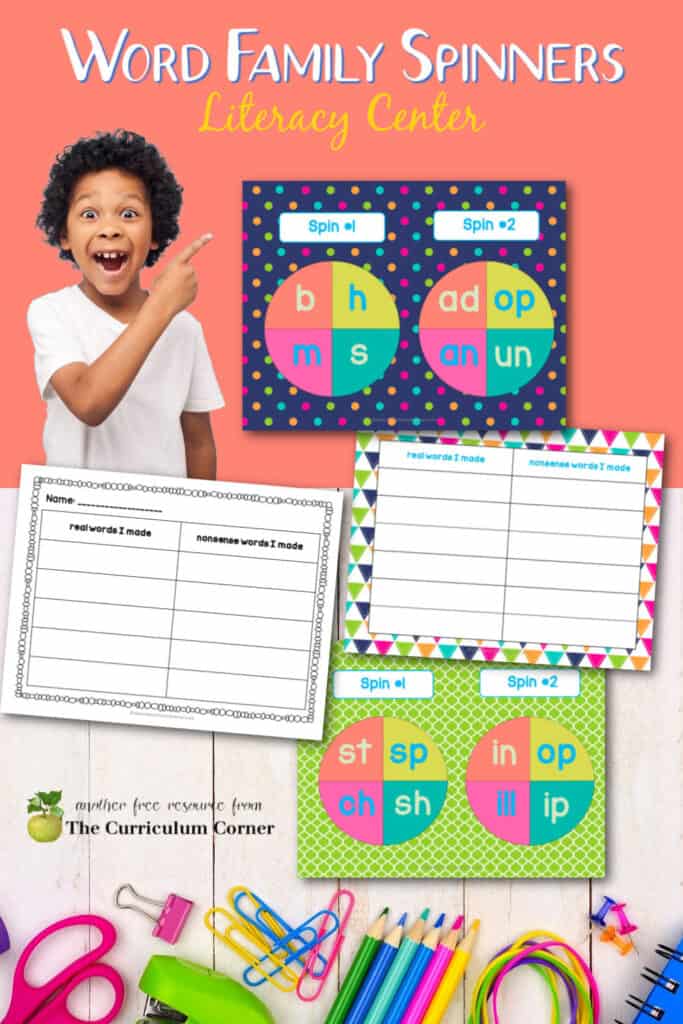 Creating your literacy centers
Simply print the spinner pages on heavy white cardstock. Next, laminate the pages for durability.
Along with the word recording mats you will find a printable page you can use for a pencil and paper recording option.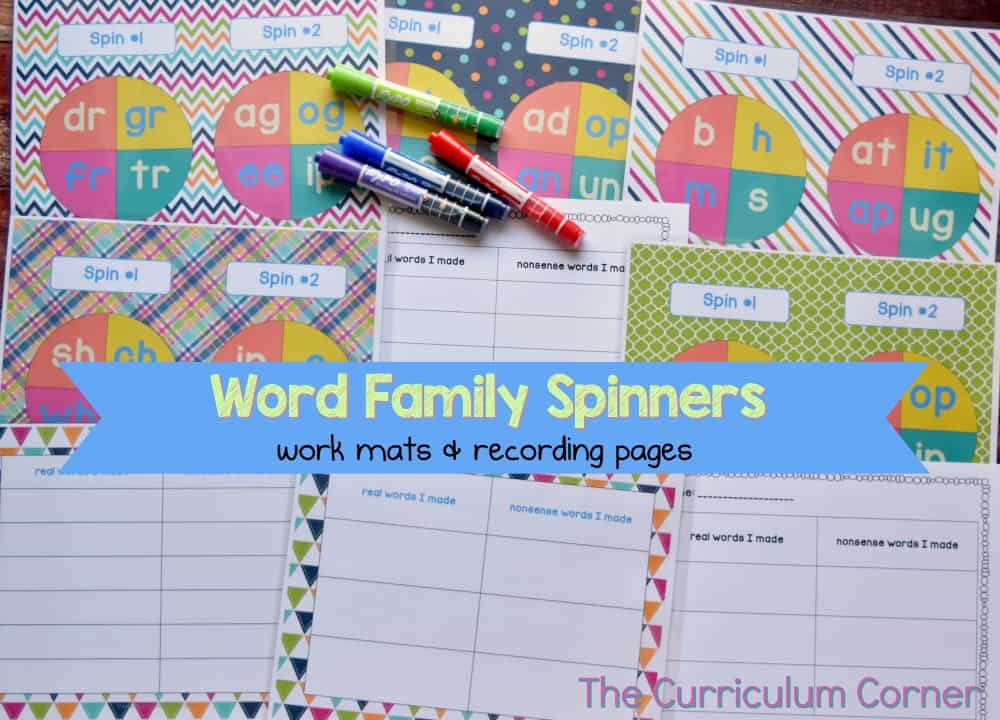 PLUS – having centers like this printed, laminated and ready to go will save you time with all the prep work each year! Doesn't that sound amazing??
This set of centers is particularly engaging for students because they will be busy spinning and creating either real words or nonsense words. Nothing seems to make a little one giggle like a good old crazy word that makes no sense, huh? This should be truly engaging so that you can work with a small guided reading group or even work on individual assessments with students.
This collection of word practice resources includes 5 colorful work mats and 2 recording pages. (NOTE: This may not be an activity for your ELL learners. Creating nonsense words may end up causing confusion.)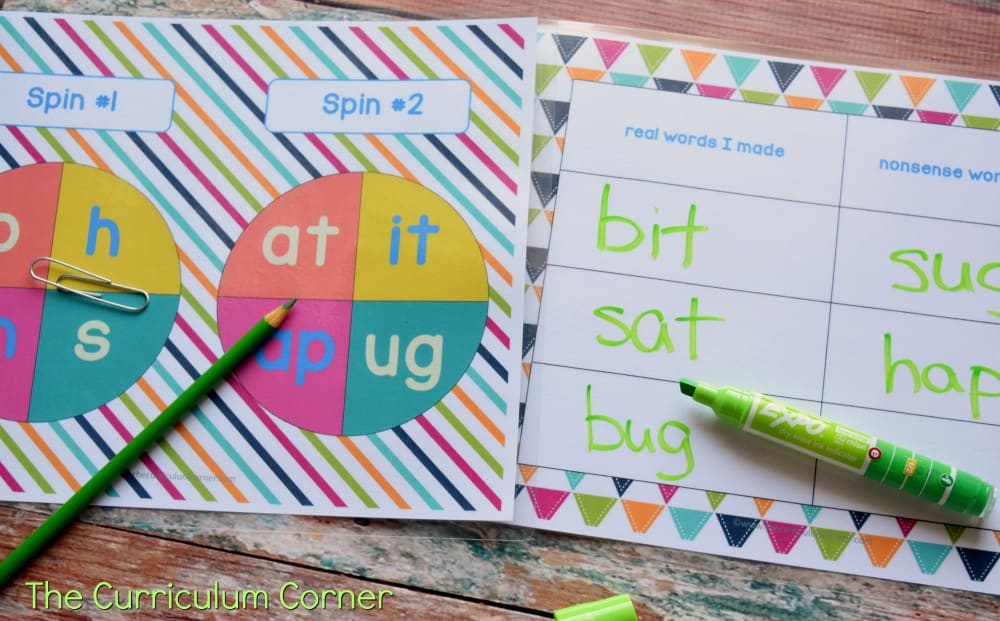 Word family spinners directions
Students place the tip of their pencil inside a large paper clip in the center of the first spinner wheel on the mat. Then they flick the paper clip to make it spin and land on a letter(s).
They repeat the procedure with the second spinner wheel on the mat.
Next they put the first spinner's letter(s) together with the second spinner's letter(s) to see if they have created a real or nonsense word.
Then they use their dry erase marker to write the word they created in the correct column on their recording sheet mat. (We have provided this in black & white as well in case you were hoping to use the center as an informal assessment.)
You can download this free word work center here:
Looking for other word work centers? Try these freebies we have also created:
As with all of our resources, The Curriculum Corner creates these for free classroom use. Our products may not be sold. You may print and copy for your personal classroom use. These are also great for home school families!
You may not modify and resell in any form. Please let us know if you have any questions.