Download this free boho rainbow teacher planning binder and themed calendar pages to match your classroom decor.
You can use this boho rainbow teacher planning binder to add a little fun to your planning.
This binder download contains 74 pages plus calendar pages for 2022, 2023, 2024 and 2025.
This is another free resource for teachers and homeschool families from The Curriculum Corner.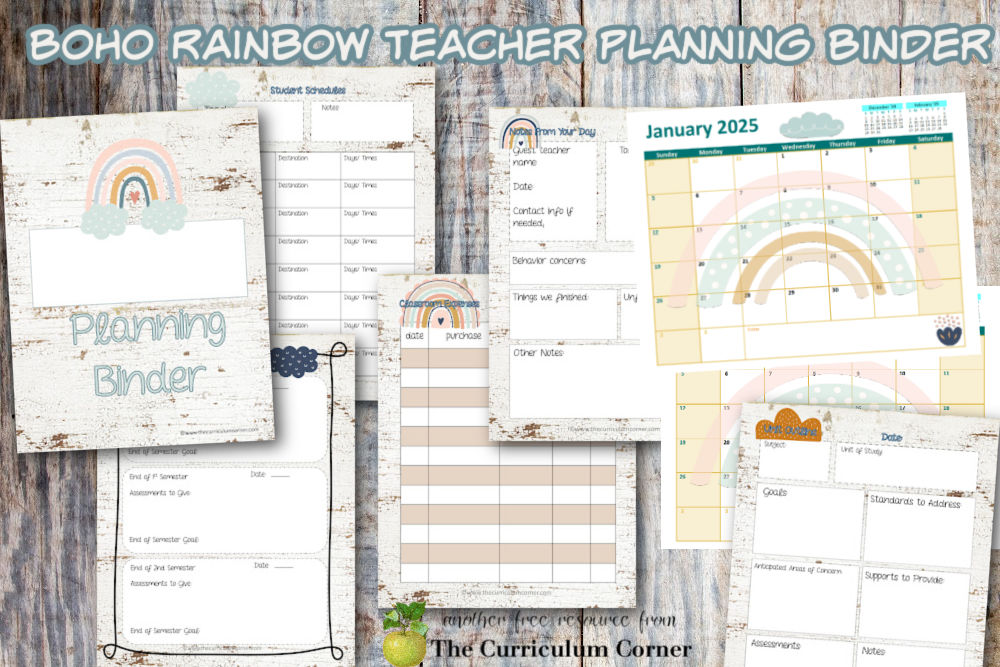 A modern boho theme for your classroom
I like this theme because it adds together a little whimsy and calming colors.
It's not too bright or overstated. You can easily weave natural elements with the theme.
You might choose to use wooden backgrounds, baskets and other items made of tans and beiges.
Another fun idea would be to offer students some type of yarn craft during a rainy recess to decorate a spot in the classroom.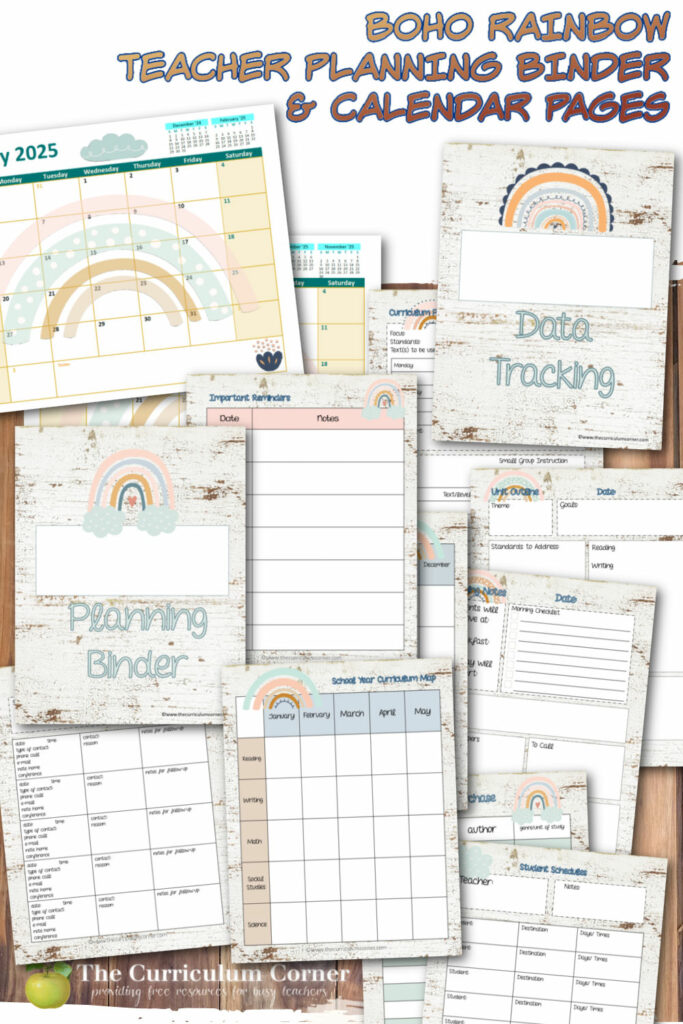 This boho rainbow teacher planning binder
Within this download, you will find 74 pages to help you create the perfect organizational binder for your classroom. These pages print in color. If you need options that are black and white to help you conserve ink, try this download: Teacher Management Binder.
The pages come with a wooden-look background. They are decorated with muted rainbows, clouds and other whimsical designs.
Along with the planning pages, you will find coordinating calendar pages. These calendar pages are provided for the years 2022 through 2025.
Here is a little bit about the pages you will find to help you get organized:
Students and Class Information There are a variety of pages to help you put all of your important info in one spot as the year begins. You will find pages such as student contact information, bus transportation, birthdays and more.
Daily Organizational Items You can download an assortment of checklists, behavior documentation pages, student schedules and things to do pages. There are also notetaking pages for meetings.
Lesson Planning Choose from the range of forms to help you create a curriculum map, monthly themes, weekly plans or a daily layout.
Professional Resources Keep track of books you would like to purchase, conferences you would like to attend and other items taht are a part of your teaching.
You can download this free, editable binder by clicking on the apple picture below:

You will find the PDF version (not editable) here: PDF Download.
The calendar pages for each year can be downloaded here:
2022 Pages 2023 Pages 2024 Pages 2025 Pages
As with all of our resources, The Curriculum Corner creates these for free classroom use. Our products may not be sold. You may print and copy for your personal classroom use. These are also great for home school families!
You may not modify and resell in any form. Please let us know if you have any questions.