This free editable, map teacher planning binder and calendar pages have a travel theme to help you start your new adventure this school year!
You can download and edit your own copy of this map teacher planning binder to fit into your adventure-themed classroom.
Along with a planning binder containing over 70 pages, you will also be able to access map themed calendar pages.
This is another free resource for teachers and homeschool families from The Curriculum Corner.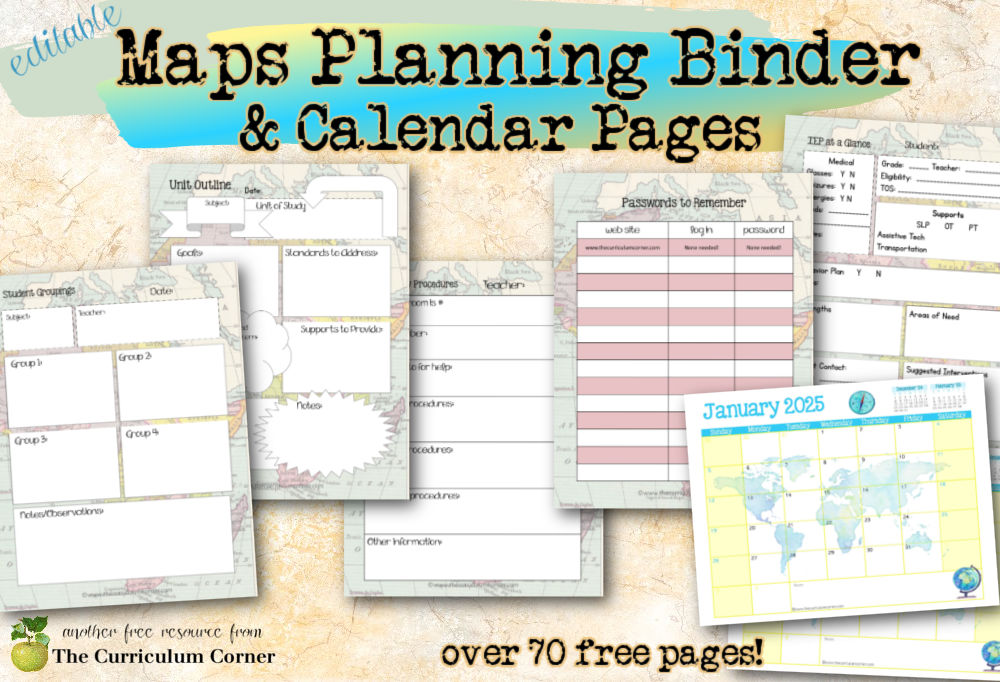 Putting together your adventure themed classroom
I am loving all of the ways the map decor I am working on creating can be used.
Of course it will easily fit into a social studies classroom.
I also think it is perfect for a theme such as adventure aways or welcome to a new adventure. Another idea is adventure awaits.
There are so many quotes you can add in and it would be fun to share books from around the world.
You can use old maps for a bulletin board cover. It feels like there are endless possibilities!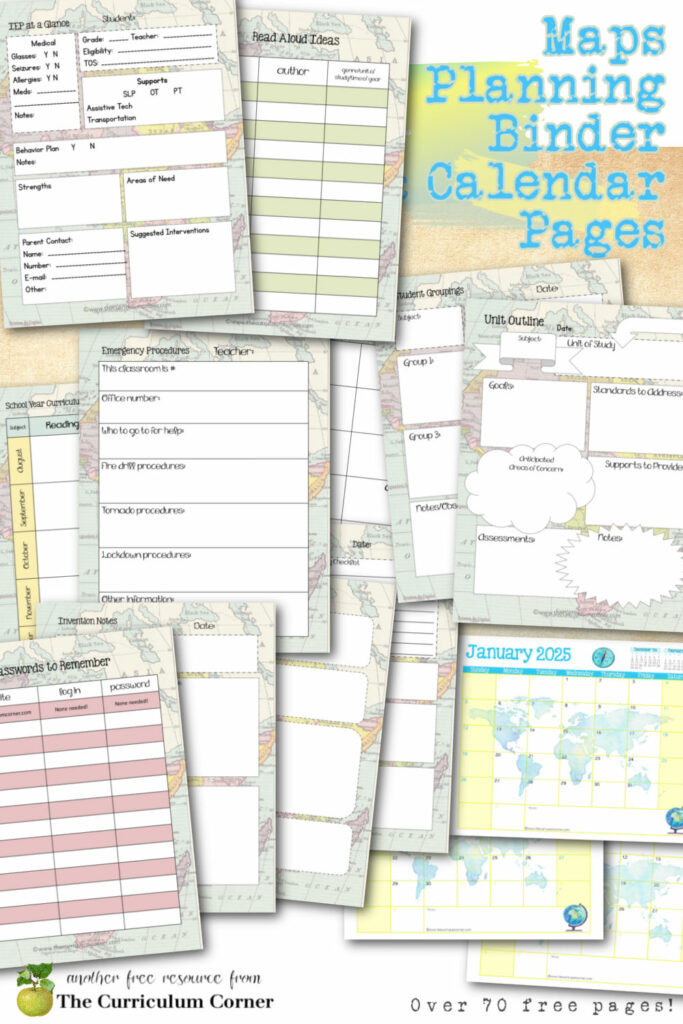 This map teacher planning binder
This download contains a large variety of pages. Hopefully you will find all of the pieces you need! If you need to save color ink when printing the pages, you might want to mix in some pages from our black and white binder: Teacher Management Binder.
This design does have some new pages that have not been available in previous versions.
Most of the pages have a map background and coordinating colors.
You will find a watercolor map and globe on the calendar pages.
Here is a little about the pages you will find:
Student & Class Information An assortment of forms on information to collect at the beginning of the year. These forms include pages to record parent contact information. You will also a page for transportation, an IEP at a glance planner and birthday recording pages.
Daily Organizational Items Includes check off lists, behavior documentation, student schedules and things to do pages. You will also find pages for taking notes during meetings.
Lesson Planning From developing units to daily planning, there are an assortment of pages to help you pull together your plans. Also includes forms for student groupings.
Professional Resources Keep track of books to purchase, favorite quotes, conferences to attend and more.
You can download the free, editable planning binder by clicking on the apple picture below:

You can access the PDF version that is not editable here: Planning Binder Download.
The calendar pages are available here:
2022 Pages 2023 Pages 2024 Pages 2025 Pages
As with all of our resources, The Curriculum Corner creates these for free classroom use. Our products may not be sold. You may print and copy for your personal classroom use. These are also great for home school families!
You may not modify and resell in any form. Please let us know if you have any questions.