Print this bright and cheery lemon classroom décor set to add a bit of sunshine to your classroom.
You can use this free lemon classroom décor set to add a little sunshiny yellow to your classroom.
Download this free set and print to help you create your own lemon-themed design.
This is another free resource for teachers from The Curriculum Corner.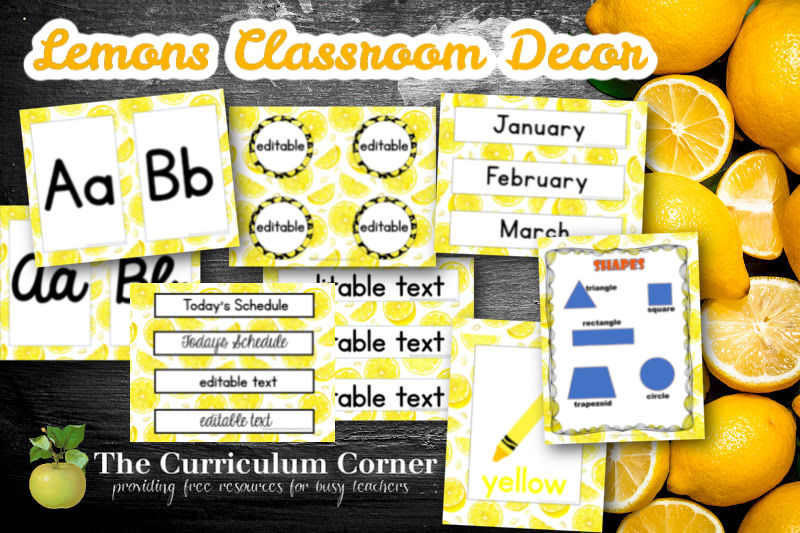 Try this new classroom theme!
We've received a few requests for a lemon-themed décor set. We hope this one helps you create a cheery look!
This collection comes adorned with watercolor lemons. The sunshiny yellow and lemon slices might be fun to mix with shades of green or even black and white.
Use the materials we are sharing to help you get started.
The downloads include some that are ready-to-print. Others are editable so you can make items that fit your needs.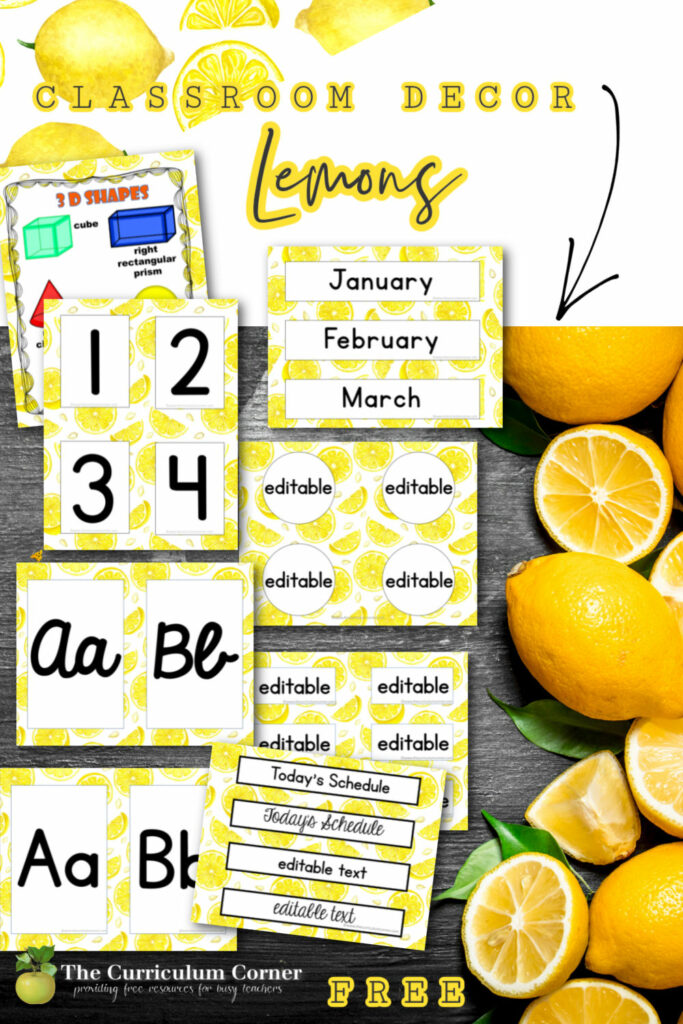 This lemon classroom décor set
This set is packed with a range of materials for you to use in your classroom.
You will be able to print an alphabet line to match – you can choose from our print alphabet line or cursive alphabet line.
There are labels for books and classroom supplies Plus, you will find posters and other editable files.
Whenever we were able, we created the file as editable. We are not able to unlock the files any more due to clip art copyrights.
How can I edit this lemon classroom décor set?
The editable files you will find in this set are being shared as PowerPoint downloads. Editing is easy to do but you must have PowerPoint installed on your computer in order to be able to use the files.
We have used free KG fonts in these files. You will need to add these to your computer in order for the files to display correctly. Another option is to switch the fonts to one of your favorites.
The three fonts we have used are KG A Thousand Years, KG Penmanship Print & KG Eyes Wide Open.
Simply type of the wording we have entered to make these your very own.
Need another color added to fit your classroom theme? You can change the font colors to make this set a perfect fit.
These files will allow you to create the following materials for your classroom:
classroom labels
name tags
group name signs
group number signs
hall passes
book bin lables
supply labels
classroom center signs
blank anchor chart
response posters
classroom schedule cards
The files which are not editable include:
ABC letter line in print
ABC letter line in curseive
color posters
cardinal directions posters
number line cards
number cards
ABC cards for grouping students, ordering or anything else
calendar pieces
You can download these free files here:
Classroom Decor: Lemons
This classroom décor set has a watercolor lemon theme. You will be able to click on the underlined titles below to download each file. Each file is a separate download.
You can find the KG fonts we used here:
As with all of our resources, The Curriculum Corner creates these for free classroom use. Our products may not be sold. You may print and copy for your personal classroom use. These are also great for home school families!
You may not modify and resell in any form. Please let us know if you have any questions.