This collection of resources will help you work with your students on the close reading skill of synthesizing informational text.

This is another free resource for teachers from The Curriculum Corner.
Synthesizing occurs when readers change their thinking as they read. They use their background knowledge along with what they are reading and learning to form new thoughts, opinions and conclusions.
This post contains affiliate links.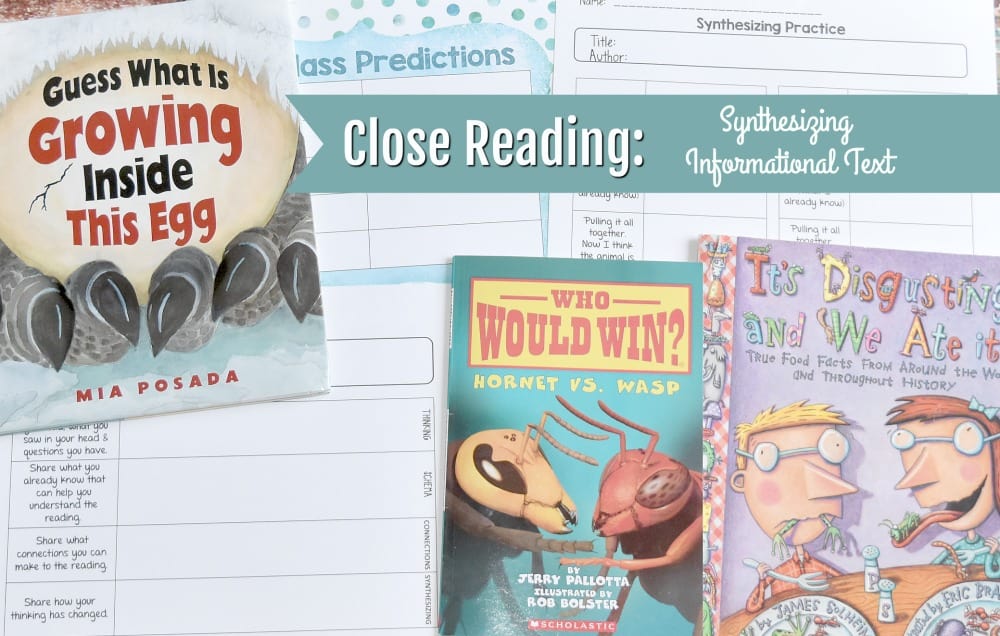 Synthesizing or Summarizing?
The skill of synthesizing is an important part of close reading.
As you begin teaching, it is important for students to understand that there is a difference between synthesizing and summarizing.
In summarizing, students need to learn that they are simple sharing the key points and ideas from the author. They are basically telling what is important from the book.
If your students need help with summarizing, you can try our Summarizing Unit of Study.

Why do my students need to learn how to synthesize as they read?
Synthesizing is a step beyond summarizing. It requires students to dig a little deeper into the text and process what they are reading.
Part of learning this concept is that students are learning their thinking changes as they move through a text.
Students might start reading with one set of ideas about the text and this thinking changes as they read.
We want our students to be able to do more than simply recall facts when reading a text.
Did you know that the prefix "syn" means together? Students are pulling together their thoughts that occur as they read. As they pull together these pieces, their thinking changes.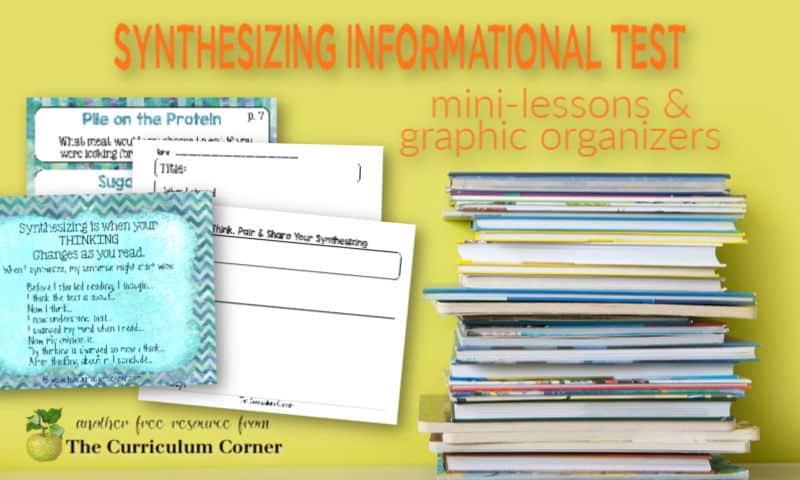 Synthesizing Reading Activities
Introducing this reading skill
To introduce synthesizing bring in the ingredients and supplies to make homemade cookies or muffins.
Have your students look at all that you brought (both tools and ingredients). They will then make predictions about what you might be getting ready to do based on what they see in front of them.
Use the class prediction chart to record their thoughts.
As your class works together to follow the recipe, talk about how the pieces are combining to make something new. Ask how changing ingredients will change the results.
Compare the activity to reading informational texts by telling them they will continuously combine their past knowledge, their new knowledge and what they are reading to form new thoughts and opinions about a topic.
Our thinking changes as we read and learn, much the same as the batter changes as it moves towards becoming cookies.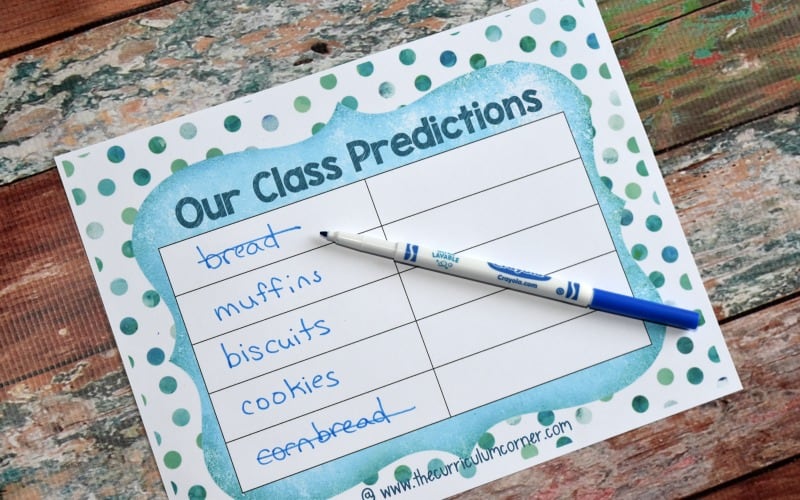 Helping students understanding what synthesizing is
Synthesizing can be difficult to teach because it involves so many pieces.
To begin with, be sure your students have a grasp of what synthesizing actually is. They need to understand the term so that when you discuss synthesizing their reading, they know what you mean by that.
We have provided an anchor chart for display and discussion.
Be sure to refer to the chart as you are teaching your students about synthesizing. Point out exactly what you are doing from the chart as you are reading with them.
We think it is important to immerse your students in many good examples so that they begin to feel more comfortable with the process.
You can do this by reading aloud and modeling your own thinking for the students. Then give them the opportunity to practice with partners and small groups using post-it notes.
The more the students see good examples, the easier the process will become.
Guided practice with synthesizing
We like to start with the book It's Disgusting and We Ate It by James Solheim. This book is great for thinking about how schema plays a role in synthesizing as we read.
To start the activity, have all of your students answer one of the eight questions we have provided on sentence strips.
Have them record their answers on Post-Its and place them on the board for discussion.
Next, read the indicated page aloud from the book. If the students' thinking changed as a result of what you read, have them remove their Post-It from the board. They can share with the class what about the reading changed their opinion r thoughts. Then focus on those whose answers didn't change, but whose thinking was impacted in some way by what you read.
Do this with a few more of the questions to help them understand how their background knowledge and new learning help their thinking change.
More practice with this reading strategy
Another engaging text you might use for synthesizing practice is Guess What is Growing Inside this Egg by Mia Posada.
With this book, students read just the clues and look at the accompanying picture before completing the organizer. They can then confirm their ideas by reading the next page.
This activity comes with a Synthesizing Practice graphic organizer. (One has the book title and one does not so it can be used with other texts.)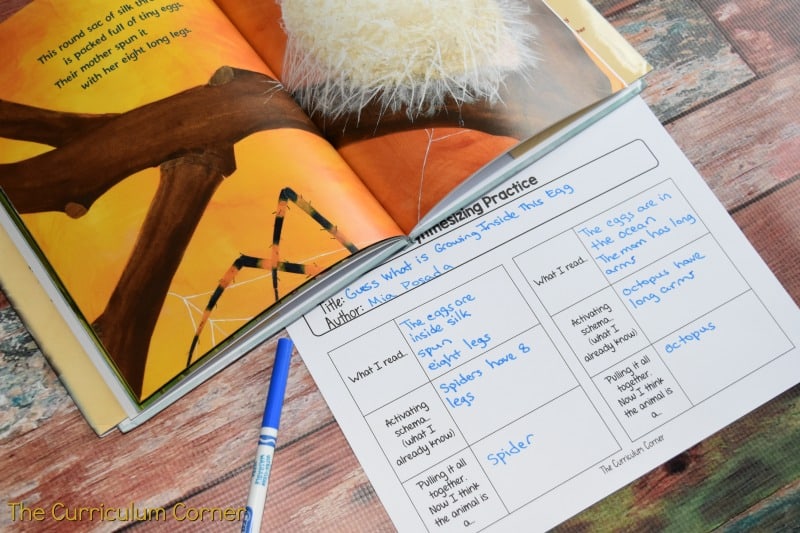 Additional Graphic Organizers
Focus on Central Ideas
Students record their background knowledge about a text you will read and then add main ideas that the author shares.
For a discussion pose a question such as "How does my background knowledge help me understand the main ideas or the topic?"
What I Read & What I Thought
I Can Synthesize as I Read
Think, Pair & Share Your Synthesizing
This organizer will help students who are ready for some deeper synthesizing involving discussions of texts.
Show students how talking with others about their reading can influence their thoughts and opinions about texts.
Organizing My Thinking
One final organizer puts all of the pieces of synthesizing in one spot, including connections students have made.
You will find all of the resources described above in one download here:

Additional Free Close Reading Resources from The Curriculum Corner
---
As with all of our resources, The Curriculum Corner creates these for free classroom use. Our products may not be sold. You may print and copy for your personal classroom use. These are also great for home school families!
You may not modify and resell in any form. Please let us know if you have any questions.