A Reader's Notebook will help your children set goals, keep track of their reading and learn to take notes while reading.
This reader's notebook will help your students organize their thoughts and track progress as they are building their reading skills.
Create just right response journals for your classroom using the range of pages provided.
This is another free resource for reading workshop from The Curriculum Corner.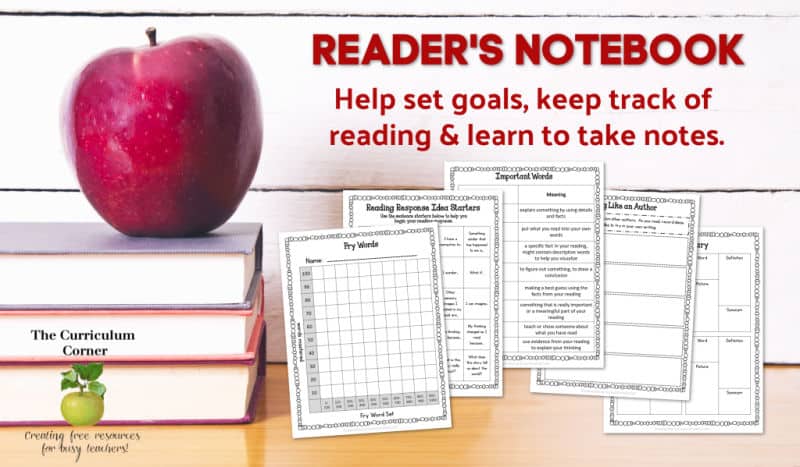 Responding to Reading
As children are learning to become more independent in their reading, this response journal can act as a tool to foster independence.
Your goal is to help them record their thinking. It will also act as a beginning form of notetaking – something that children are often thrown into without practice as they enter middle school.
We have developed this reading and writing notebook so that that you can choose the pieces that fit your classroom.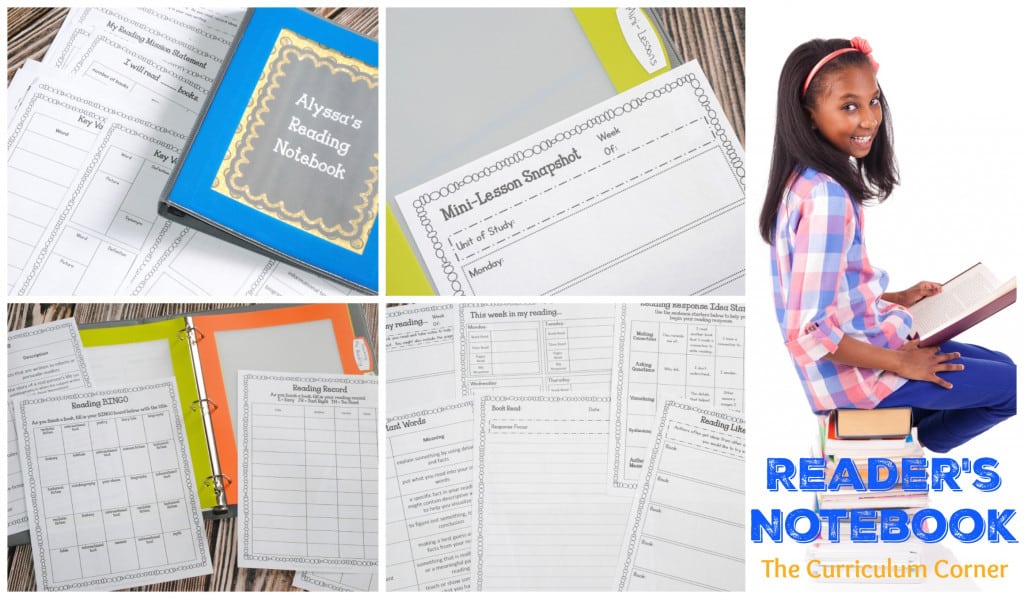 About this reader's notebook
he variety of pages found within also make it easier for you to differentiate for individual students within your class.
We set up our reading notebook in a binder, using dividers to create sections. Our layout is below but you might find something that works better for you.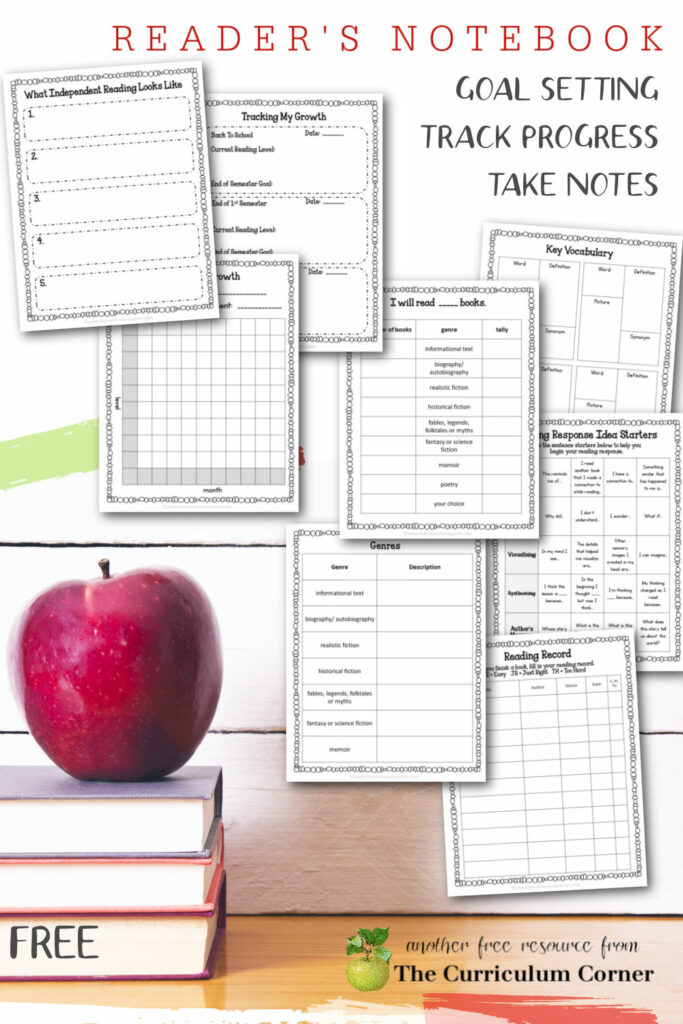 Here are the sections we used in our binder:
Data & Goal Setting
This includes a variety of pages to choose from. You will find bar graphs students can use to show their monthly growth. Other options include pages used in helping students write their own reading mission statements.
Tracking My Reading
Help students track what they are reading. Reading BINGO pages, simple recording pages and descriptions of genres are included for this section. You will also find pages to be used for students to take daily notes on their reading if desired.
Mini-Lessons
Use this section if you want students to have notes about mini-lessons to refer back to over the year.
Reading Response
Includes important words used in reading response along with specific pages for tracking characters, settings and quotes. We've also created an assortment of lined pages for you to use as you need. See the links below for a wide variety of graphic organizers that can be used in this section.
Sight Words & Vocabulary
You can use graphs, recording pages, vocabulary maps and our Fry Word collection to develop this portion of the reading notebook. You can use this collection for your Reader's Notebook. If you choose to do so, there will be resources such as tracking pages, Fry Word Sentences and additional materials here: Fry Word Collection.
Download this free set of reading pages here:
We have also created editable binder covers and spines in blue, red and yellow here: Binder Covers.
As with all of our resources, The Curriculum Corner creates these for free classroom use. Our products may not be sold. You may print and copy for your personal classroom use. These are also great for home school families!
You may not modify and resell in any form. Please let us know if you have any questions.