Try our free digital apple scrambled sentences as a new fall literacy center for computer or tablet use.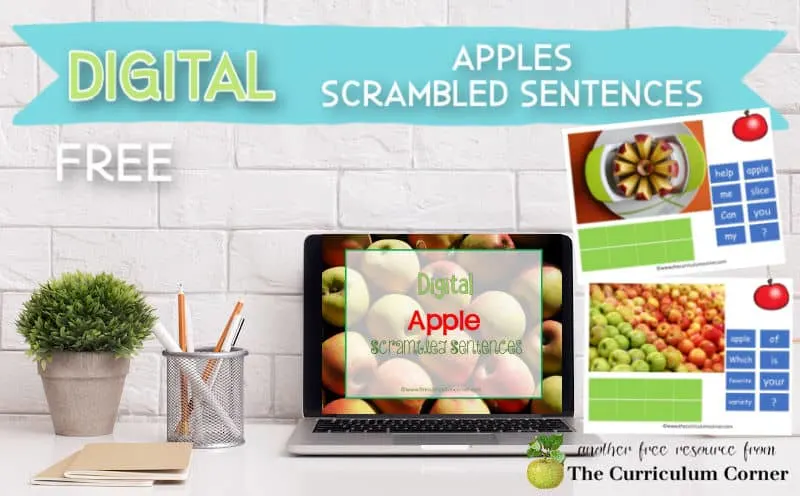 This is another free resource for teachers from The Curriculum Corner.
Add this free digital apple scrambled sentence set to your distance learning resources.
Looking for new digital resources for your virtual instruction? These scrambled sentences can be used as a ready to go literacy center for practice.
These will be a fun addition to your apple focus in September.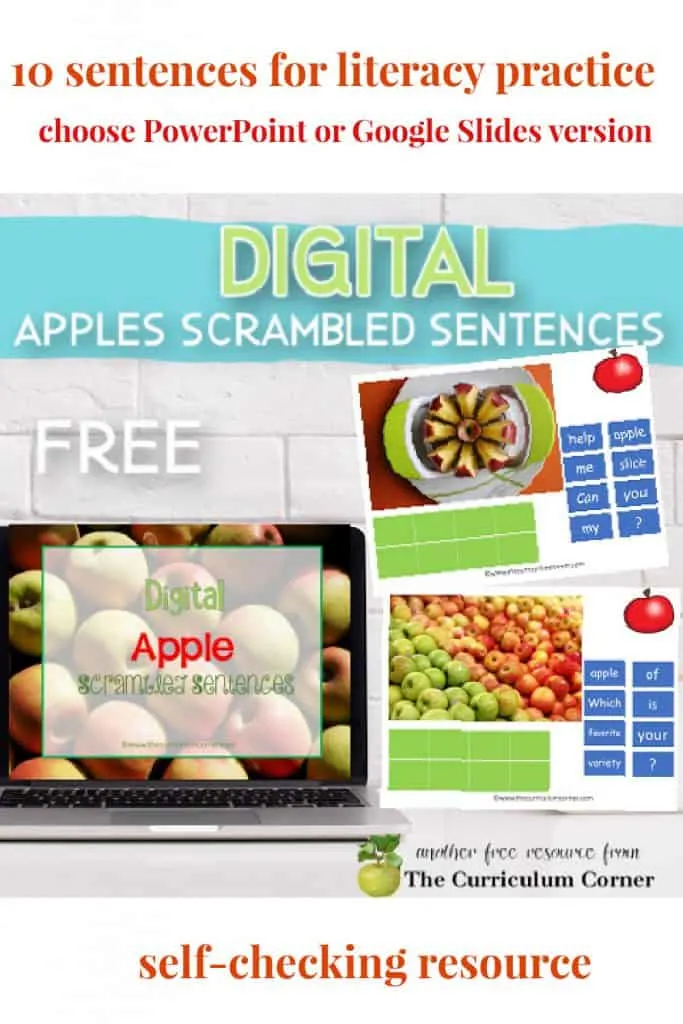 The Curriculum Corner's Digital Collection
We are continuing to work on building a set of digital resources.
Many of the new activities are being provided as PowerPoint and Google Slides when it is possible.
The PowerPoint games are perfect for the computer or interactive white board in your classroom. The Google Slides file can be used on a computer or on an iPad or other tablet.
Please continue to send us your requests!
Digital: Apple Scrambled Sentences
These slides each contain an apple related photo and sentence – many focusing on the apple orchard.
The game begins with an introduction slide.
To play, students will click on slide two.
Children will be able to drag and drop the words to the bottom into the work space.
They will a grid at the bottom where students will drop the word boxes.
There are a total of 10 sentences for students to practice.
Students can self check their work by moving the pencil to the side. The correct sentence is hiding under the red apple.
**Unlike our other PowerPoint games, these slides are not linked to move from slide to slide. Children will need to choose normal view. (Playing as a presentation will prevent the pieces from being movable.)
**In Google Slides, children will simply open the file. They will not select Present. They will click from slide to slide on the left column.
You can access these free Digital Staying Healthy at School Scrambled Sentences here:
Looking for additional digital resources? Try these:
---
Thank you to Whimsy Clips for the movable clip art.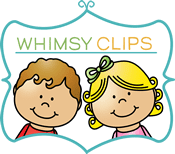 As with all of our resources, The Curriculum Corner creates these for free classroom use. Our products may not be sold. You may print and copy for your personal classroom use. These are also great for home school families!
You may not modify and resell in any form. Please let us know if you have any questions.