Use this editable emergency substitute binder with our free emergency sub plans to help yourself prepare for your next unexpected absence.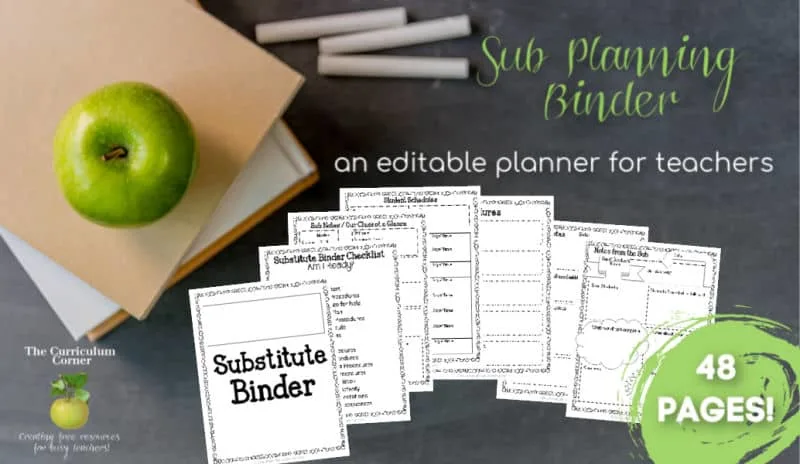 This is another free resource for teachers from The Curriculum Corner.
This editable sub binder will help you prepare for that day when you just can't make it in to pull together your plans.
We know that those mornings you wake up with a sick kid are tough – especially when you are trying to be mom or dad but still have to worry about the students in your classroom.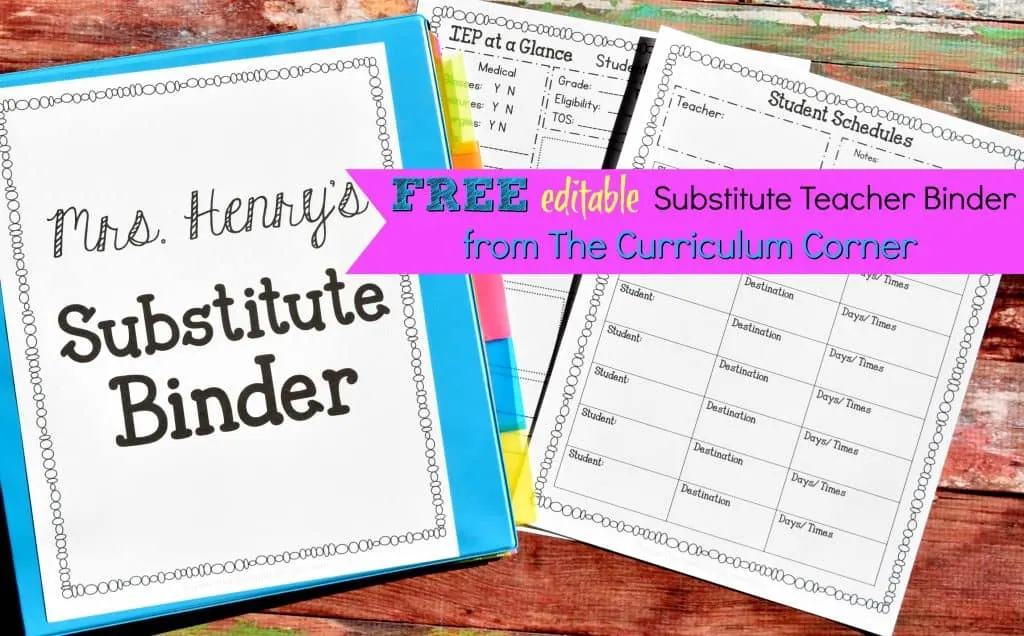 This planning binder will give you a good starting spot!
Add in our free emergency sub plans – you'll find the links below. Also, you might find other free lesson plans on our site that you can add.
Be sure to check out our print and go pages on The Kinder Corner if you are looking for kindergarten through second grade additions for your planning.
How nice it will be to have everything ready ahead of time?
At the bottom of this post you will also find links to our free sub plans for each grade, kindergarten through fifth. The sets of plans are also free.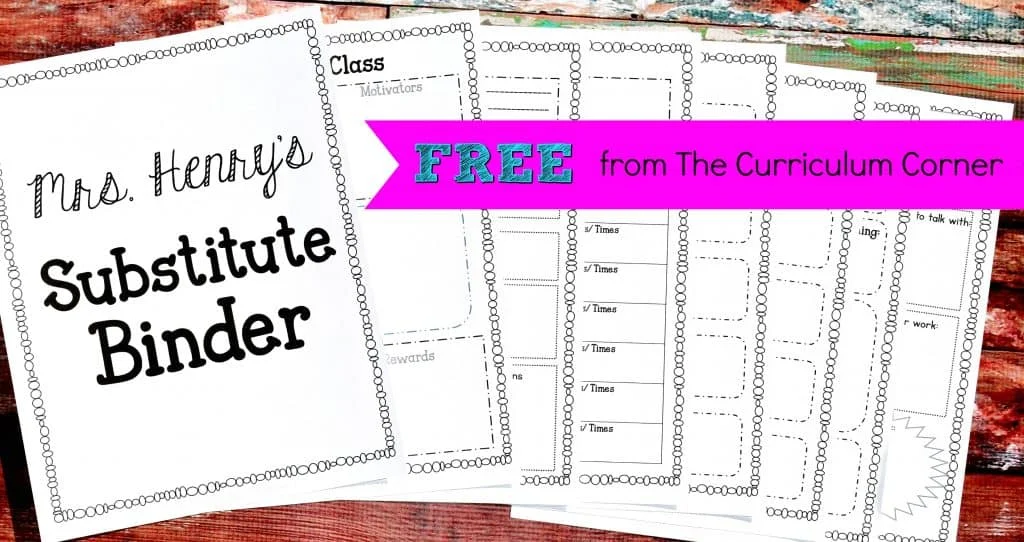 How to create your substitute binder
We have three different cover pages for you to choose from. You can create a binder so items can easily be added and moved around. Add a title page to the cover and spine so a colleague can grab it off your shelf when needed.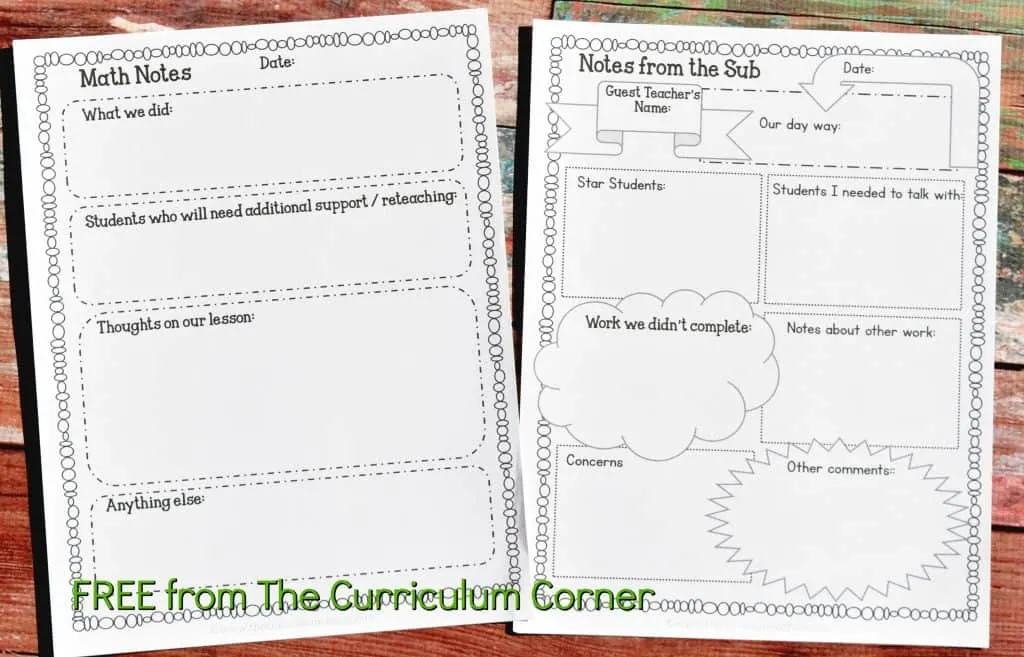 We have a checklist with a few ideas of what to include. Be sure to add items you know you need to include to the checklist.
Also, there are a wide range of organizational pages – we know you won't use them all but are giving you many possibilities so you can choose the ones that will fit your room.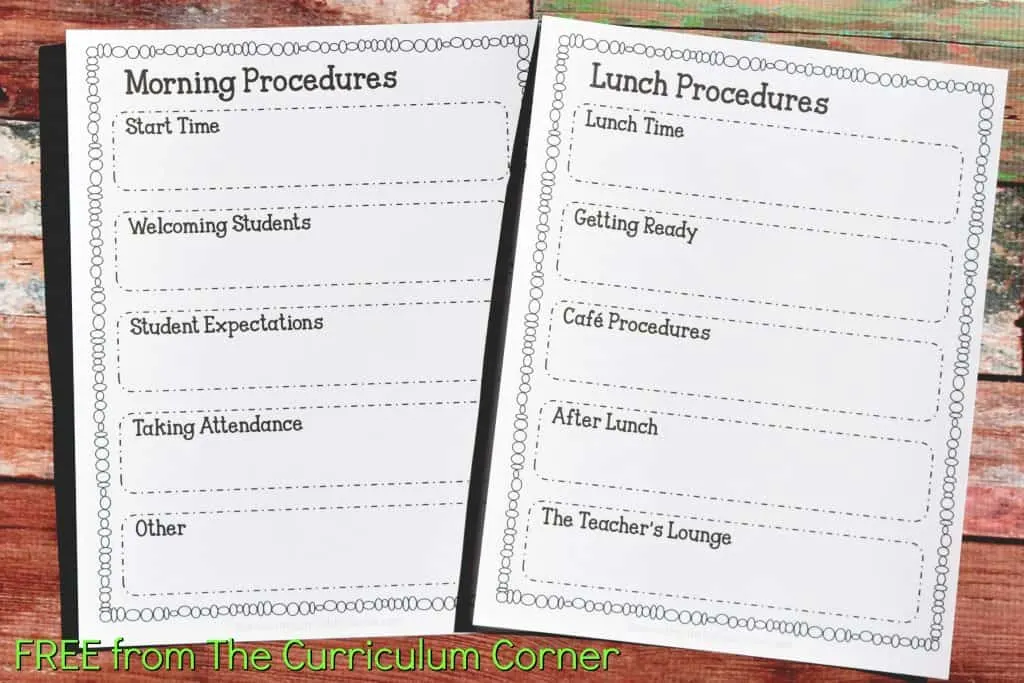 Tips for your sub plans
As teachers, we have always liked to include forms that help substitute teachers know the needs of students without breaking confidentiality rules. The range of forms included can be adapted to fit the information you are comfortable with sharing with a substitute.
Remember to include detailed schedules, procedures and passwords that might be needed throughout the day.
Also, don't forget a seating chart! We like the idea of including photos on the seating chart.
Planning for a maternity leave?
The sub binder template can be used in an emergency situation or you can use it as a start when you are in need of a long-term sub binder and plans.
We are thinking it would be a wonderful way to get a start on maternity leave planning!
You can lay out your plans by week and place a divider to separate each week.
Not only will this be useful as you are doing your planning, but you can also provide spots for the guest teacher to write notes.
Returning from a leave is stressful enough, having one spot to reflect on what has occurred during your absence, can help you feel more organized as you return.
You might add in additional resources form our complete editable binder collection. This collection includes pieces for reading, math, writing and data management.
Our calendar pages might also be helpful for long term planning.
Terms of Use
These files are for your personal, classroom use.
As always, these are meant to be free and may not be sold. Please feel free to share with your colleagues, district or link to this post on your blog.
When sharing these files, we ask that you link directly to this post rather than simply sharing the download.
These additional page views help us keep our resources free!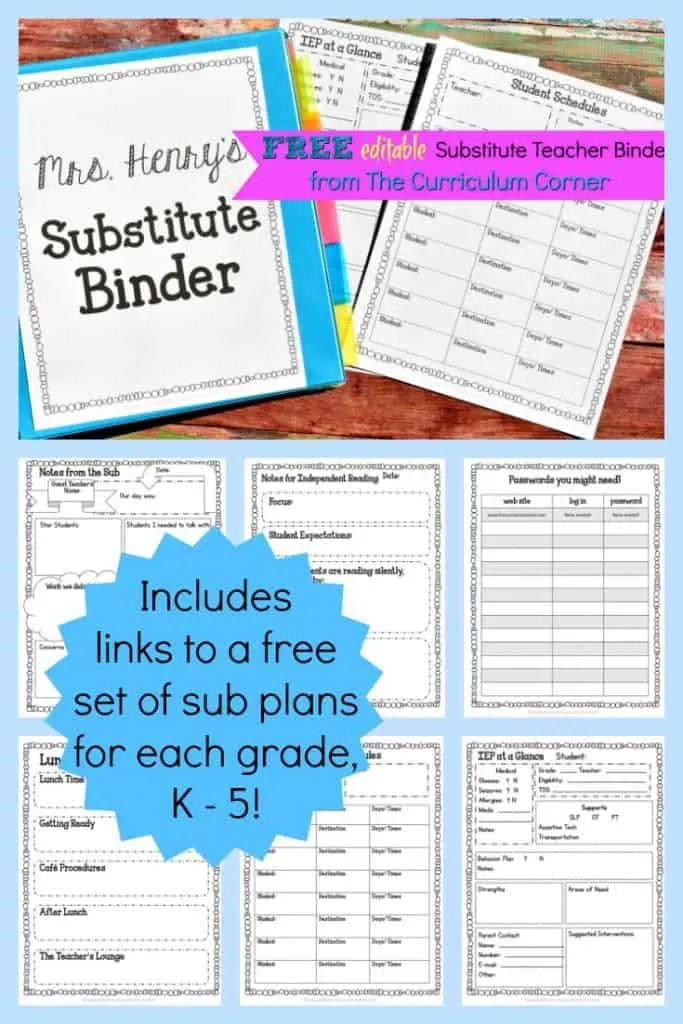 You can download our FREE editable sub binder here:
Editable Substitute Teacher Binder
Looking for FREE sub plans?
We have them here. Just click on each link to go to a free set of free sub plans for each grade level.
You will find activities for each subject area along with some book recommendations that fit each set.
We also have an additional set of sub plans for each grade level. These are the original set.
You will find them here: FREE Emergency Sub Plans for PreK – 6th Grades.
Using the editable version of the binder?
Start with installing the correct fonts!
For necessary fonts, we have a commercial use license for KG Fonts.
You will need the following fonts downloaded on your computer if you plan on editing the PowerPoint version:
Please note – you are welcome to change the fonts and use your own! If you do not install the fonts we used, your document will not display correctly until you go in and modify the fonts.
---
As with all of our resources, The Curriculum Corner creates these for free classroom use. Our products may not be sold. You may print and copy for your personal classroom use. These are also great for home school families!
You may not modify and resell in any form. Please let us know if you have any questions.