Our complete, free collection of editable teacher binders will help you organize and plan for the upcoming school year.
This collection of teacher planning binders has been updated over the years.
You will find new printables along with some old favorites.
This is another free resource for teachers and homeschool families from The Curriculum Corner.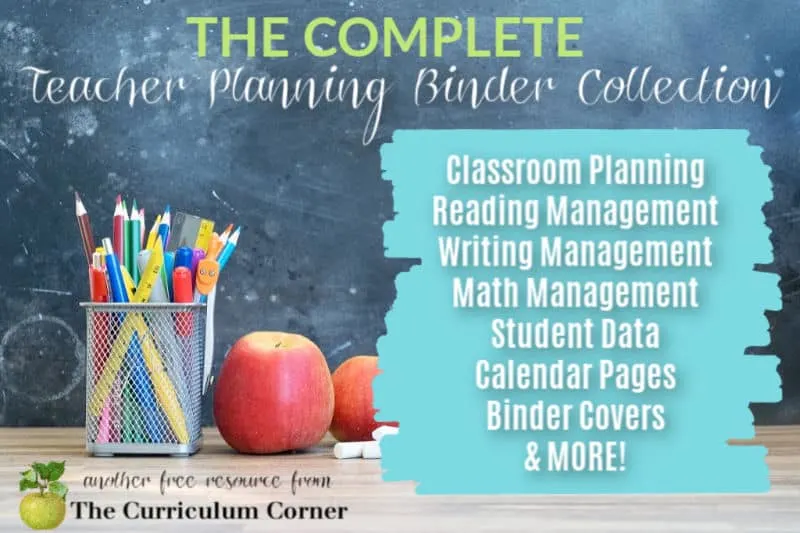 Welcome to The Curriculum Corner!
We are so happy you stopped by to grab our free teacher planning binder collection for busy teachers.
If you are new to our site, welcome! We are so glad you found us.
We offer more than just teacher planning materials so be sure to spend some time looking around.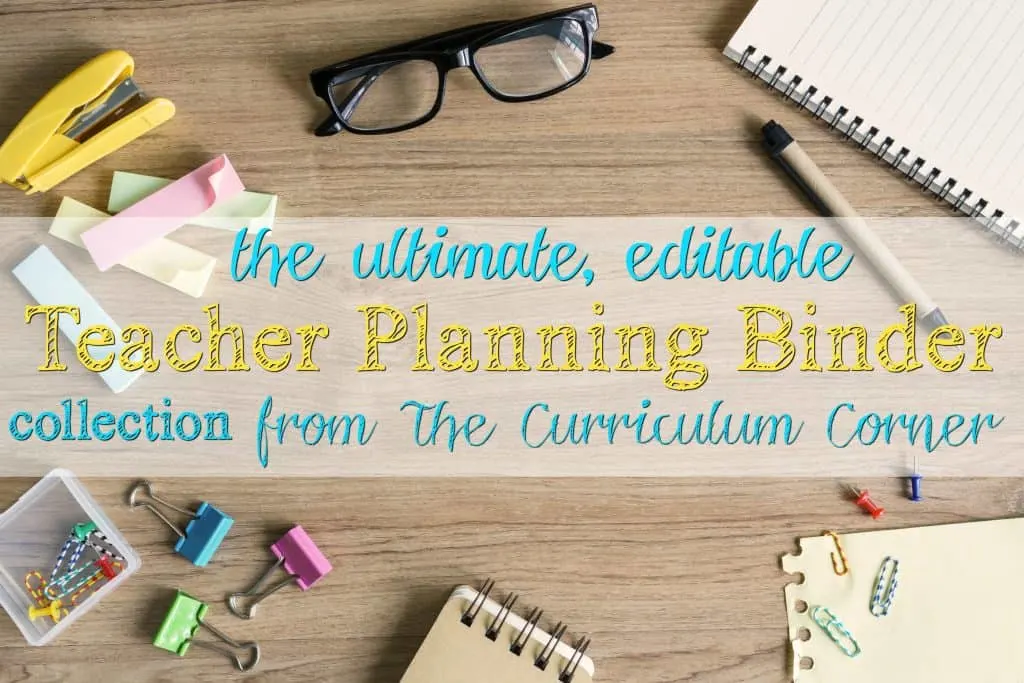 Everything you find on our site is created by us, Jill and Cathy.
We are two teachers who created this site in hopes of providing free, quality resources for teachers. We all know we don't make enough to be constantly buying the newest and trendiest resources!
Our goal is to keep creating what teachers need to help take a little bit of stress away.
We hope that by creating great resources, you will have a little more time and money to focus on your students and family.
Don't see what you need, please let us know! We love requests.
Where It All Started…
Our Teacher Planning Binder
Our first big resource was our original planning binder.
We still remember sitting at dinner with our families as we watched more and more visitors find our site via our planning binder on Pinterest. That was years ago but the updated version of our binder remains just as popular.
This early resource didn't contain many pages and wasn't editable. We've made countless changes and additions through the years. We hope this is the must have binder for your classroom!
Today we have a wide range of binders to meet the needs of your planning and students.
Everything from planning to data tracking is covered within our collections below.
Some teachers like to create one large binder that contains everything they need in one spot. Others prefer to create smaller binders that are easier to carry along to conferences and small group instruction. Do what works best for you!
On the Hunt for the Perfect Teacher Planning Binder?
Teachers are always on the lookout for the perfect teacher binder – look no farther!
We have a complete, editable collection to help you assemble the perfect organization system just for you.
This teacher planning collection contains many different options.
Mix and match to put together a planner that is just right for you.
From planning your day to day schedule to writing out the perfect reading workshop lessons, you will find the just right place for it all!
The Ultimate, Editable Teacher Binder Collection
This is the spot to look for a complete, editable teacher planning collection - best of all, everything shared here is completely free.
Not sure where to start when digging around our site after looking at our teacher planning resources?
Our home pages list our newest resources.
You will find each section of our web site here:
The Curriculum Corner 123 (a focus on primary grades)
The Curriculum Corner 456 (a focus on intermediate grades)
The Kinder Corner (a focus on early learning)
Searching for the Resources You Need
Each of our sites features a search bar at the top right so that you can quickly search for what you need. For example, one The Curriculum Corner 123, type Fry into the search bar and you will see all of our Fry Word Resources.
On The Curriculum Corner 456, try typing Close Reading into the search bar. We have a range of posts that will help you develop Close Reading lessons for your classroom. (Or start here: Close Reading.)
On The Kinder Corner, you might want to take a look at our print and go sets. These come in many themes and contain a range of pages for skill practice. You will usually find about 50 pages to choose from in each set we have created.
Something new to make searching across sites possible is Grow. In the bottom right corner you will see a small blue symbol with arrows. Click on this and you will be able to search across sites.
Getting Ready to Teach
Once you have your teacher planning materials printed and organized, you might be ready for some units of study! Within our two main reading and writing collections below, you will find many units of study. You will also see literacy centers and word work to help you reach students of all levels.
One place to begin digging into these units for your writing workshop is here: Planning a Dynamic Writing Workshop
Get ready for your reading workshop by starting here: Preparing for Your Reading Workshop
---
As with all of our resources, The Curriculum Corner creates these for free classroom use. Our products may not be sold. You may print and copy for your personal classroom use. These are also great for home school families!
You may not modify and resell in any form. Please let us know if you have any questions.